Stop scrolling: new Ari Lennox, a book about urban food and a provocative exhibition exploring bodies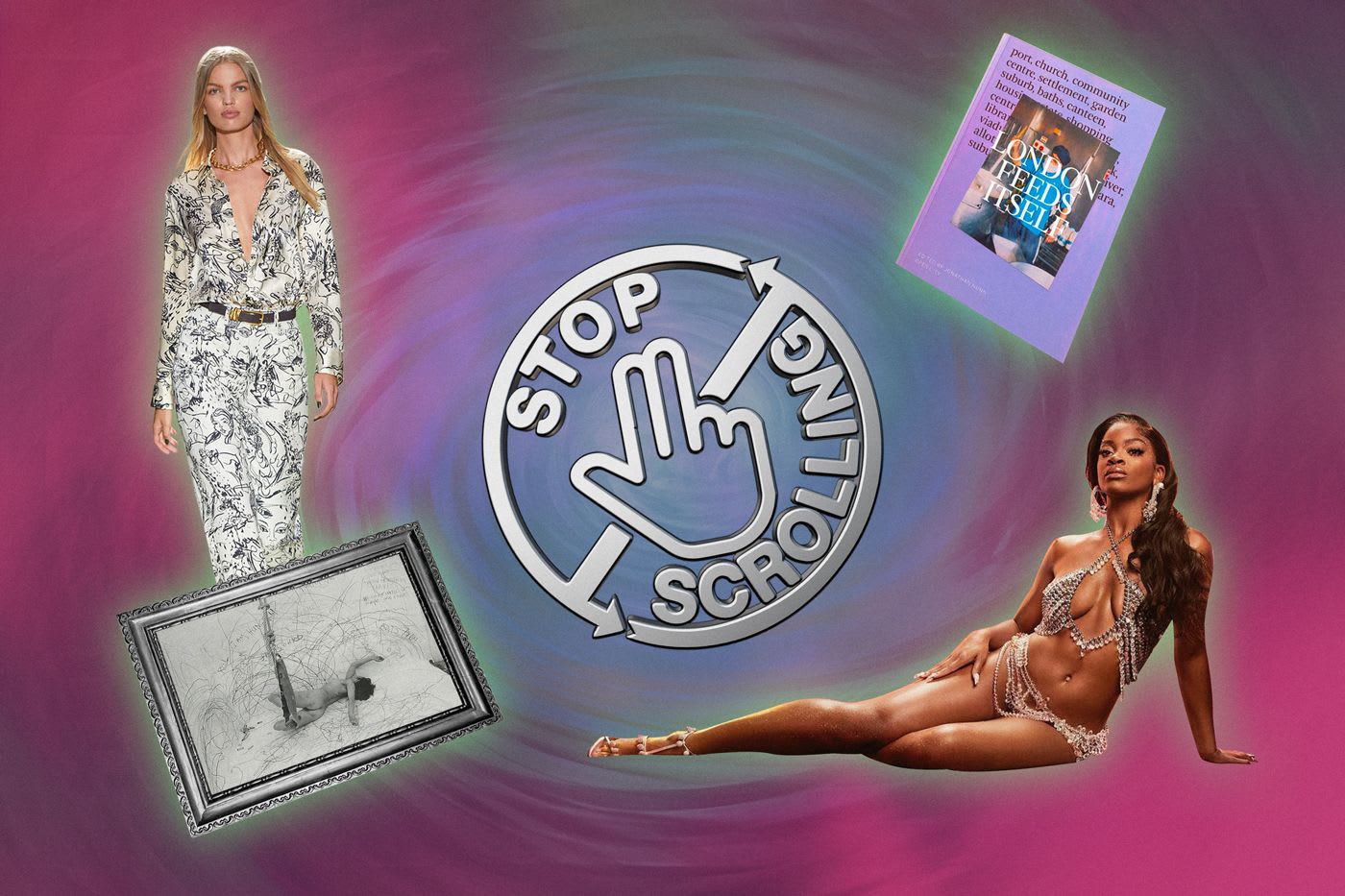 Woo's cultural tonic for the endless cycle of doomscrolling
image Jonas McIlwain
words Eve Walker
Doomscrolling can take you into a grim place, being linked to both physical and mental health - a recent study said that of those with "severely problematic" news consumption, 74% reported experiencing mental health problems and 61% reported physical problems.
Our antidote for this sorrow, the endless blast of short-form nonversation and headlines about the end of the world, is to help you escape the news cycle and embrace what the great big world has to offer you. We know you're busy and there's a lot to digest, so each week we'll bring you a roundup of carefully curated reads, exhibitions, big-screen events and album drops to check out.
Go to the exhibition everyone's talking about
Carolee Schneemann: Body Politics at the Barbican showcases the interdisciplinary work of American artist and feminist icon Carolee Schneemann (1939-2019). Exploring themes from sexual expression and the male gaze to human suffering, this exhibition boasts 300 objects, some rarely seen. From paintings, sculptures, photographs, and films to mesmerising large-scale installations, don't miss out on seeing six decades of work by one of the most provocative artists of the 20th century.
You can visit Carolee Schneemann: Body Politics at the Barbican Art Gallery, London, 8 September 2022 – 8 January 2023
Hide from the rain with a book about urban food culture
London is packed with elegant restaurants, buzzing food halls serving big plates, armchair-ed and silent haunts delivering tiny haute cuisine and cute little cafés with mouth-watering pastries. Yet this book explores the other side to food in London, the food that comes from those cooking in marginal spaces. Exploring the food culture in allotments, warehouses, rivers and libraries, London Feeds Itself looks at how urban communities and food intertwine. There are 25 essays about 25 hospitality buildings and structures written by writers, journalists and politicians. Alongside this sits 125 guides to the best vernacular eateries in London. Unlike any food guide you've ever read before, this book makes you look at urban food in a unique way. Move over, Tripadvisor…
Bop to new Ari Lennox
The age/sex/location album is the much anticipated album from Ari Lennox – her first in three years since her since her debut album Shea Butter Baby. The 12-track set features star-studded appearances from Lucky Daye, Summer Walker, Chlöe, with production from the likes of J. Cole, Elite, Bryan-Michael Cox, J. White Did It, Cardiak, and Organized Noize and Jermaine Dupri. The most notable song is "Leak It" a saucy track featuring Chlöe, with the two ladies singing about what goes on underneath the sheets.
"This album is the transitional space before my current eat pray love journey," Ari told fans in an instagram post.
you are missing out on some content here because you rejected our cookies. want to change that?
Book your tickets to the BFI London Film Festival
BFI London Film Festival tickets are going on general sale on 13 September, with events taking place across the UK and online. With a programme of over 300 movies and series from different countries around the world, the festival is one of the cinematic highlights of the year. The 2022 programme is bustling with outstanding works of fiction, documentary, animation, artists' moving image, short film, as well as newly restored classics, as well as international works. There really is something for everyone.
Must-watches this year are; She Said, the true story of the two journalists who helped give voice to Harvey Weinstein's victims and accusers; Till, the heartbreaking story of lynching victim Emmet Till's mother, Mamie Till, and her fight for justice; My Policeman, a forbidden love story with Harry Styles playing a closeted gay man at a time homosexuality was illegal in Britain; *The Swimmers, a awe-inspiring drama based on the true story of two sisters from war-torn Syria and their journey to the 2016 Rio Olympics; Aftersun, the sad but poignant drama starring Paul Mescal depicting the relationship between a young father and his daughter at a holiday resort; God Said Give 'Em Drum Machines, a fascinating and nostalgic documentary that shows the roots of techno music and how Detroit was the cultural epicentre; and Shabu, the Dutch documentary following a charismatic and vivacious young rapper called Shabu during a Rotterdam summer.
Add to your cart
Reformation began as a small vintage clothing shop in LA in 2009, before quickly expanding to make their own clothes focusing on sustainability. Owning their own factory and supply chain, their practices lead by example. As everything can be ordered as a one-off, eliminating overproduction.
They have launched a hot new collection featuring supermodel and activist Carolyn Murphy, which pairs together new materials with modern silhouettes. This gorgeous silk patterned top has a relaxed fit and a smart collared neckline – elegant and comfortable all at once.