Scare-free Sundays: Rosalía's merengue bop, a touching memoir about a Chinese takeaway and a psychedelic amazement park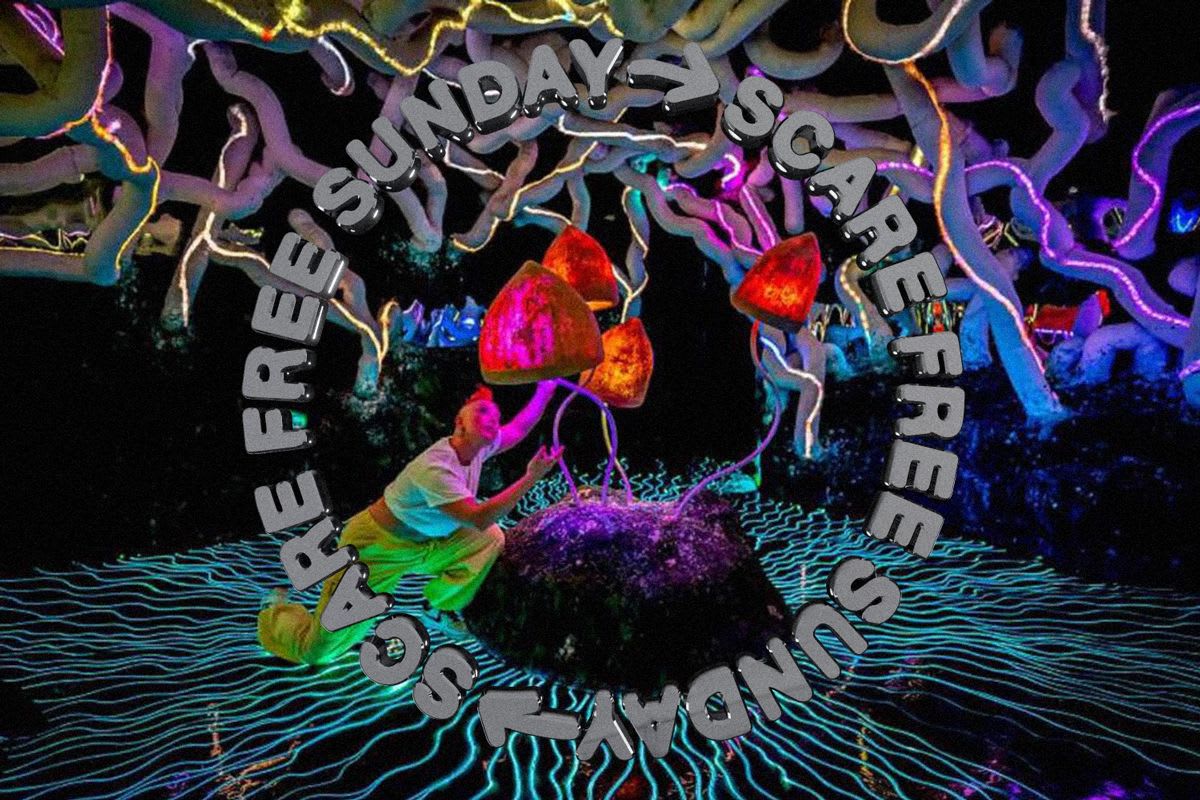 Kick back and relax with the ultimate pop culture tonic for the Sunday blues
Weekends are great and all, but as they come to a close, they're often tainted by a weirdly unsettling feeling. Sunday evenings; it's a period where we find ourselves simultaneously anticipating the stresses of Monday morning while grieving the freedom of the weekend. Time seems to speed up as the modern cultural phenomenon that is the "Sunday Scaries" kicks in.
That's why we're providing an antidote. Every Sunday, we bring you a roundup of the week's ICYMI moments. From the news that might make you feel good, to the TV shows to binge and playlists to get lost in. So read on, and get ready to reclaim your Sunday night!
GOOD NEWS FOR FASHION STUDENTS
Dr. Martens has partnered with Central Saint Martins to support five students to design and create an outfit around the theme 'All Access Summer' – being sure to also embody Dr. Martens' rebellious spirit. "Each student ideated, sketched, designed and produced their unique creations, captured by fashion education platform 1 Granary in a shoot to bring their visions to life," a representative of the brand explained in a press release.
TAKE A TRIP TO A PSYCHEDELIC EXHIBITION
The creators of Boomtown have launched what they're calling the first ever "amazement park" in a former Bristol warehouse. Called Wake The Tiger, the exhibition opened this weekend and invites visitors to step through a secret portal into the magical world of Meridia; a multi-layered maze of interactive installations that highlight the importance of protecting and restoring the environment. The exhibition is on until 30 September.
DISCOVER A NEW BOOK
Takeaway - Angela Hui
This touching memoir from journalist Angela Hui recounts experiences growing up behind the counter of a Chinese takeaway in rural Wales. Exposed to anti-Asian racism from a young age, Hui recounts attacks on the shopfront, discriminatory customers, and mounting micro-agressions. But the book strikes notes of joy, too, with lyrical descriptions of food and Hui family recipes interwoven between chapters. Hilarious, shocking, and tender all at once, be sure to add this to your bookshelf.
BOP TO ROSALÍA…
you are missing out on some content here because you rejected our cookies. want to change that?
It's time to celebrate: Rosalía has finally released the song that she's been teasing on TikTok. The verb "despechar" loosely translates to "to spite" and the track is basically all about living feral girl summer to the max. "There are many ways to be Despechá, in this theme it is from the freeness or the craziness, moving without reservations or regrets," Rosalía explained in a translated statement. Co-written by reggaetón icons Chris Jedi, Gaby Music, and Dímelo Ninow, "Despechá" will leave you wanting to quit your job, order a chilled piña colada and dance the night away to a merengue beat.
…OR TO QUEEN BEY
you are missing out on some content here because you rejected our cookies. want to change that?
Speaking of quitting (or should we say 'releasing'?) jobs… Beyoncé's first solo album in six years has taken the world by storm, hot on the heels of lead single 'Break My Soul'. Each track on Renaissance has a totally different feel, but thanks to the album's spirit of "fierce club energy", there's still a remarkable synergy between them all.
Despite the album being leaked a few days early online, the majority of fans waited until she dropped it herself. And that self-restraint hasn't gone unnoticed. As Beyoncé wrote on Twitter: "I appreciate you for calling out anyone that was trying to sneak into the club early... It means the world to me. Thank you for your unwavering support. Thank you for being patient."