Alabama Rush Tok explained in five videos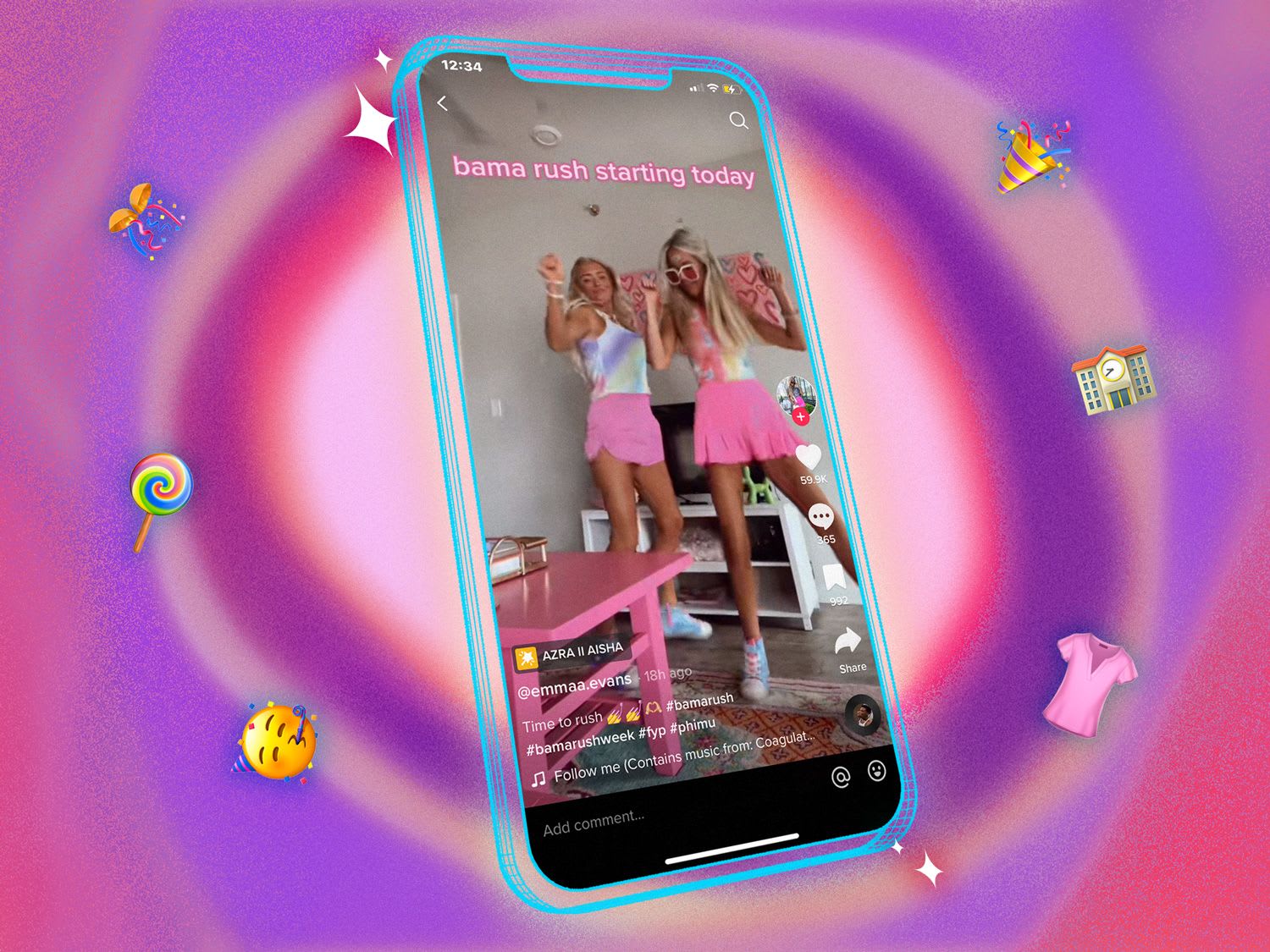 Another year, another fresh-faced Lulu Lemon brigade carting around over-stuffed Longchamp totes...
image Jonas McIlwain
words Megan Wallace
'Tis the season for Lulu Lemon and perma-tanned Southern belles, or so it seems if you've been anywhere near TikTok. Why? Well, if you're anything like us, your FYP will have been taken over by a chaotic mix of exhaustive "what's in my bag" videos, fit checks that invariably turn into some kind of Amazon clothes haul and excited, monied 18-year-olds diving deep into the minutiae of their privileged college existence. Yep, with classes for the academic year starting later this month, RushTok videos have taken off on TikTok as freshers at the University of Alabama prepare to "rush" the institution's exclusive sororities.
For those who aren't well primed on Greek Life — we wouldn't blame you — "rushing" is the drawn-out process by which you express your interest in joining various on-campus university organisations called "sororities" for women and "fraternities" for men. These clubs are part of what is called the Greek system, and are made up of one-time secret societies which have names taken from the Greek alphabet, and stately accommodation at their disposal to be utilised as dorms for the club's members. It sounds complicated but, basically, if you were never one for team sports or ritualised bonding, you wouldn't be into these societies either — socials, various rules and codes and a veneer of elitism are all baked into the experience.
Why should you care about all this? Well, putting it simply, the #content all this spawns can be pretty addictive. When you rush a society, you're obliged to take part in different events with different dress codes and last year's cohort at the University of Alabama (renowned for its sorority and fraternity culture) decided to mark the occasion with outfit of the day videos on TikTok to immortalise their preppy looks. Quickly, the swell of videos devoted to the rushing experience led to RushTok becoming a subject of international fascination in 2021 and, twelve months later, the videos are back — taking us into the cloistered world of the Southern elite for what is being dubbed a "Season 2" of Bama Rush.
This time around, the vibe is slightly different, with some commentators online suggesting that individuals looking to rush may have been discouraged posting too many details about the process to avoid the public scrutiny that may bring. However, in practice, it looks like the young women of Alabama Uni are keen to capitalise on the traction that this genre of video has previously enjoyed — opening up their lives (and tote bags) with abandon in the hopes of becoming the next Makayla Culpepper, a former sorority hopeful who gained hundreds of thousands of TikTok followers in the process.
To break down the trend as it resurfaces, we unpack the five different types of RushTok video to look out for this time around…
Outfit of the day
A classic, for good reason, the outfit of the day (or OOTD, for all our former Tumblr fans) is a staple of the RushTok experience. How else are you supposed to vicariously soak up sorority life without it? By documenting and detailing the minutiae of what they're wearing each day, the freshers give away some of the details of the dresscodes for the events they're attending (which is precious intel, FYI) as well as showing how they have adapted their personal style to fit the theme. Typically there's a mix of higher-end pieces (a Louis Vuitton monogram cosmetics bag, for example) alongside loads and looooads of Shein and Amazon. Even if you've never been one for Kendra Scott jewellery, there's something soothing about listening to these chipper voices break down each element of preppy style: like sartorial ASMR with a Southern twang.
you are missing out on some content here because you rejected our cookies. want to change that?
What's in my bag?
If you've caught one of these, you'll probably be wondering if some of these sorority hopefuls are related to Mary Poppins. Yep, these extremely detail-orientated young women turn out to have such a quantity of sheer stuff hidden away in relatively normally sized bags that only a quantum physicist or a fictional Victorian super nanny could explain how it was physically possible. There are sewing kits, painkillers, spare clothes, plasters, toothpicks an a whole arsenal of beauty products...it's a lot, basically. We're guessing this is a pretty good gauge of how seriously people take the recruitment process, with many making sure to be as ready as humanly possible some weeks in advance.
you are missing out on some content here because you rejected our cookies. want to change that?
2021 throwbacks
In a nod to last year's hugely successful RushTok videos, some young women have taken to TikTok to share their own unfiltered, behind-the-scenes takes of what the rush process is really like at University of Alabama. One user, @c.gennarelli, has claimed to have taken part last year in what she has described as "the worst rush experience ever": failing to gain entry into the house of her choosing and becoming a member of a sorority she didn't like, before ultimately leaving. At the time of writing, the post has over 156,000 views with people on TikTok clearly gagging for a bit of gossip about the underside of the Bama Rush experience. If you're curious, the student behind the original video has also posted a number of follow-up posts addressing questions and comments about the sorority recruitment process.
you are missing out on some content here because you rejected our cookies. want to change that?
Aspirational BTS content
But the Bama Rush content from other students who rushed in 2021 is a bit less candid and a bit more aspirational. TikTok user @allylasaly who describes herself in her TikTok bio as a "Bama rush season 1 star" (last year, one of her OOTDs surpassed a million views) has posted some sneak peaks of sorority action, including footage from themed events, classic outfits of the day and a look at her sorority dorm room. The latter video — with the dorm's life, laugh, love-style decor on full display — has racked up over a million views and gives some insight into what Greek life really looks like once rush season is over. If you're interested, Ally's sorority, the University of Alabama's chapter of Zeta Tau Alpha, also has its own TikTok account and posts cutesy, Barbiecore-esque promo content all about rush season and sorority culture.
you are missing out on some content here because you rejected our cookies. want to change that?
Analysis and commentary
And of course, there are naturally videos providing RushTok metacommentary and dissecting the trend as it unfolds. For anyone that's still scratching their head over the ins and outs of Greek life, TikTok user @themostes has racked up over 50,000 likes with her tongue-in-cheek explainer with the strapline "Bama Rush Tok explained by an unaffiliated NYU graduate". Where that video is deadpan, the analysis and commentary from TikTok influencer and photographer @whoashell is more earnest, looking to provide insider tips and predictions on how the RushTok is set to pan out this year — so basically it's one for the fans...
you are missing out on some content here because you rejected our cookies. want to change that?
you are missing out on some content here because you rejected our cookies. want to change that?