MPs vote for buffer zones around abortion clinics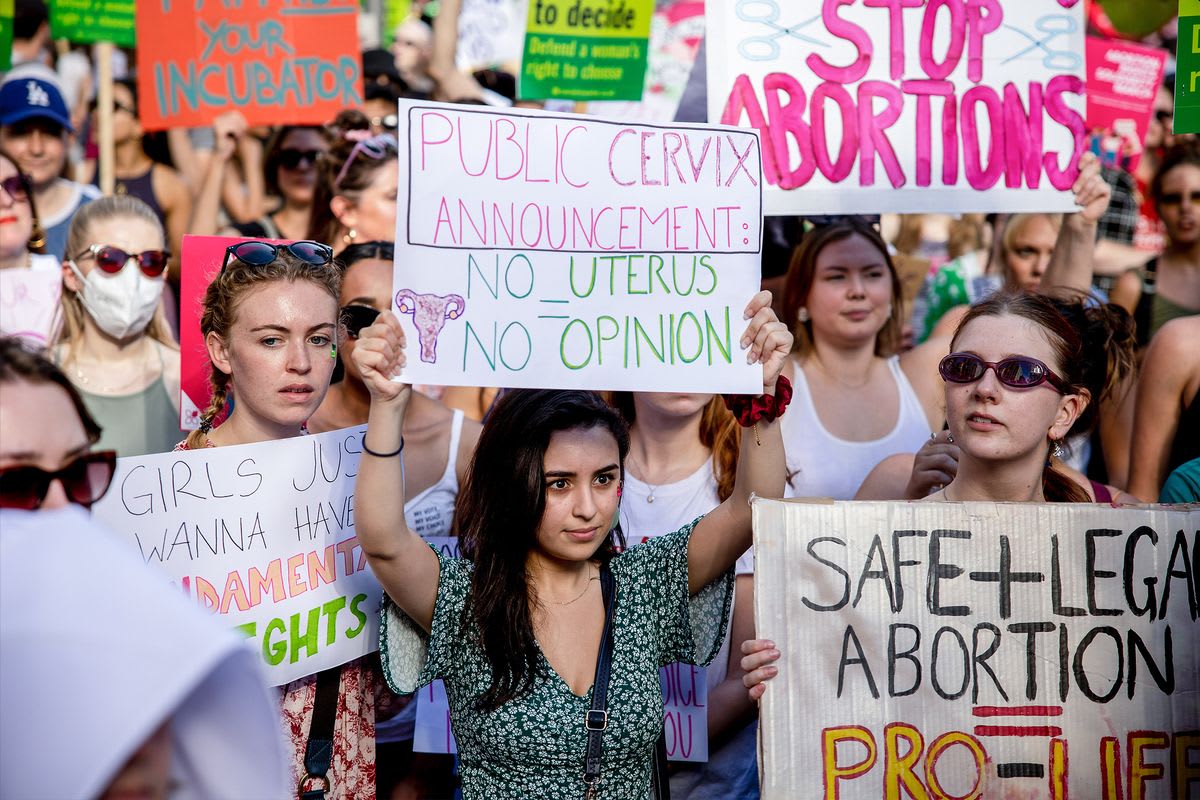 The move aims to curb anti-choice protestors from harassing people seeking reproductive healthcare
Protestors holding anti-choice signs and even chanting slogans may sound like it's come straight out of an American film (yes, we mean Juno), but the UK has its own anti-abortion movement - and it's persistent.
Earlier this year, groups like Right to Life attempted to skew the results of public consultations on early at-home abortions. The UK's current Health Minister and Deputy Prime Minister Thérèse Coffey, has a troubling voting record on abortion - including introducing a motion in Parliament calling for "mental health assessments" for those seeking to terminate a pregnancy. Plus, there are daily protests outside abortion clinics which aim to disrupt and stop women and pregnant people from seeking abortions. Their methods include heckling, shouting and goading, as well as holding aloft incorrect images and models of aborted foetuses.
This tactic is straight out of the US the anti-abortion movement that has gained a worrying legislative foothold, leading to the overturning of Roe v Wade earlier this year leaving millions disenfranchised from reproductive rights.
But while things are less than perfect over here in the UK - where abortion is still, effectively, criminalised - this is one of many countries which seems to have successfully pushed back against attacks on reproductive rights.
Earlier this year, reproductive rights had a major win with the permanent extension of abortion telemedicine and now we have even more good news. In a substantial step forward for reproductive rights in the UK, MPs have backed plans to introduce buffer zones around abortion clinics in England and Wales.
Passing in Parliament with 297 votes in favour to 110 votes against, the proposed legislation will come as an additional clause to the Public Order Bill. While it has been approved in the House of Commons, there are multiple steps before this change becomes enshrined in law. The likelihood of it passing is high, though, and this new law will aim deter anti-abortion groups from gathering outside of abortion providers in a bid to shame or discourage individuals accessing their services, medical professionals from providing these services or basically anyone doing what is necessary to provide women and pregnant people their right to terminate that pregnancy.
Currently, it is possible for police and councils to introduce abortion clinic buffer zones if complaints have been made regarding protestors. However, these spaces are not backed up by law.
The new clause not only gives buffer zones a level of legal protection, but it officially bans anti-abortion protests in these spaces. "A person who is within a buffer zone and who interferes with any person's decision to access, provide, or facilitate the provision of abortion services in that buffer zone is guilty of an offence," the amendment reads.
Speaking on the move, Labour's Stella Creasy said: "It does not stop free speech on abortion. It does not stop people protesting. It simply says you shouldn't have the right to do this in the face of somebody – and very often these people are right up in front of people."
This progress has been a long time coming, with the British Pregnancy Advisory Service (Bpas) reporting that 50 clinics and hospitals in England and Wales were targeted by anti-abortion groups over the past four years. While this doesn't sound like a lot of services, it's shown to have had a huge impact: Bpas research has also claimed that 100,000 women and pregnant people were subjected to anti-choice harassment while attending an appointment in 2019.
Sadly, the clause will not apply to Scotland. However, in June of this year Nicola Sturgeon gave her support to a member's bill introduced in Holyrood by Scottish Green MSP Gillian Mackay and commissioned a government consultation on the matter.
However, it's worth highlighting the move to include this legislation in the Public Order Bill. If you're not aware, the Public Order Bill is designed to crack down on public protest powers and allow greater police intervention when it comes to demonstrations which may be deemed to be disruptive.
The bill is thought to have been introduced as a response to the activities of climate groups such as Just Stop Oil, Extinction Rebellion, and Insulate Britain. Activities which interfere with public infrastructure, from roads to oil refineries, as well as lock-ins will be punishable with up to a year in prison.
The decision to introduce buffer zone protection here may well be an attempt to rehabilitate the bill's reputation - but the amendment is a step forward, all the same. And in this climate, it's good to have something to celebrate.
SUPERFOOD POWDERS FOR THAT ADDED BOOST