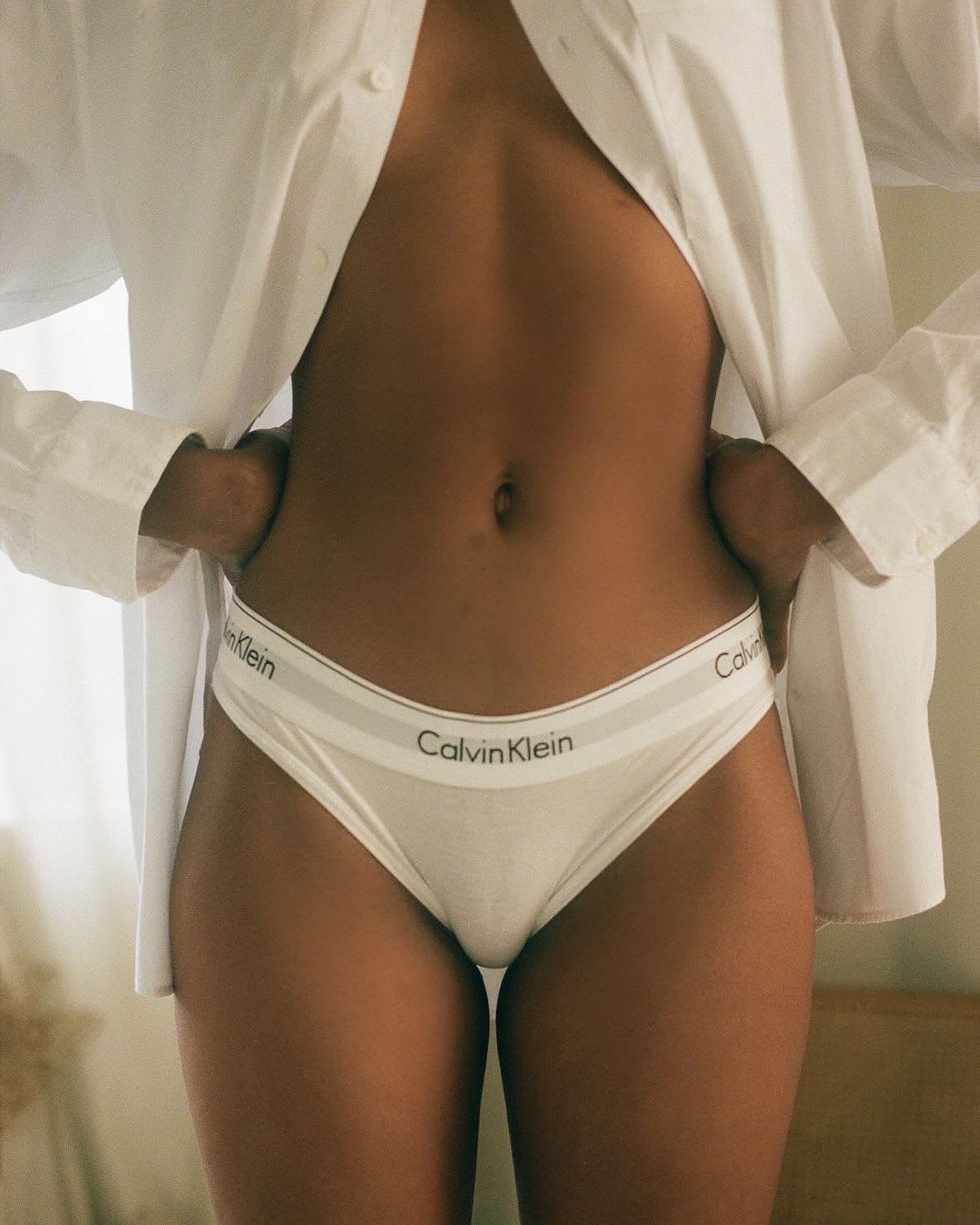 Protect your bulge, folks. V Print Season is sexy, and it's here to stay
image Calvin Klein
words Becky Burgum
As I completed the final checks of a painstakingly curated Insta dump, I noticed a big, juicy camel toe peeking out from my bike shorts. At that moment, I seriously considered not posting a photo of me in front of a literal Wonder of the World (Rio de Janeiro's Christ The Redeemer), all because you could see the outline of my vulva. My human vulva which 50% of the world's population has and many more enjoy on a regular basis.
you are missing out on some content here because you rejected our cookies. want to change that?
For anyone unaware, a camel toe occurs when the outline of the labia (vulva 'lips') are visible through clothing. Likened to 'crotch cleavage' by the Urban Dictionary, the term has become loosely synonymous with having anything short of a smooth Barbie crotch. Never mind a full-on wedgie, any vague suggestion of your 'intimate parts' is enough to warrant utter mortification and a wardrobe change.
Every single one of my female friends said they do a routine 'camel toe check' before posting or leaving the house, and agreed they wouldn't post a photo if they had one, no matter how good they looked. We're getting so much better at embracing periods, different body sizes, boobs and the rest, but is camel toe the last thing even the most forward-thinking women are allowed to openly hate?
you are missing out on some content here because you rejected our cookies. want to change that?
For men, the celebrated bulge or 'dick print' gives glorified sex symbol status. Remember that Alex Pettyfer mirror selfie? The paparazzi shot of Paul Mescal running topless down a street in teeny shorts or Tion Wayne's viral snap? The world is routinely sent into a frenzy by the sighting of men's nether regions, with memes marking Grey Sweatpants Season as the epitome of titillation. Where's our Camel Season? And come to think of it, why on earth are we okay with comparing our vulvas to a spitting, stinking animal anyway?! Petition to make 'v print' a thing, please.
The term 'camel toe' has been around since the '90s, but became more widely popularised in 2001 by the "Camel Toe Annie" skit on Late Night with Conan O'Brien, where a woman wearing spandex pranced around with an over-the-top crotch bulge. Soon after, 'camel toe' appeared in the Urban Dictionary and the 00s fashion press ran with it as yoga pants and leggings became the dressing norm. In 2009, Marie Claire called camel toe 'the most humiliating clothing disaster we know of'. In a quick Google search, you'll find page after page of the worst celebrity camel toes or ways to prevent it, even from the last few years. Compare this to the men's coverage - like Cosmopolitan's Celebrity Bulges We Love - and Houston, we have a big old sexist problem.
you are missing out on some content here because you rejected our cookies. want to change that?
"I don't think I've ever been publicly shamed for camel toe, but I definitely shame myself"
Grace Campbell, comedian
Last year, a camel toe hack went viral on social media showing women how to cut up bra inserts and put them into the underwear flap. But the piece of fabric in your undies is there for a reason: to make them 'breathable'. Blocking this is a yeast infection waiting to happen, amirite? There have been calls for designers to 'do better' when designing the crotch are for women's clothes, but how about we just get over it?
The only celebrity role model (of sorts) we have for embracing camel toe is Khloe Kardashian. In Keeping Up With The Kardashians, hers became a classic plot line when she named it Kamille the Camel as she batted off relentless digs from her sisters. They even practically begged her to cover it by buying a Camel Toe Concealer – effectively a reusable silicone insert akin to 'chicken cutlets' for bras.
'Khloe Kardashian was the first person I ever heard speak about camel toe,' says comedian Grace Campbell, who's written extensively about sexual and bodily shame in her debut book Amazing Disgrace. 'She paved the way and made me realise I'm not the only person in the world to have one.' Campbell is so self conscious of her own camel toe that she will only wear a skirt on stage to prevent any trouser mishaps. 'It's just the way my body is made and I wish I didn't care, but I really do,' she says.
It seems Khloe Kardashian cares too. Almost as soon as she said, 'I have a very big cameltoe. My pussy is large and in charge. I embrace it,' on RuPaul's Drag Race, she backtracked when she began her body transformation. 'Now that I've lost weight, I swear my pussy has lost weight too, which I did not know was an option but thank God,' she told Nylon in 2016.
you are missing out on some content here because you rejected our cookies. want to change that?
"People in marginalised bodies have so often had to navigate people's intentions; is this adoration or fetishisation?"
Honey Ross, writer and activist
Discussions elsewhere on screen are few and far between. Even in boundary pushing Broad City (which devotes a whole episode to periods and tampons), Ilana thinks camel toe is the funniest thing on the planet - not exactly helpful. It's also one of the few taboos not tackled in Netflix's Sex Education.
The most recent pop culture mention is in Stylo G's latest single,'Camel toe'. Accompanied by a hyper-sexualised video of underwear-clad curvy women lined up for a camel toe talent competition (yes, really), the rapper professes his love of 'fat pumpum'. Objectification aside, writer, activist and co-host of The Body Protest podcast Honey Ross admitted she felt a warm rush of gratification. 'It's nice to hear something different celebrated,' she says. 'As the owner of a fat pussy, it felt refreshing to get a shout out.' But she's quick to note that perhaps this is more of a conditioned response to an 'illusion of positive representation'. As each body type and individual body part cycles in and out of fashion, Ross fears a new celebration of a juicy camel toe will cross into the murky waters of fetishisation. 'People in marginalised bodies have so often had to navigate people's intentions; is this adoration or fetishisation? Are you here for the wrapping paper of my body or the present of my soul?'
It's true, there are some undercurrents of fetishisation with camel toes. On TikTok, there's a trend where girls purposefully position their knickers for one. In Japan, silicone camel toe knickers (yes, silicone camel toe knickers) were all the rage a few years ago to achieve a plumper look. In the West, these knickers are largely marketed at trans women, but LGBTQIA+ underwear brand founder Carmen Liu says she's never heard of a trans woman or trans femme person who uses them.
'We receive many product requests and camel toe knickers have not been one of them yet,' she says. Trans activist, Eva Echo, can see the appeal though. 'Shapewear and prosthetics fill a need in the lengthy wait for surgery,' she says. 'They can help trans women to feel and look feminine in the interim.'
Lady Phyll, co-founder and executive director of UK Black Pride, says, 'The celebration of women's bodies cannot be divorced from the ways our bodies are so regularly subject to the whims and policing of men.' She's excited by any steps towards more unapologetic expressions of womanhood - '(whatever that means for each of us)' – as it brings women closer to acceptance of the 'powerful, beautiful and sacred bodies we inhabit'.
But for now, the go-to reaction is still largely revulsion. And this comes from the inherent shame of having a vulva full stop. Obsessions over having a bigger/saggier/fatter/uneven vulva has led many women to surgery in a bid for a 'designer vagina'. Consultant plastic surgeon Dr Sujatha Tadiparthi explains that labial reduction has been an increasingly requested procedure in her practice. 'Labiaplasty surgery aims to reshape and resize by removing the excess inner or outer labia,' she says, noting that the main drive is usually for appearance.
you are missing out on some content here because you rejected our cookies. want to change that?
"The shame around camel toe just feels so deeply rooted in misogyny, as though it's some terrible secret some people have vulvas"
Honey Ross, writer and activist
Dr Edward Morris, President of the Royal College of Obstetricians and Gynaecologists, believes more women are seeking out these procedures due to a 'lack of awareness of the vulva and the 'normal' female body, which has given rise to anxiety over the vulval and vaginal appearance'.
According to research by Beauty Haven, 50 percent of women don't know what an average vulva looks like. I find that easy to believe. Only last week, I had a middle of-the-night teary panic while inspecting my vulva in the mirror in search of a thought-to-be missing tampon. I worked myself up into hysteria thinking I had a cyst, before Googling 'average vagina' and discovering my anatomy was completely normal – and I'm still a bit spooked. I'm in my late twenties.
'You aren't born feeling shame for your body or your camel toe, that's all learned behaviour,' continues Ross. And the biggest shamers might just be ourselves, suggests Campbell. 'I don't think I've ever been publicly shamed for camel toe, but I certainly shame myself,' she says.
So what can we learn from this? I'm not demanding total self-love of camel toe over here – apologies, v print – but why don't we start trying not to hate it, at the very least? 'It's only embarrassing if you're embarrassed' after all, and indifference could go a long way.
I decided to post my bulge heavy photo with Christ The Redeemer on Instagram, and guess what? Life continued as normal! People liked my photo! No one told me I was a disgusting freak! As summer approaches, it's V Print Season whether we want it or not, as we swap our cargo pants for bike shorts and bikinis. We've long since reclaimed the nips, now it's time to free the lips.