Why are hypebeasts selling this 20-year-old trainer for £2,700?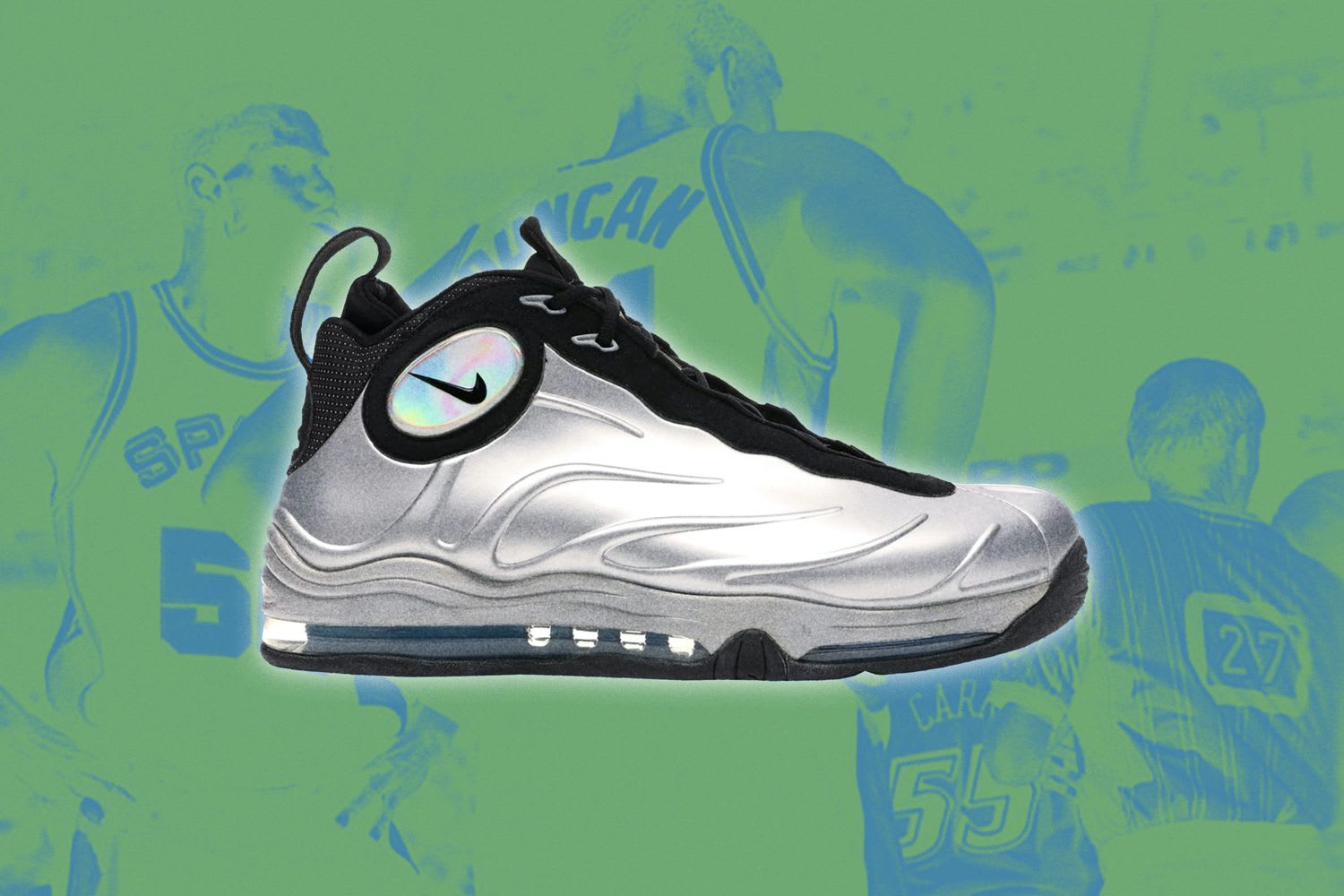 The cult 1998 trainers – made famous by basketball player Tim Duncan – are facing a renaissance among streetwear fanatics after a new, HBO feature
For those who have spent hours queueing to grab the latest Supreme, Yeezy, and Palace drops or cult vintage streetwear finds: there may be a new must-have trainer to keep your eye on. Recently, Nike's Total Air Foamposite Max trainer (nicknamed the Duncan's after San Antonio Spurs' basketball player Tim Duncan) has experienced a viral resurgence among hypebeasts and streetwear fanatics.
The trainer – which was originally released in 1998 as the basketball Hall of Famer's signature shoe – features a sleek black-and-silver design, complete with wavy embellishments on its thick, "Foamposite" plastic shell; black laces; and a holographic spot to showcase the classic Nike check. In the past, the shoe also featured ​​black on black, wheat and baroque brown, white and royal blue, and white and yellow colourways.
Over the years, the shoes' cult following has brought about multiple re-released of the trainers, including in 2003, 2005, 2011, and, most recently, 2019. Today, they seem to be making a major comeback, with hypebeasts selling the coveted trainers for up to £2,700… best of luck, sneakerheads!
you are missing out on some content here because you rejected our cookies. want to change that?
While there's no exact way to trace the resurgence, it seems that streetwear lovers took notice of the "Duncan's" after they were worn by an extra in an episode of HBO's We Own This City. Created by The Wire's David Simon, the show follows the Baltimore Police Department's Gun Trace Task Force – highlighting the team's corruption and the communities affected by it.
While sneakers don't play a central role in the series, Anthony "Boost" Colston – Baltimore-based sneaker shop owner, and the show's shoe curator – tells Complex how they played a significant part in accurately representing Baltimore.
you are missing out on some content here because you rejected our cookies. want to change that?
"The silver Duncans are the No. 1 shoe here that if you have them on, you're the man," he explains. "Of course, you know this is a Foamposite City, this is a New Balance City, but if you have the silver Duncan's on, you're the man." He continues: "I wanted it to represent Baltimore to the fullest. I asked them to make sure. There were certain shoes that they needed to have that were staples here."
DaJuan Prince, who helped source the trainers, agreed. "They gave us the era and the location, and we basically went off the style of Baltimore," he tells Complex. "So that's where I'm from, so I knew the eras of style and the sneakers throughout the years." Meanwhile, on social media, some sneakerheads have noted that nearby city, Washington, D.C. and Maryland's Prince George's county are also owed some credit for the shoe's popularity in the area.
For those looking to branch out from Balenciaga's chunky Triple S trainers, Nike's classic Air Monarchs, or YEEZY x Adidas Originals' Desert Rat 500, perhaps the Total Air Foamposite Maxes could be the next addition to your trainer collection… if you manage to cop them, that is.