What to do in Nottingham: Batman's house, cobs, clubs and Paul Smith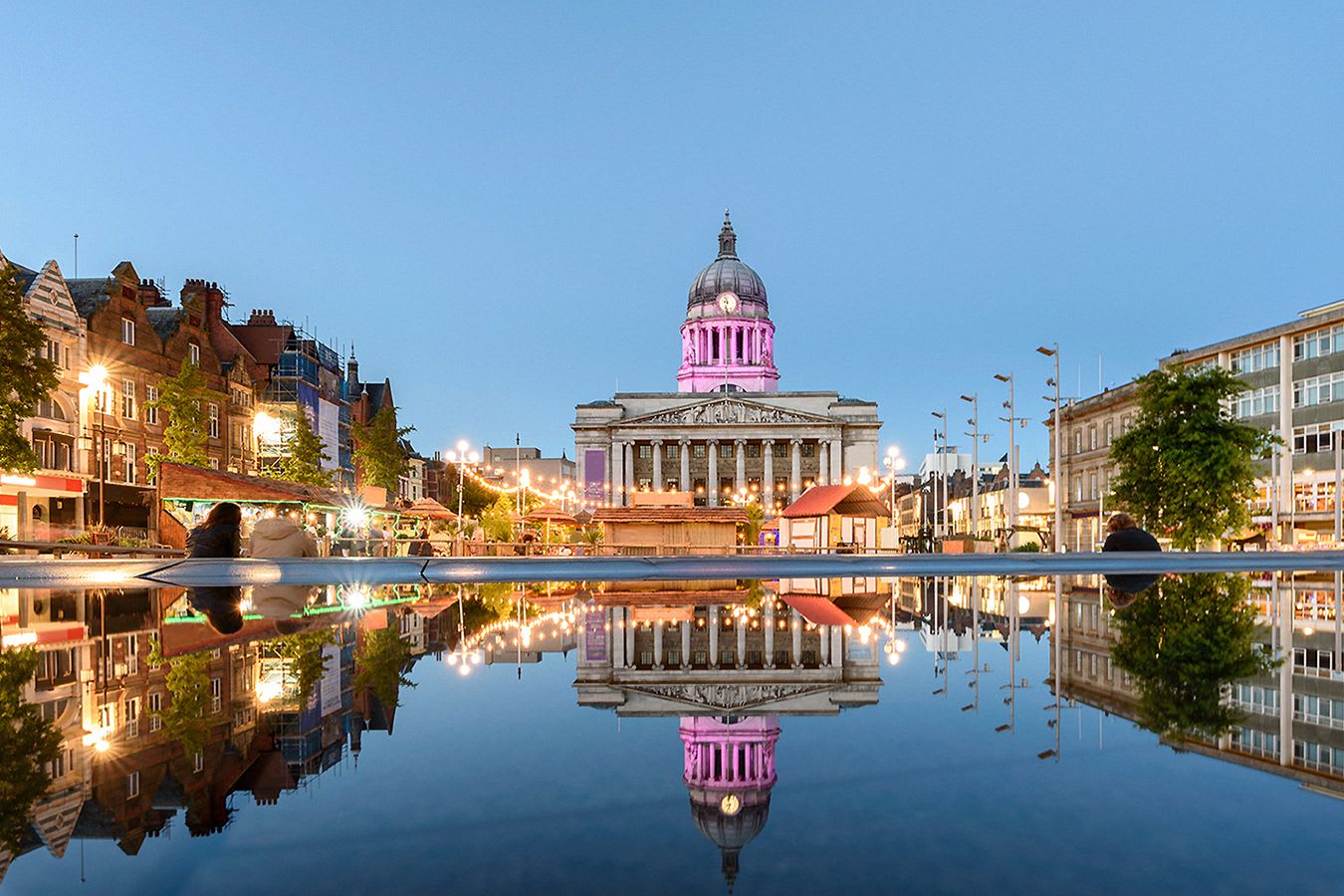 Heading to Nottingham? From food to walks, here's our picks that will give you something to write home about
image SAKhanPhotography / Getty
words Rhys Thomas
Ay up, me duck (hello!). Welcome to Nottingham, the fiercely independent citeh that Robin Hood lived… near, in the East Midlands of the UK. Home to two big Universities, Nottingham has a massive student population (about 23% of the entire Nottingham population attends one of the two universities) the place has a lot of affordable things to do. There's independent businesses everywhere, and a nice low-key vibe. Historically, Nottingham was known for making things, especially lace and bikes – a dangerous combination, but it worked well. Today the east-midlands main city, and after Birmingham the second biggest city in the entire Midlands, is known more for a great night out, its sports scene, and generally being a place full of young people figuring out what they want to do in life.
So despite being a lesser-appreciated place to explore than nearby Sheffield, Leeds, and Birmingham, Nottingham is well worthy of visiting in its own right. I used to live in Nottingham as one of those thousands of students, and went back recently to visit pals. Here's what I got up to within a weekend.
What to see in Nottingham
Trains to Nottingham
I was travelling up to Nottingham from London, which means going to London St Pancras International and its millions of platforms. Fortunately, the trains at this station almost always leave from the same place (up on the first floor, so take those escalators you see in the same corridor as the people playing piano). It takes an hour and a half on the quicker trains, and is generally less than two hours. Very rarely is there a change, but sometimes the trains with a change can be cheaper (and might go from Kings Cross, not St Pancras.) According to trainline, tickets with a 16-25 railcard and booked a week in advance are usually about £46.00, but those cheaper ones can be as little as £18.70.
Given it's often direct, and that you have a Gregg's and a Pret by the platform, the journey is generally pretty calm. Most people are there for the entire journey, and there's no stops that see an influx of people getting onto the train generally.
From Cardiff you're looking at a three to four hour journey; some direct, others with two changes. From Glasgow it's about five and a half hours, and from Belfast it's an hour's flight to East Midlands airport, and then half an hour by car (or an hour and a half by bus), that's without the queuing and waiting at the airport.
In Nottingham, you also have TRAMS. Who? What? Trams, like monorail things that whiz around the city (note: if you're cycling, be careful as you can get your wheel stuck in their tracks and fall over). There's also a good network of buses, with some running 24 hours a day. Public transport in Nottingham is good.
you are missing out on some content here because you rejected our cookies. want to change that?
Hotels in Nottingham
Well I stayed at a friend's place, but when I was in Nottingham as a student, my parents would sometimes visit and stay at a hotel (as did many other people's parents), and of course given you have tens of thousands of people graduating each year, there's quite a lot of accommodation around. For a reasonable price (from about £67 a night) Lace Market Hotel is a great option. It places you a five minute walk from the city centre but also right next to the trendier area called Hockley. Lace Market is also beautiful from an architectural point of view, and is where all the historic lace making went on. So a very characterful place to stay.
But if you want to go all lavish, there is Colwick Hall Hotel. It's pretty affordable, just a bit out of the city. The vibes are very Downton Abbey, lily ponds, greenspace, big windows, four poster beds, the works. It's in a grade-II listed mansion-looking place. Such fun!
you are missing out on some content here because you rejected our cookies. want to change that?
Restaurants in Nottingham
Nottingham has a great food scene, from cheap eats to fancy Michelin-starred places. There is some regional food, but really what makes Nottingham's food scene interesting is the influence, care, and quality people have taken from places around the world and pulled into one compact city. From the bread at bakeries like Tough Mary's Bakehouse, to the beer at Neon Raptor.
First up, let's make sure you don't get confused about regional dialect. A bread roll (or a bap, as I'd call it) is called a cob in Nottingham. So if you see a cob shop, or a cafe doing a bacon and egg cob, that's what it means. A roll, a bap. In terms of actual foods and not just names, Nottingham (and the surrounding county) is known for Stilton cheese, and pork pies. Two absolute winners. A cheesemonger, such as the one in Flying Horse Walk can help you with local goods. If the idea of this sounds good, also keep an eye out for mushy peas served with mint sauce. Think of it as a sort of old-school version of the macho peas at Nandos.
But as for the restaurants and beyond serving up great food. Let's look at how I ate my way through the weekend in Nottingham. Cartwheel for breakfast. I used to work there, so there's an element of bias, but you won't be disappointed. This place roasts its own specialty coffee, curates amazing teas, and cooks some of the best brunch I've had anywhere in the world. Whether you want a fancy granola or their version of a full English (with the homemade smokey beans, always), there's also pancakes with cream cheese, french toast, and every single item feels like the fine dining version of a brunch (but will keep you nourished all day).
If I'm in Nottingham, breakfast is almost always there. I order a tasting flight of coffee, because it's an interesting way to explore coffee - you get a small filter coffee and an espresso from the same batch of their hand-roasted coffee, you'll have a choice of coffees all with different flavour notes. I went to Cartwheel both days. Lunch was at Bar Iberico, an amazing Spanish tapas restaurant one day, and Sexy Mama Loves Spaghetti the next which … well, I had spaghetti, obviously.
Dinner depends on what you're feeling. For some frankly, otherworldly burgers, Annie's. If you've always wanted a Sunday dinner in a burger, or a burger with peanut butter and jelly in there, Annie's is going to be your favourite place in the world (they cater to all diets and no ingredient is spared). I also went to MemSaab, which does the best Indian food in the city, it's often considered one of the best Indian restaurants in the country and serves food which is a blend of regional Indian cuisines, modern Indian cooking, and Pakistani cuisine too. All of these places are located within a ten minute walk of each other, and are generally where the city centre meets Lace Market and Hockley. MemSaab is a touch further away, perhaps a fifteen minute walk, on the other side of the city centre.
And if you want two absolute bucket list places to eat in Nottingham, Sat Bains is exactly that. A two Michelin star restaurant serving up creative reimaginations of classic British cuisine, while also paying close attention to seasonal produce. Liam Rogers, a finalist from Masterchef The Professionals 2021 used to work there. And pretty close to Sat Bains is my favourite restaurant in Nottingham. Alchemilla, which has also been given a Michelin star though I ate there way before that because I'm cool (I lived down the road when it first opened). The cuisine is very creative, and modern, not sure how else to describe it. They're both on Derby Road, which is walkable from the city centre, but up a massive hill.
you are missing out on some content here because you rejected our cookies. want to change that?
What to do in Nottingham
Well it's really a citeh for living in, and living it up in. Good coffee shops, bars, clubs, shops, restaurants, Notts has it all. But if you do want something a little different there's a few museums, Wollaton Park is lovely for walking around. Its manor house is where Bruce Wayne (AKA Batman!) lives. Sherwood Forest is also great, and the Peak District is too, though both are a little far from the city centre, so might warrant more of a day trip. In the city, architecturally speaking, Ye Olde Trip To Jerusalem, which calls itself Britain's oldest pub (1189AD), is great to go in and have a look around, you can get a drink if you want (even if it's just an orange juice). It's built into sandstone caves, has wonky floors, plenty of ghosts (probably) and more. For more modern places to look at, the Paul Smith flagship store is a gorgeous Georgian townhouse well worth browsing in. Paul Smith is from Beeston, just outside the city centre. There's two football stadiums and a cricket stadium too.
you are missing out on some content here because you rejected our cookies. want to change that?
The best clubs in Nottingham
Given that a sizeable portion of Nottingham's population is students, the club scene is fantastic. There's one for everyone: Stealth is great for your DnB and rave-adjacent genres, Rescue Rooms will do all the indie throwbacks, as will Rock City (which is a gig venue but does have some DJ nights), Oceana is iconic if you're there for student nights on a Friday. Awful, but iconic, cheesy, sticky carpet, be prepared to take your top off and swirl it around at some point. Hockley Arts Club is also technically a club by name, but it's really more of a bar that has lots of themed rooms, very TikTok-worthy, great fun. But honestly, there's loads so aside from these, see what your pals are looking at going to!
you are missing out on some content here because you rejected our cookies. want to change that?
Best charity shops in Nottingham
Nottingham does charity shops well, and most of the best stores are around the Lace Market and Hockley areas. Emmanuel House Charity Shop, a few Oxfam shops (the one 16-22 Goose Gate is best), and My Sight Notts. But it does vintage shopping even better! Places like Cow, Wild Clothing Ltd, Braderie, and 101 Vintage are great for all things '90s, Y2K, and a few other classic pieces like flannel shirts and leather jackets. Vintage Emporium is a hidden gem, a little out of the city centre, but full of great finds. And White Rose always has weird, wonderful pieces too. There's dozens of stores, and all are quality, so you really can spend an entire day second-hand shopping in Nottingham.