What makes a queer anthem?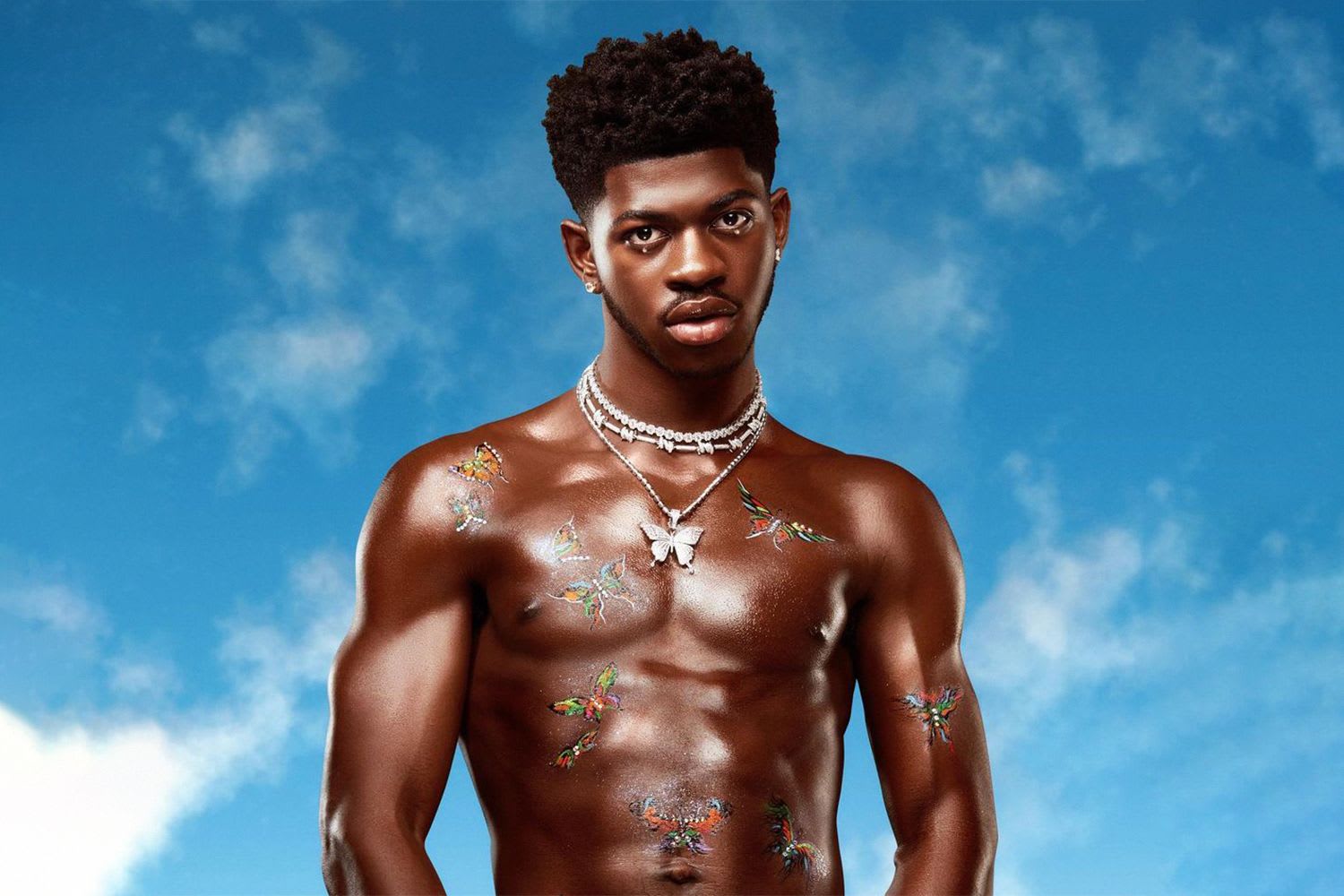 Fabulous, euphoric, relatable, or just adopted by the community because! Here Jordan Page investigates what it takes for a song to become a queer anthem
image @lilnasx via Instagram
words Jordan Page
References to the past have become an integral part of today's music culture, whether it's the never-ending caricatures of Y2K aesthetics, hip-hop's long-time love affair with sampling, or the rehashing of melodies from 90s dance classics like Haddaway's 'What Is Love' and Eiffel 65's 'Blue (Da Ba Dee)' (we're looking at you, David Guetta).
Touching on music history isn't exactly a new phenomenon, but as listeners, our nostalgia cravings feel stronger than ever. Recent research by GWI shows that out of the media types we long for the most, 64 percent of people asked said they felt nostalgic for the music of their past, second only to movies. The study also found that out of all demographics, Gen Z respondents were the most nostalgic, with 15 percent admitting that they prefer to think about the past rather than the future (closely followed by Millennials at 14 percent). It's safe to say that now, maybe more than ever, we're obsessed with a throwback.
And how can a throwback get even better? Make it queer! Whether it's the modern renaissance of queer-led genres including disco and Eurodance by artists like Dua Lipa, Roisin Murphy, The Weeknd, Calvin Harris and of course, DJ Crazy Times; or Beyoncé's own gloriously-camp Renaissance - which samples and interpolates post-70s Black dance music classics spanning disco, house, and bounce; from Donna Summer, Robin S, Moi Renee and Kevin Aviance - the lasting legacy of queer anthems has never been more apparent in mainstream pop music.
We know that the LGBTQIA+ community (collectively and in its subgroups) has been appointing its own anthems for decades. But what is the formula that elevates a standard song into the queer Hall of Fame? To dive deeper, we spoke to industry experts to break down the long history of queer anthems, discover the common thread that links them, and figure out why their influence feels so strong today.
you are missing out on some content here because you rejected our cookies. want to change that?
"Everyone has a different idea of what constitutes a gay anthem," explains Darryl W Bullock, an LGBTQIA+ music expert and author of David Bowie Made Me Gay: 100 Years of LGBT Music and Queer Blues: The Hidden Figures of Early Blues Music. Despite this, the writer believes that there are three general criteria that these songs tend to meet: danceability, vulnerability and lyrics dedicated to overcoming struggle.
"LGBTQIA+ people have been using dance as an opportunity to express themselves for decades. For so long, it was illegal for same-sex people to dance together, so anything that gets us on the floor is going to have a big appeal." Themes of overcoming struggle (which Darryl calls "the I Will Survive instinct") speak to the community on a personal level, but he points out that a song doesn't always have to tick all three boxes. "While the 70s disco diva tunes of Diana Ross and Donna Summer were the first community-bonding anthems to appear, that's not always the case. There's no vulnerability in the 'Y.M.C.A' for instance, it's all about empowerment, dancing and enjoying the moment."
But Darryl is quick to point out that queer artists were making pioneering contributions to music long before the 70s. "LGBTQIA+ people have been involved with almost every single genre of popular music from the very beginning," he says, citing the influential work of artists like 1920s blues singer Ma Rainey, 70s punk musician Tom Robinson, and pioneering trans composers Wendy Carlos (known for her contributions to electronic music and scores for A Clockwork Orange and The Shining) and Angela Morely (known for her scores for Dynasty, Dallas and Christmas in Washington).
you are missing out on some content here because you rejected our cookies. want to change that?
Rudy Rigg is the co-founder of Rainbow History Class, an online education platform founded in 2021 with the purpose of teaching the queer and trans history that school curriculums often miss out on. Like Darryl, they agree that the trailblazing work of LGBTQIA+ artists is regularly glossed over in conversations regarding music. "Queer artists sat at the forefront of the [1920s and 30s] Harlem Renaissance which ultimately shaped jazz music, disco emerged from private gay loft parties, and a lot of 80s electronic music emerged from gay warehouse clubs, especially house music and Hi-NRG," they explain.
In more recent years, LGBTQIA+ artists including Lil Nas X, SOPHIE, Sam Smith, Janelle Monae and Kim Petras have made careers - and their own anthems - with the backing of the community. But ask someone on the street to compile a list of queer anthems off the top of their head, and it's likely that heterosexual female artists like Madonna, Diana Ross, Kylie Minogue, Gloria Gaynor, Robyn, Britney Spears, Charli XCX and Beyoncé will appear. This begs the question: why are so many of the community's anthems sung by straight people?
"I think the queer community and straight women face a lot of the same struggles," singer-songwriter Tom Aspaul says. "We feel like the world isn't built for us, living underneath a toxic patriarchy." Aspaul - who in addition to making his own pop music from a gay perspective has written songs for Celeste and Kylie Minogue - claims that the majority of gay men he knows listen exclusively to straight female artists. Although male artists like David Bowie and Prince made flamboyancy a staple of their craft, during the height of Section 28 where homophobia was cemented into law, out LGBTQIA+ artists (like George Michael and Marc Almond) were discouraged from singing about their relationships for years, for fear of turning off straight listeners. Tom points out that women gave queer listeners, especially gay men, someone to relate to.
"I think the crying-while-dancing cliche is an important element of the gay anthem," Tom says. "A lot of us didn't have a great time growing up, so we relate to the people who are going through it. There's this innate desire to want to go out, to dance, to have a good time and forget about it. It's that bittersweet combination."
DJ Lady Shaka went viral on TikTok this year after her Boiler Room set combined queer anthems by Fergie, Kylie Minogue and Nelly Furtado with songs from her indigenous Pasifika heritage. "When I'm playing a set, I want people to dance. I want to share the experiences I've had, the songs that make me dance and bring me joy, and it just so happens that those songs are queer anthems," she says. "So I think it's important that these songs have that euphoric element to them. They need to make you feel good about yourself - they need to make you feel free."
As a trans woman, Shaka prioritises creating a safe space for trans clubgoers of colour at her shows and takes it upon herself to introduce listeners to queer Pasifika artists in her mixes, from Jamaica Moana to FAFSWAG. "With the way things are going for the trans community, like the ways that governments around the world are trying to exclude us from day-to-day living, I think it's important that we have this music," she says. "These songs tell people that we're here, we still matter, and that our rights as human beings should be celebrated and taken seriously."
you are missing out on some content here because you rejected our cookies. want to change that?
Shaka, Tom, Rudy, and Darryl all agree on one thing: to become a gay or an LGBTQIA+ anthem, a song can't be contrived - it's entirely down to the community to embrace it. While some songs may genuinely reflect the realities, positive and negative, of being queer in a lyrical sense (Frank Ocean's 'Chanel', Against Me!'s 'True Trans Soul Rebel'), queer anthems don't always have to be so direct. For example, gay men literally adopted the title of a lighthearted electro-pop thumper into their everyday vocabulary this summer ('Padam Padam', anyone?), while lesbians swooned over Damien Rice's 'Cannonball' after the song featured in The L Word in the '00s (which only fueled their love of folk music even further).
And as Rudy explains, platforms like TikTok are helping young LGBTQIA+ people to attach their own meanings to music. "A few years ago 'Hayloft', a song by an alt-rock band called Mother Mother, became popular within the trans TikTok community," they say. Explaining that a lot of trans and non-binary people listen to pop-punk and alt-rock, Rudy says that the instrumental of the song - which was originally released in 2008 - has been used by creators to soundtrack videos recalling discoveries about their gender identity, and is now regarded as a signifier of transness within the community. Its popularity even led the band to release a part two of the song in 2022, complete with the inclusion of 'they' pronouns.
Clearly, it's up to the community and the community only to appoint the anthems that represent them. So what are the fundamental elements that these songs share? As the experts explained, inspiring lyrics and a euphoric groove are important, but ultimately it's about striking a chord with LGBTQIA+ listeners -whether it's the memories, the context, or simply the pure camp silliness that certifies them. "These songs unite people and make them feel a part of something," Tom says. "You might not understand it, but we do. It's a language we share together."
But why does it feel like the influence of these songs is so strong in pop music today? While it's more than likely that artists like Beyoncé and Kylie are naturally channelling their childhood influences into their sound, Darryl maintains that the heart of the answer lies in the community's trailblazing contributions to music. "I guess the reason why these songs feel so closely associated with pop music is because our community literally invented pop," he says. "We really shaped music to what it is today and our contributions will always be felt. It is absolutely undeniable."