The wild emotional ride of learning to swim as an adult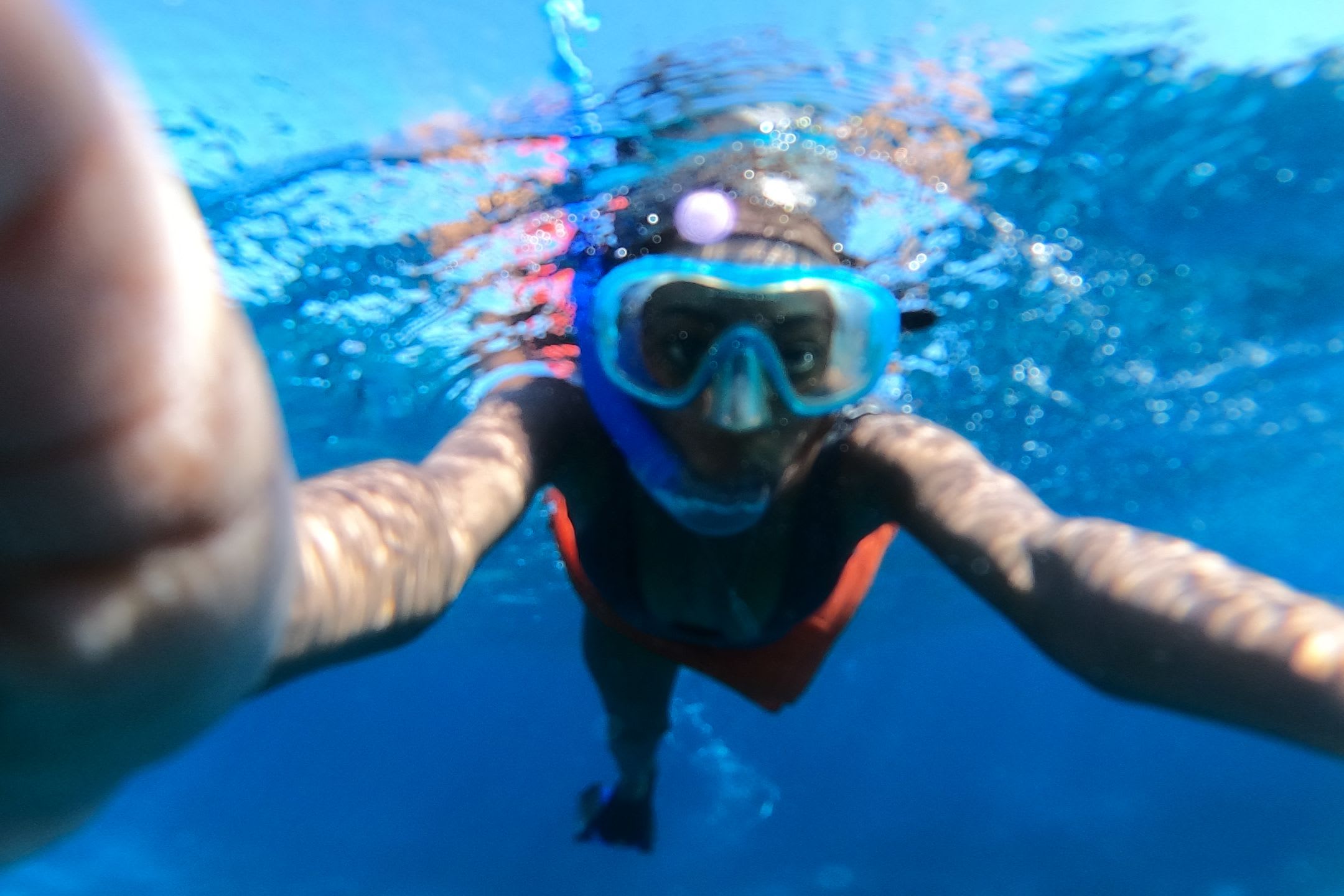 A chance to dive into Mexico's freshwater sinkholes came with one tiny problem – I'd forgotten how to swim
image Tamar Clarke-Brown
words Tamar Clarke-Brown
"Have you been to the cenotes?" my friend texted. This was the message that came through on a grey London afternoon and triggered it all. I had been chatting to my friend about black holes and gravity. Mexican cenotes are just as cosmic-looking – they're natural freshwater sinkholes in the earth (named by the Mayans, Dz'onot) and mostly found in the Yucatan Peninsula. You might have seen them on an internet deep dive, or even on an old school travel show. Once used as sacrificial pools, they're now stunning natural swimming spots, opening up secret subterranean worlds for those who seek them out. For months after I received her message, the cenotes stayed in my mind. I wanted to swim in them too, to jump in and accept the invitation and I would have - apart from one tiny tiny problem. I'd forgotten how to swim.
As someone with vertigo, you might never expect that I'd be encouraged by the thought of diving into a gaping hole in the ground. Perhaps I read Feel the Fear, and Do it Anyway, by American psychologist Susan Jeffers, a little too young. Or maybe I'm just an unintentional poster child for exposure therapy. All I know is that a few months after deciding to learn how to swim, I jumped on a plane and dived on in, and I liked it.
"Every time my feet missed the floor or my head ducked under the water for more than a few seconds, my heart skipped and my body fought for its life"
When I'd think of water, I thought of the open sea and the sheer fear of losing breath to chase air. I was convinced that the water's surface was a cruel façade that would disappear me if I lingered too long. But I also remember learning how to swim at school and on weekends too as a child, the sense of freedom it offered. Using the float noodles was a thrill. I remember the feeling of resurfacing after submersion with glee, and the walking-almost-running to be first in line for the flumes. I remember the act of learning and the feeling of knowing how. What I didn't exactly remember, was when I lost that feeling. What I didn't exactly know was why the idea of floating was now so strange to me, or why I panicked when getting into a pool or open water. Every time my feet missed the floor or my head ducked under the water for more than a few seconds, my heart skipped and my body fought for its life. For a lot of people, swimming is a reflex, an act as familiar as raising a fork to your mouth, but somewhere along the way, I'd forgotten how.
But finally I'd found my reason. With the cenotes in mind, I sought out an instructor through a friend's recommendation. Twice a week I made the pilgrimage to a sports centre pool in South London. It was hard to surrender myself to the water and override my body's urge to catch me. "Jump in, blow bubbles, prayer hands, thriller arms, kick out, come up for air," the instructor said. It was hard to keep these steps fluid. On week five, I still kept forgetting to breathe. Breaststroke… something about becoming a frog… heels together, hips pressed out, forming a diamond, and pushing outwards. "Blow bubbles," he said, "panic is the thing that drowns you." Push the water and it parts for you, reforms itself around you. "Blow bubbles," he said. Week after week.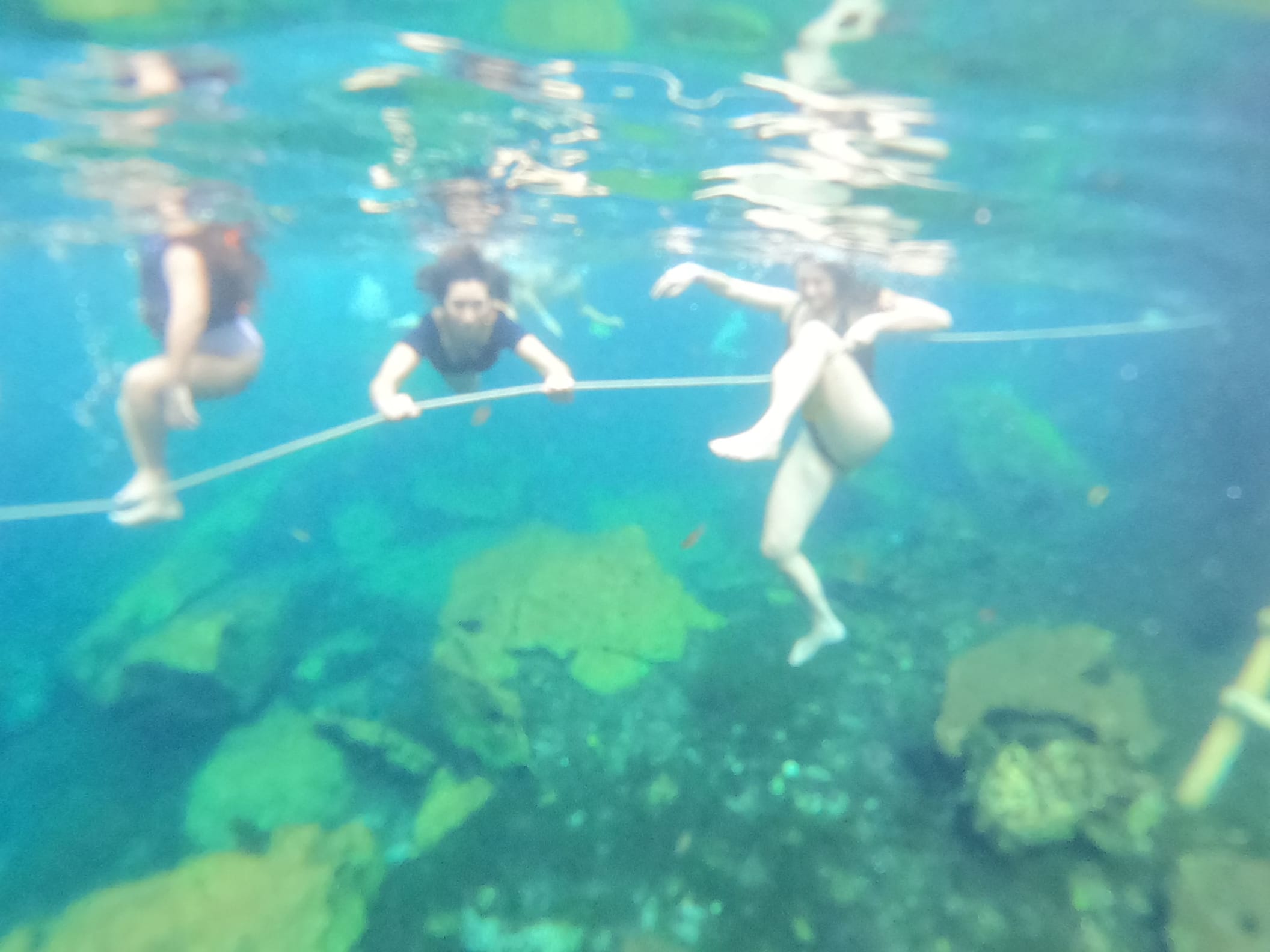 Tamar Clarke-Brown
"the water made its own transformation in my mind, no longer signaling a space of vertical doom, but of horizontal play"
I built upon the sequence and returned each week to jump in the pool. First week was breathing. Second week was tracing the steps. Fourth week was full immersion and laps. Slowly, I found myself learning to expect and embrace the fall, to recover myself in the aftermath, and push out. Slowly too, the water made its own transformation in my mind, no longer signaling a space of vertical doom, but of horizontal play.
After weeks of testing the water and building confidence in the pool, spluttering, and learning how to breathe again, I had my flight booked from London to Mexico. I monitored the in-flight map of the ocean, keeping a view on the expanse, the ridiculous scale of the earth, and myself in relation. I touched down and felt Mexico's warmth rap around me. I made a new friend quickly, who remembered a time when she couldn't swim either. We talked about the realities of facing your fears while doubt still lived in your head. She now wakes up at 4am to swim with whale sharks. I admired her braveness, but even more I admired the wild look in her eyes. I couldn't wait to rewild myself.
Buoyed, the next day I strapped on my swimming fins and fell backwards off of a snorkeling boat and into the Caribbean sea. I found that my eyes could remain open underwater, that my vision could be even clearer below the surface than above, and that I was part of the tableau I'd only imagined from images on a screen. I looked to my left and met a turtle I would have followed through the green-blue forever. I remembered to blow bubbles.
On the third day of my Mexico trip, I finally made my way to the cenotes. I felt safer in the water. Not a pro, but afloat. I made peace with the cold water, feeling a quiet settle around me, held by the water and the earth at once as the caves showed me their shape. The cenotes weren't the deepest of things, but they were the thing that had called me to swim to the other side of the world. I submerged my body and let it listen. I realised the incredible peace that had come from facing the fear. I've always been fascinated by what moves us - but it's still funny the things that do.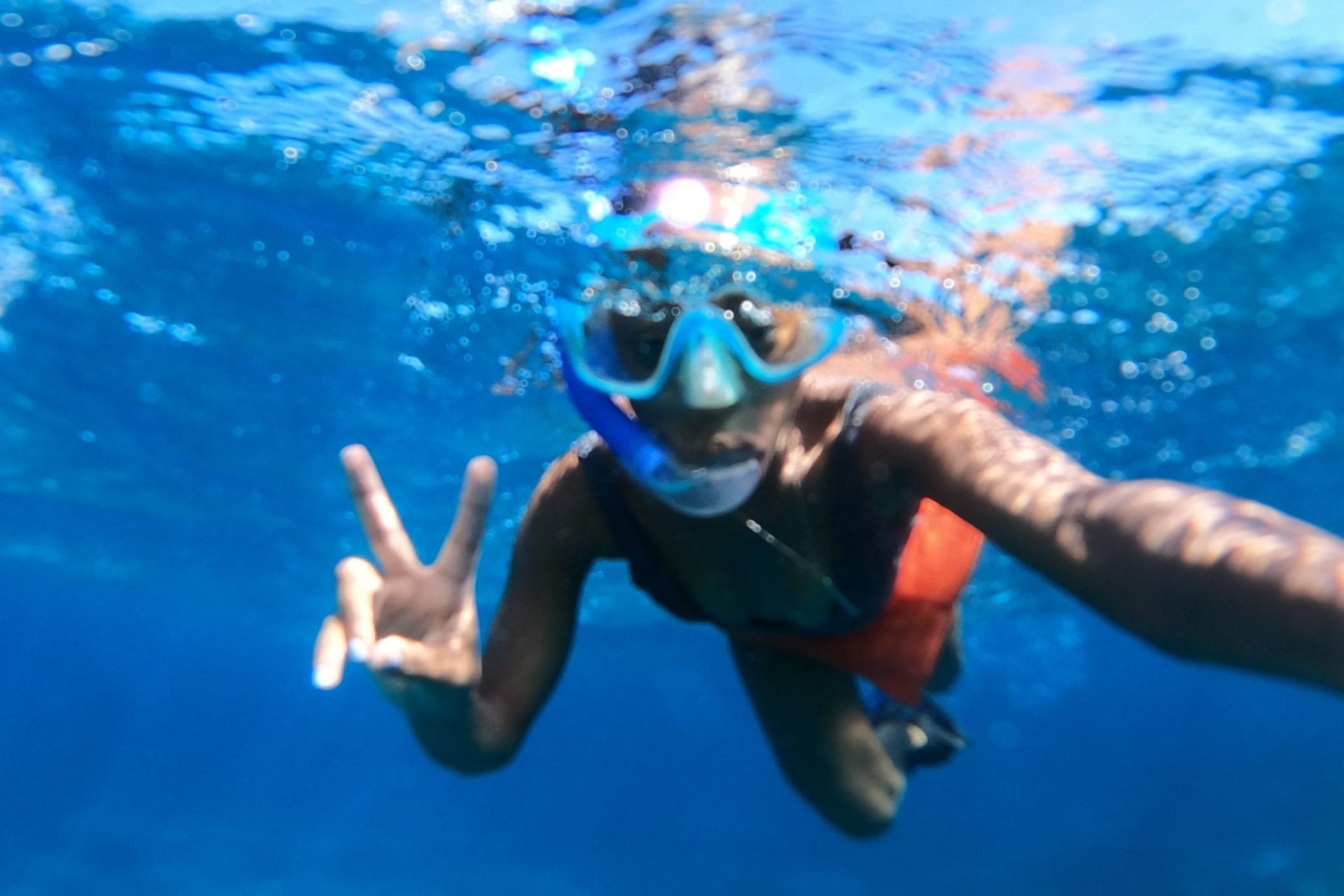 Tamar Clarke-Brown