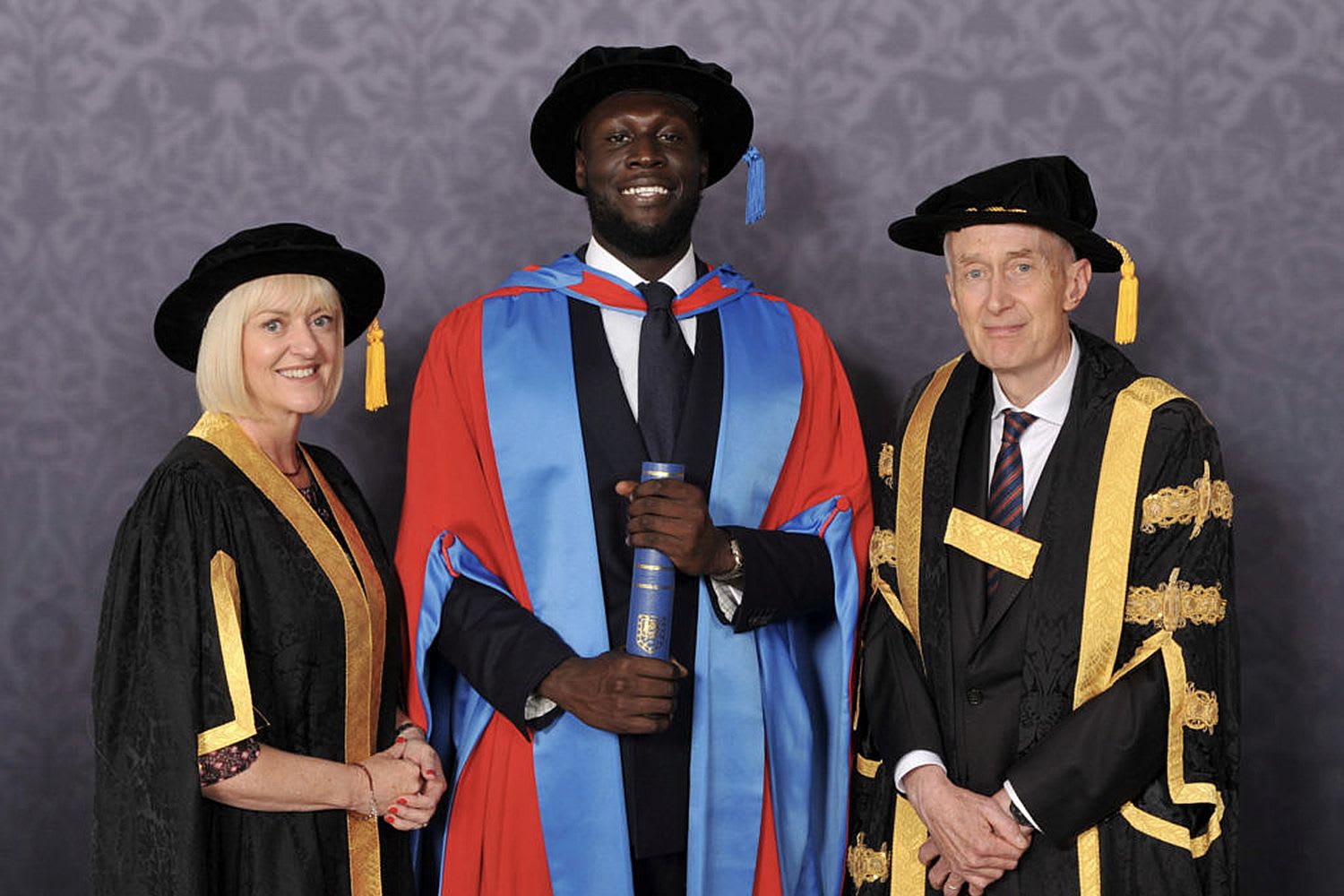 That's Doctor Stormzy, to you
Yesterday, the iconic British musician, real name Michael Owuo Jr., received an honorary doctorate from the University of Exeter. So now we can call him Doctor Stormzy. The Glastonbury headliner was seen beaming as he walked up to the stage (in a striking blue-and-red ensemble, complete with a hat) to receive the doctorate.
The world of academia isn't known for being inclusive, particularly when it comes to race.
The stats speak for themselves: Black people are underrepresented at Britain's universities, with Oxford and Cambridge University coming under particular scrutiny over the last few years.
And across the board, Britain's universities seem determined to engage in "debates" about the existence of minorities, or defend statues of famous racists. Rightly or wrongly, they are often characterised as a frontline in the UK's "culture wars", which hardly makes them seem like a welcoming place for some people.
But one man has set out to change that: Stormzy.
you are missing out on some content here because you rejected our cookies. want to change that?
What was the doctorate for?
The grime superstar was recognised for his "outstanding achievement in the field of higher education, philanthropy and widening participation". He established a scholarship scheme for Black British students at University of Cambridge and also set up the #Merky Foundation in 2020, which has gone on to pledge millions to tackle racial inequality, justice reform and Black empowerment in the UK. Last year, the foundation partnered with HSBC UK to ensure a further 30 'Stormzy Scholars' are funded over the next three years covering tuition fees and maintenance costs. Nice.
Stormzy's impact has been real
It's no secret that the highest-ranked British universities are notorious elitist and admissions procedures, which benefit white, rich applicants. This hasn't changed, but Stormzy has helped to slightly tip the scales.
His work has had a ripple effect. According to The Guardian, Cambridge University "has seen an increase in the number of black students engage in its outreach activities and enquire about its courses" since Stormzy started working in this field. This has led to an increase in applications and the admission of 91 black British first-year undergrads this year (up nearly 50 per cent from last year's 61). It's worth noting that there is still a lot of work to do. These 91 students are still a tiny percentage of the 3,378 students offered a place last year and the admissions from the UK's "most educationally deprived areas" are 14 percent.
What did Stormzy say during his speech?
The rapper says he felt "extremely blessed and grateful" to be receiving his honorary degree.
He went on to describe his "blessed" life. "I don't just mean financially, I mean with love and life and family and joy, and with peace and with purpose, so, to put it simply, I bear the fruit and I share fruit and, without sounding too fantastical, that's just what we're meant to do in whatever way we can."
He then shared his life mission: to uplift others, particularly the community he comes from. "We should always share and support, uplift and help in whatever capacity we are able to. All of these different sizes and levels of being a helping hand are all beautiful and all of them are just as powerful as each other."
He added he could not finish his speech without giving a shout-out to his mum who was sitting in the audience.
"It's always been her biggest dream for me to go to university and graduate and then become somebody so this moment is a real full-circle one."
No, you've got something in your eye!
you are missing out on some content here because you rejected our cookies. want to change that?