Oloni is here to teach you about good sex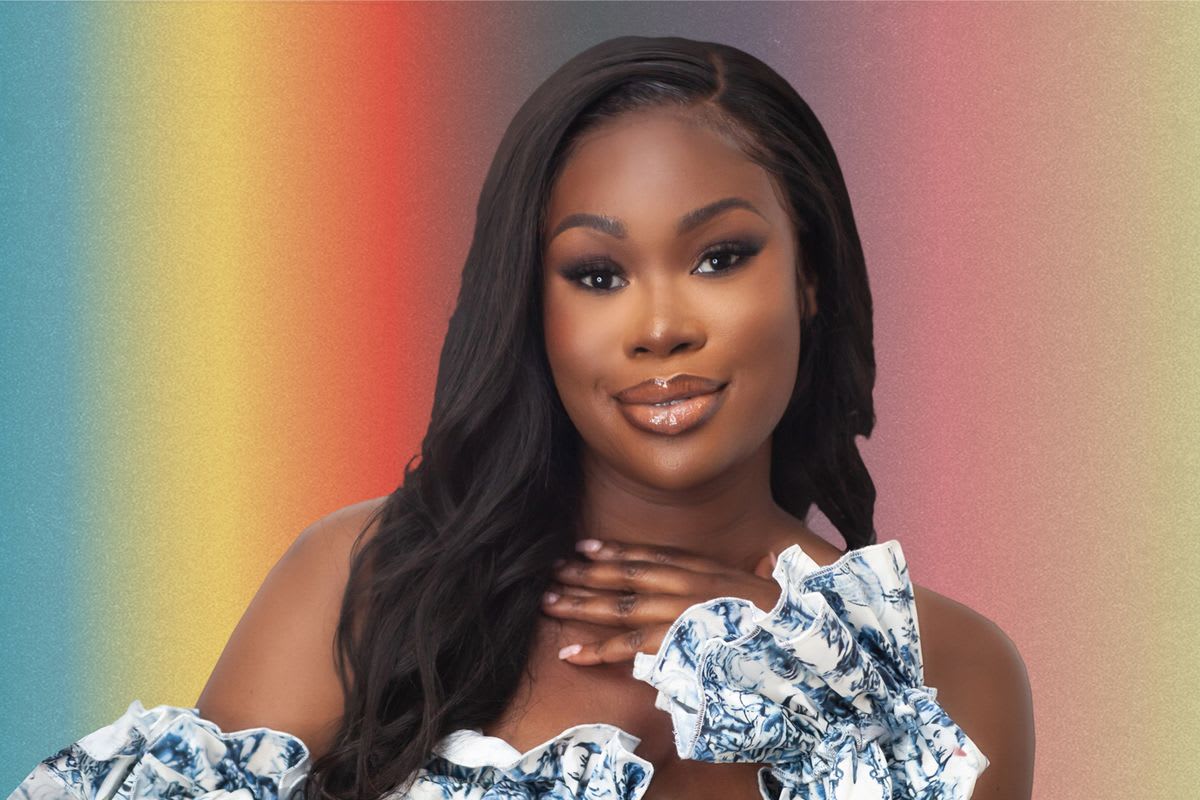 The sex educator and podcaster shares everything she's learnt about pleasure - and you're going to want to take notes
Every superhero has their power. Batman has his multi-million dollar fortune and gadgets, and Spiderman shoots webs and flies essentially, but can any fictional character control Twitter the way Oloni can? Like the casual flick of a siren-red switch, one tweet from her starting with "Ladies…" ensures chaos and anarchy on the timeline.
It starts like this: The British Nigerian sex educator, who's built a following of more than half a million across Twitter, Instagram and TikTok, and host of podcast Laid Bare asks users a provocative question, usually around their sex life, and urges people to DM her their answers. Next, she posts the responses anonymously in a thread, and we all usually lose our mind in response. If you've never come across her work, I urge you to check out her viral thread from last year documenting women's stories of terrible hygiene from men they've slept with.
But aside from instigating online mayhem, Oloni has been normalising conversations around sex for years, especially within the Black community. Since starting her blog in 2008 - the award-winning women's platform for sex and relationship features, Simply Oloni - the 32-year-old has helped turned topics like orgasms and STIs s from taboo to typical online, and has now packaged everything she's learnt into her new book: The Big O: An Empowering Guide to Dating, Loving and Fcking*.
Born in Enfield, north London, the 32-year-old, wasn't always so open about sex. "When I was growing up all the sex advice, or the sex content that I saw - I never really saw myself [represented]," she tells woo.
"So it was hard for me to see myself as a sexual being. Because, I just assumed that my culture did not want to talk about sex or weren't having sex. But, of course, I now know how untrue that is."
"When I was growing up I never really saw myself represented in sex advice'
Her book is an answer to that exact problem. The Big O is a manifesto for women, especially Black women, to reclaim sexual desires and pleasure, and simultaneously myth-busts lots of misinformation that still surrounds sex. (Did you know the claim that the clitorus has 8,000 nerve endings isn't actually supported by science for example?) With refreshing honesty, Oloni explores a range of subjects like sex in a long term relationship, hook ups and virginity through her own experiences, science and the solutions and answers that she's learnt along the way. Speaking to me over Zoom, she erupts with advice on how to have a fulfilling sex life once I ask.
"First and foremost, you need to understand your body. Because when you understand it, you're able to teach your sexual partner, what it is that helps turn you on, what brings you desire and what gets you to that finish line."
Bring a sex toy in the bedroom, she says. "This is something you have to use on yourself on your own first and then bring it into the bedroom. The reason why I harp on about sex toys is that it's a really good tool to help you explore."
But the one that blew my mind: "Teach your partner how to stimulate you whilst they're giving you oral sex by taking your finger and moving it on the side of their face. Tell them to copy the rhythm of what is being done on their face to you."
For anyone wondering how she came up with that one, it's been tried and tested by herself, she says. (As a Leo, she's never had any issues leaning into her dominant side during sex.)
It was important for Oloni to offer women tangible advice when it comes to their pleasure. "I feel like a lot of women shy from talking about the arousal side of sex," she says. "People will talk about the educational side, even though what's being said isn't completely correct - there's so much misinformation that's out there already - so I really wanted to make sure that women are reading a book that is designed with them in mind."
Her reassuring voice is a tonic throughout the book - a welcome reminder that she's on your side. Every piece of advice is packaged with sympathy and encouragement - like chatting to a close friend or sister. In conversation, she's filled with these words of wisdom as well as more tongue-in-cheek moments. "Men have been told from the beginning of time that their dicks can cure any sort of ailments that you have. That it's full of magic tricks. But that's not true," she says at one point.
"Men have been told from the beginning of time that their dicks can cure any sort of ailments that women have"
One thing she's passionate about? Centring women's comfort as well as their pleasure. While we're becoming increasingly aware that sex shouldn't be painful, there is still a lingering shame around lube. "When some women hear lube, they think that it means that there is something wrong with their vagina, and it's not doing what it's supposed to do. But there's so many reasons as to why someone might want to use lube - you could be on medication, you could be going through a hormonal change, you could be hitting menopause, you could just be on your second or third round of sex."
If you're on the second or third round, it's completely normal for your vagina to not be able to do what it did at the beginning, she says. (I'm instantly soothed hearing her reminder of this fact.)
But, despite all of the misinformation she's come across and tries to address in the book, Oloni is optimistic about the direction society is going when it comes to the conversation around female sexuality. "We're changing, especially within the Black community when it comes to how we see and talk about sex. And I think that's great - I love it."
"Especially as a millennial and a Black woman, I feel that there's so many women who need this book in their life. It debunks so many myths, and it teaches you along the way to not just love yourself, but to really treasure yourself as well," she says. "We're often told what it means to love ourselves, but we're not really giving the tools and guidance on how to love ourselves sexually, and women need those tools and guidance."
Her book, full of affirmations and tips on pleasure, provides exactly that - a supportive guide to indulge yourself and create a relationship to your own sexuality.
"It truly is an empowering guide to loving dating and fucking."
The Big O: An Empowering Guide to Loving, Dating and F*cking is out now.