Nicholas Daley on personal style and finding inspiration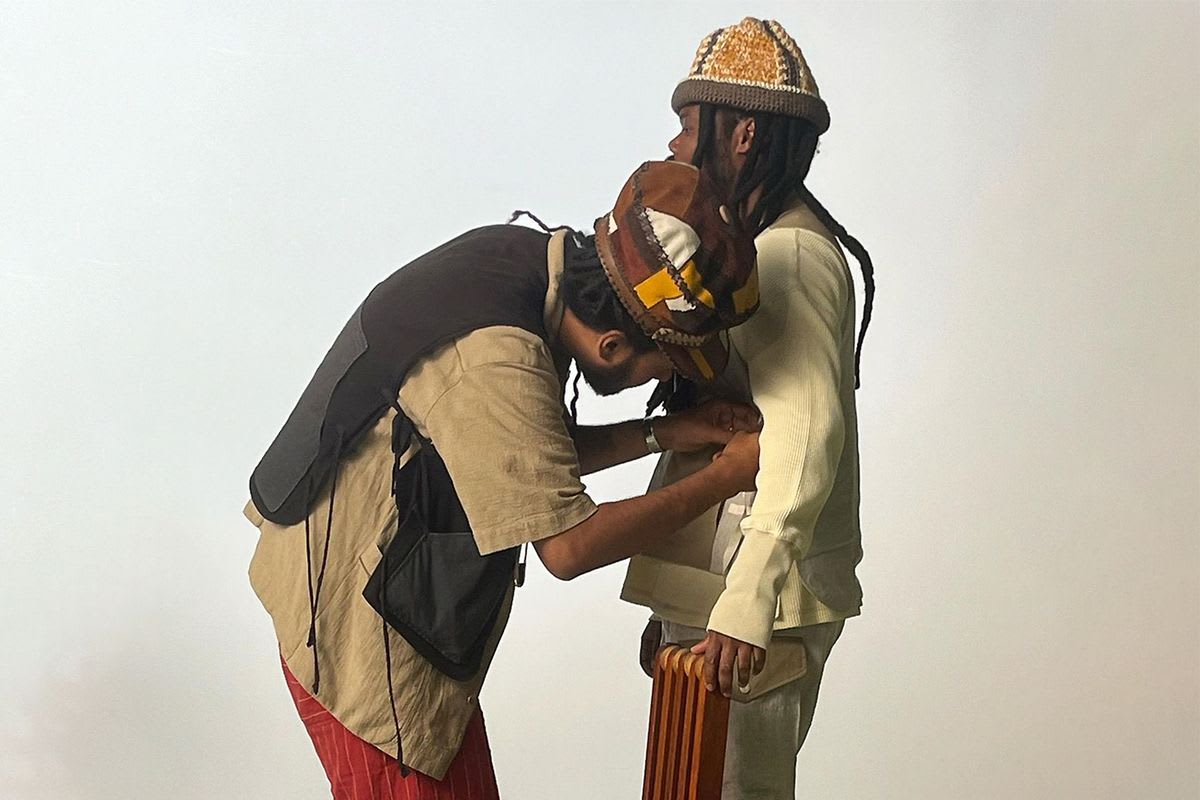 The designer speaks collaboration, his Woven Rhythms event at the Southbank Centre and creating looks
image @Nicholas_Daley
words Rhys Thomas
Nicholas Daley has always been tapped into culture. Growing up in the East Midlands, by sixteen he had bagged his first retail job at the cult streetwear store Wellgosh, which has since been acquired by JD Sports. From there, he went and studied at Central Saint Martin, graduating in 2013 and two years later launched his own label. The first show was SS15's 'Culture Clash', a collection "that established the brand identity through nuanced references to British subcultures, past and present" according to London College of Fashion.
Now, eight years on, Nicholas Daley is a key part of the fabric of contemporary British designers using heritage and cultural leanings to inform their work. Often a collaborator, Daley has worked with the likes of Mulberry and Fred Perry in the fashion space, and soon he will be curating a day of exhibitions, panels, live music and other events with the Southbank Centre, called Woven Rhythms.
The event is a bit of a full circle moment for Daley within the context of his life in London. "I've been to Southbank Centre loads, I remember going to a Harry Belafonte talk there like 10 years ago and more recently I saw Erykah Badu there. I'm a regular at the outdoor summer parties where people like Dennis Bovell frequently play." He says.
Woven Rhythms will feature live music, and DJs soundscapes and panel discussions, it's perfectly in keeping with Nicholas Daley as a brand and as a person. Community, craftsmanship, and culture feeds into it all, including Daley's personal style. Which is what we're talking about today.
How important is it to look outside of clothing for inspiration?
Yeah very, I pull inspiration from lots of different things. Obviously music's a big one for me. But whether it's different artists, paintings, literature, a lot of designers or creatives absorb influences and then try to channel it into their respective form. I've always done this throughout my collections. I also collaborate with illustrators, musicians, and craftspeople. With them we'll develop fabrics, and exclusive prints. These mostly reference a lot of my own ancestral connections and upbringings. Having West Indian and Scottish Heritage, I'm constantly looking at how that informs my design but also my personal style.
What were your formative fashion influences?
I worked at a streetwear store called Wellgosh when I was 16. I was really into streetwear which has a big cross-pollination between style, culture and music. I got the job at Wellgosh because I wanted the disposable income of a part-time job, but to also be in a space or an environment that I was interested in. I think a lot of designers who are interested in fashion find that the shop floor is a good entry point at the earliest stages of their career, you learn about retail, what people want to buy, styling, tribalism. I was into Stussy especially, and subcultural brands like Fred Perry who I was lucky enough to collaborate with for a few seasons.
you are missing out on some content here because you rejected our cookies. want to change that?
And how has your personal style developed from there?
When I studied at Central Saint Martins I bridged the gap from my interests in streetwear to where I am now. At that time I was looking at a lot of magazines and books, especially around how certain musicians style and wear their clothing to represent who they are. Throughout all of this, imagery and pictures of musicians and artists who inspire me have always helped me to form my own style. More recently my style has refined through my love of vintage clothing. I've been collecting vintage for a number of years, whether it's here in the UK or on my travels.
What sort of vintage are you into?
Mainly items from the 60s and 70s, probably because of the moment in time musically. Miles Davis, Bob Marley, the consciousness movement coming out of America, and here in the UK especially within the Black community. It was a moment of tension as well with the National Front, and you had a lot of different movements which all expressed themselves through fashion: rude boys, skinheads, mods, rockers. Even the FlowerPower with people like Jimi Hendrix. A lot of it is still important and influential now. From there it's just about what takes my eye. It's often colour and print, maybe the fit. I just see the things I like and it all develops from there.
What do you wear these days?
I wear a lot of my own pieces [laughs] but mixing them with vintage. I think if I'm designing and creating something then it's good for me to wear it, but I need to style in my own way.
What inspires your current creative work and designs?
The collection coming out for AW23, roots to rebel, looks a lot at two tone and ska, hence why I asked Pauline Black (singer from The Selecter) to be part of the Southbank Centre's Woven Rhythms panel. Two tone came out of Coventry, and being brought up in the Midlands, it's always been a soundscape for that part of the UK. I wanted to explore that influence. We were lucky enough to have Pauline and Benjamin Zephaniah, also from Birmingham, involved in the storytelling of that collection too.
A lot of the inspiration in the collection can be seen in the cut and fit, as well as the soft tailoring and monochrome palettes which are a signature to the two-tone ska movement. I'm trying to reference and reflect that while making sure the collection is still within my own world and silhouette style.
you are missing out on some content here because you rejected our cookies. want to change that?
If a mate asked how to dress well what would you say?
I'd say to just follow your own intuition and comforts. How you dress and how you style should reflect what you feel comfortable with. I always feel like it's a first communicator, before you speak to someone they'll see what you're wearing, what colours you wear, and how you style it, which also gives an idea of the things you like, and things you believe in. So I feel like focussing on authentic style that feels good to you is key, nothing is better than being yourself. So follow that, don't worry about what anyone else thinks.
Do you have any signature items?
Probably my hat. As a brand I think hats in general - we do crocheted hats, bucket hats, hand-knitted stuff and berets. But specific to my style, my leather patchwork crown, which we made with Mulberry when I did a Mulberry collaboration. There's a lot of reference to my West Indian heritage there. The tam o' shanter and the crown are very important, especially with people who have locks. I wear it so often. I'd like to give an honourable mention to our oversized baker boy hats, they've become very signature to me and the brand, but the leather patchwork crown, yes.
Which designers are you into at the moment?
The last few years have been really difficult and challenging for everyone due to the economic, political and practical situations we've been in: COVID, Brexit, all of that. It's really nice to now be through that and to be seeing venues full, people doing work, and runway shows. People lost the chance to do what they love for like two years. So I've been really into re-experiencing cultural events. Things going on like Touching Bass at the Barbican and Notting Hill were great to have again.
There's a whole wave of designers I like, of course. I guess there's never been as many designers from different ethnic backgrounds as before. People who come to mind include Bianca Saunders, Martine Rose, and Grace Wales Bonner, all female British Black designers. It's so amazing to see. But yeah there's so many good designers, I've been lucky enough to do guest lectures at great institutions and there's so much talent coming through the ranks too.
Nicholas Daley's Woven Rhythms takes place at the Southbank Centre on September 15th information is available here