How New York's weed industry is tackling the war on drugs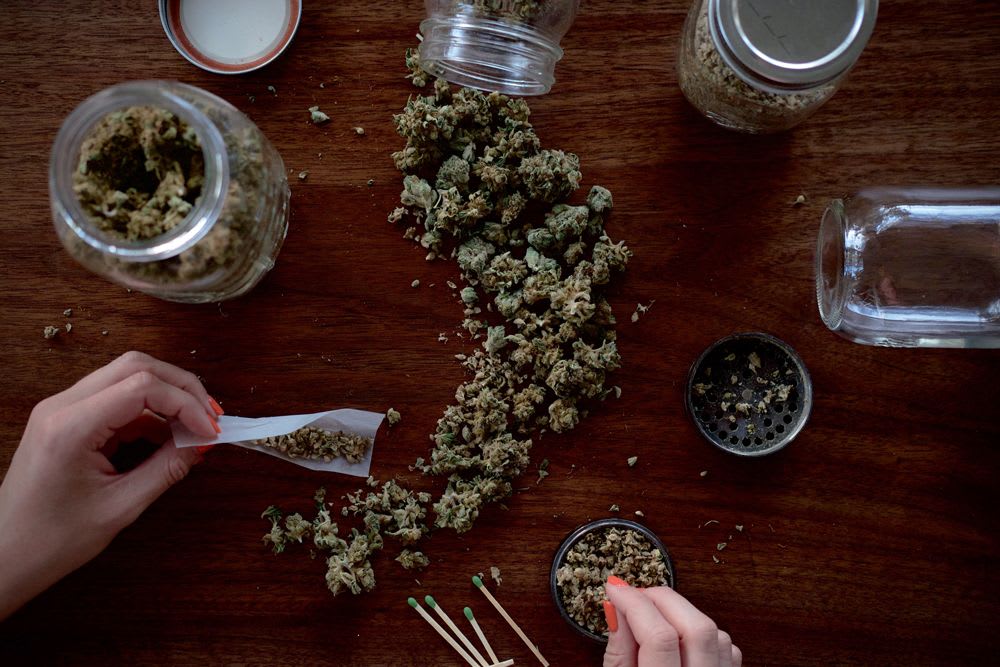 The first retail dispensaries in New York will be awarded to people with previous cannabis-related convictions
Cannabis in New York has been legal for medical use under New York law since 2016, and recreational purposes since 2021. While New York is one of the largest cannabis markets, it isn't the nucleus for America's weed culture (hi, Cali's $3.8 billion market!) – still, it is an interesting case study in terms of culture shifts, political policy and real-life impact, and the movement to undo the devastating effect of the War on Drugs on people's lives. Particularly, keeping an eye on the last few weeks and the very near future, things are shifting in NY.
Where is NY's weed industry at right now?
Last Thursday, the state of New York began accepting applications for anyone wishing to open the first of its legal recreational pot shops. Around 150 of the retail dispensary licenses have been reserved for people who have past cannabis-related convictions, as well as their relatives. This is part of several attempts to address the impact of the War on Drugs on people – especially Black and Latinx people, who have been disproportionately affected. Although 19 states have legalised recreational weed (Rhode Island is the most recent, as of May 2022), NY is the first to approach licences and potential weed entrepreneurs in this way.
It's a "unique strategy that we're implementing to try to make sure that those most impacted have a real opportunity to participate here," state Office of Cannabis Management Executive Director Chris Alexander told press. "It's really about righting a wrong."
How will the scheme work?
Applications will remain open for anyone wishing to gain a Conditional Adult-Use Retail Dispensary Licence until September 26, with the first spaces opening in New York expected in the Winter or end of the year. Successful applicants will be offered a retail location by the state and help financing the development of their shops, from a $200 million fund pot. Anyone applying in the first-round for licences is also required to have experience running a business that was profitable for at least two years. Still, the second-round will be fully open for a focus on marginalised and underrepresented groups: people of colour, disabled people, veterans, women, etc – New York hopes this section will make up 50% of successful applicants.
The inclusive approach for people with previous cannabis-related convictions and their relatives is baked into the 2021 law, the Marijuana Regulation and Taxation Act. The 'social equity' framework of the program – push mostly by Democrat representatives – highlights efforts to uplift individuals and groups harmed by the banning of cannabis. Campaigners advocating for cannabis legalisation remain sceptical as to how this will practically roll out, or how "equitable" a cannabis market in New York could truly be.
So what's the issue?
Legal challenges (from nitpicking Republicans stalling proceedings to discrimination suits or concerns over marketing processes), funding issues, and lack of urgency in the political arena could also halt New York's plans. Efforts to encourage diverse ownership in weed sectors in Detroit, Michigan and Illinois – with schemes for previously convicted people, workshops and programs, or lotteries – have faced barriers including legal challenges and lawsuits. Even quite liberal states like Colorado have faced difficulties when implementing grant and training schemes. Other states have instead focused on allowing medical dispensaries to be the first spaces for rolling out recreational cannabis.
​​"I think it's naive to think that everything is going to go exactly as planned," Robert DiPisa, an attorney and chair of the cannabis law group at Cole Schotz, told Politico. "If you look at any other jurisdiction that has attempted to create a social equity-type program, there are plenty of bumps in the road."
The Office of Cannabis Management has highlighted that they've made significant efforts to make the online application process simple, and unnecessary to involve costly lawyers. The application and licensing fee is $2,000 – whereas the NY medical program fee is $10,000. Some campaigners and independent cannabis businesses have highlighted concerns still that the efforts to remove barriers don't go far enough. While the social equity fund is weighty, there are still significant costs for operating a dispensary. Given that applicants have to sign up for a four-year period, it's locking people into a pretty sizeable, potentially precarious, costly position. More could be done for funding and improving access to education and incubator working programs.
There is also concern that large, multi-state cannabis operators could overwhelm and buy up the initial licences, creating a monopoly – see Colorado, and the vast number of big boy dispensaries, as an example. Some predatory corporate brands could influence applicants with monetary bribes to get their licences, for example too.
What does the wider industry look like?
The US cannabis industry has been waiting with baited breath for the rollout of recreational dispensary licensing in NY for some time. The United States' largest multi-state companies have had a presence in the city for years as medical marijuana dispensaries or outlets for already legal derivative-based products, waiting it out. There's high-end outlets like MedMen in midtown Manhattan, for example, which looks a bit like an Apple shop, selling 'Wellness Gel' capsules at $50 a pop, and 'Releaf Hemp Infused Balm' for $80.
Several dispensaries have found themselves in hot water for not treading the line carefully enough when it comes to what is legal just yet – New York cannabis regulators began a serious crackdown on unlicensed retailers in July, sending cease-and-desist warning letters to 52 unlawful businesses across the state – there were concerns about untested, unlicensed products.
Things are moving fast across the layers of the cannabis industry. Last week, the first 15 adult-use conditional processor licences were approved in New York. That means cannabis plants grown by New York family farmers can be turned into products including edibles, vape carts, and oils. This is a move celebrated by campaigners and official bodies.
A 100-year-old New York apple orchard has done a complete about-face to keep up with these (high) times, pivoting to become a cannabis farm. It's one of the first in the state licensed to process cannabis. Its crops will be processed and then sold in the state's first dispensaries. You can learn more about the LaFayette farm's delicious reinvention here.
In June, the first of New York's crops began to sprout. 203 hemp growers were given the green light from New York to start legally cultivating cannabis crops for the market. The first-wave growers from this year's harvest are expected to produce a couple of hundred thousand pounds of product. That would be a fraction of the approximate demand in New York, which could eventually be well over 1 million pounds (454,000 kilograms) year-to-year. In positive news for the climate too, more sustainable practices for cannabis have been shown to yield better, larger crops. Sun-grown is thought to grow (and smoke!) better.
Will this shift the vibe of weed users?
Cannabis use among young adults reached an all-time record last year, after previously levelling off after the first year of the coronavirus pandemic, according to new survey data in the United States. Consumption of edibles and alcoholic drinks suffused with THC (the psychoactive ingredient in cannabis) was also noted.
According to a study conducted in 2021 by the Columbia University Mailman School of Public Health, the U.S is seeing an increased use of cannabis resulting from its legalisation for recreational purposes. Changes to laws in different states led to a rise in the odds of those that used cannabis at least once in the past year or in the past month using again. The study focused on different racial demographics – this was observed among Hispanic, Other and non-Hispanic white people. The study also, most notably, found that legalisation did not lead to cannabis use disorder among these groups. No changes in use were observed among non-Hispanic Black people or among individuals aged 12-20 of all racial or ethnic groups, for who cannabis remains illegal. According to Silvia Martins, MD, PhD, associate professor of epidemiology at Columbia Mailman School, studying cannabis usage by race or ethnicity that correlate with changing laws is important if state's are to follow New York in taking the War on Drugs and the disproportionate impact on people of colour seriously. "As one of the stated goals of cannabis legalisation is to combat racial inequalities in cannabis legislation enforcement, it is critical to examine patterns of use in the context of persistent racial and ethnic disparities in cannabis arrests and incarceration," she said.
Another recent study confirmed that cannabis dispensaries in neighbourhoods do not correlate with increased crime. In contrast, the closure of dispensaries (shown in the city of LA) actually were associated with an increase in petty crime. Other studies have zoned in on user demographics too – dispensary clientele tends to be older, values access to specific strains of cannabis, and buys in larger quantities. The presence of dispensaries in neighbourhoods was also shown to not increase usage in teenagers.
What next?
Speaking at a press conference last week to promote the initiative, NY mayor Eric Adams claimed the city's legal cannabis industry expansion could generate approximately $1.3 billion in sales revenue by 2023, and create as many as 24,000 jobs in the next three years.
Medgar Evers college in New York also announced that it would introduce a new minor in Cannabis Education for the next academic year. The degree program will offer the college's predominantly Black student body resources for starting and running profitable marijuana businesses.
On a national level, there have been several seachanges. There have been calls for legislation on potency limits – right now, cannabis is generally regulated by weight, rather than potency, and there is no standard measure for a serving in the way there is alcohol. Vermont is the only state to regulate by potency. There are also state-wide issues around banking and how cannabis businesses trade – currently, many are forced to be cashless businesses until federal level banking reforms are brought forward. Clearly, there's more than a few potholes on the road to clear and total legislation, even in states that are well ahead than New York.
The next steps in New York though can be taken as hopeful and optimistic, and there's no one template just yet for how this could all work. New York could set a new precedent for a world looking past the war on drugs with legislation that prioritises social equity, and champions the needs and access of marginalised people.