Melissa Schriek's dynamic photos celebrate the magic of female friendship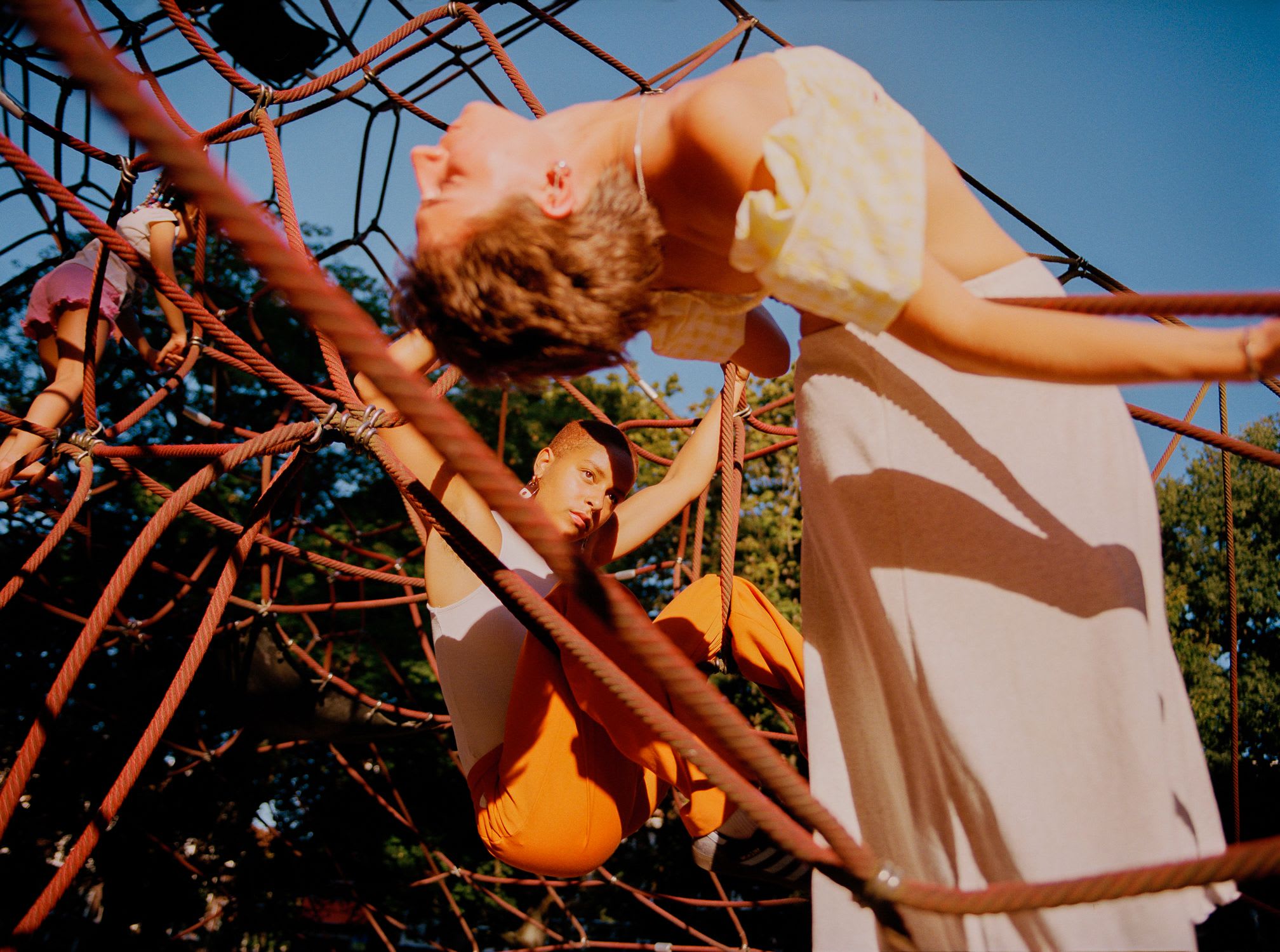 In her new photo book 'ODE',, the Dutch photographer documents the bonds uniting women beyond stereotypes
image Melissa Schriek, 'ODE'
words Gilda Bruno
Welcome to Stop Scrolling, where each fortnight arts and culture writer Gilda Bruno will be bringing you a roundup of carefully curated exhibitions, art fairs and photo books to check out, as well as exclusive conversations with some of today's most exciting emerging artists.
This week, Bruno speaks with Amsterdam-based photographer Melissa Schriek about ODE, her newest monograph – an intimate, fascinating look at the inner workings of sisterhood as seen through the beautifully entangled bodies and lives of dozens of female best friends.
"When I was a child, I wanted to be a detective so I could satisfy the enormous curiosity I carried for the world and people around me," photographer Melissa Schriek writes in her website bio. A graduate of the Hague's Royal Academy of Arts, where she studied documentary photography, Schriek abandoned her childhood dream only to scrutinise the reality she is part of through the revealing lens of her camera. "Two are the themes that recur in all my visual projects," she tells woo in a thorough conversation over email. "How we navigate the cityscape we are immersed in, and the way we connect with one another."
Serving as the greatest source of inspiration for the Amsterdam-based image-maker's photographic experimentation, "broad topics like these allow me to continuously unearth something new and (otherwise) unnoticed about my surroundings", she says. Considering the bodily, performance-inspired essence of Schriek's images, I am not surprised to hear about her past as a training gymnast and dancer. If there is anything overshadowing the omnipresent, urban settings providing the backdrop for her surreally composed photographs, that must be the physical element inhabiting each and every one of them.
Entangled so as to form intricate human sculptures, leaning on each other in a way so delicate and balanced that makes their figures seem weightless, or laying at ease by one another, Schriek's muses are ordinary subjects with a bewitching side to them. Stepping into the metropolitan, textured fabric of the Dutch cities at the brightest time of the day, the photographer's sitters enrich it with their own vibrant, larger-than-life presence and silhouettes. Bold and effortlessly elegant, they stand out against the northern European atmosphere they are lensed within, revitalising it through their fluid, hypnotising movements.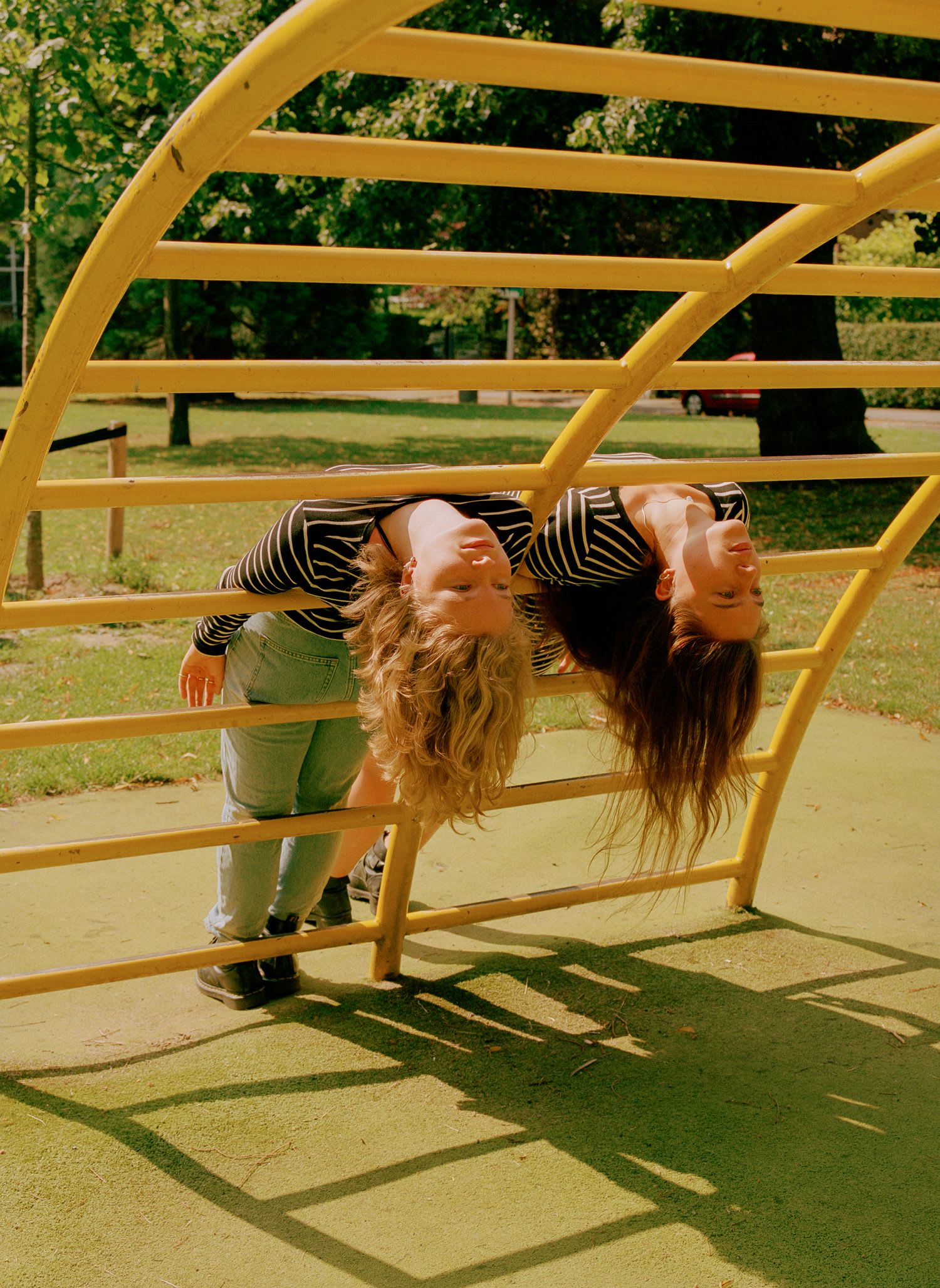 ODE by Melissa Schriek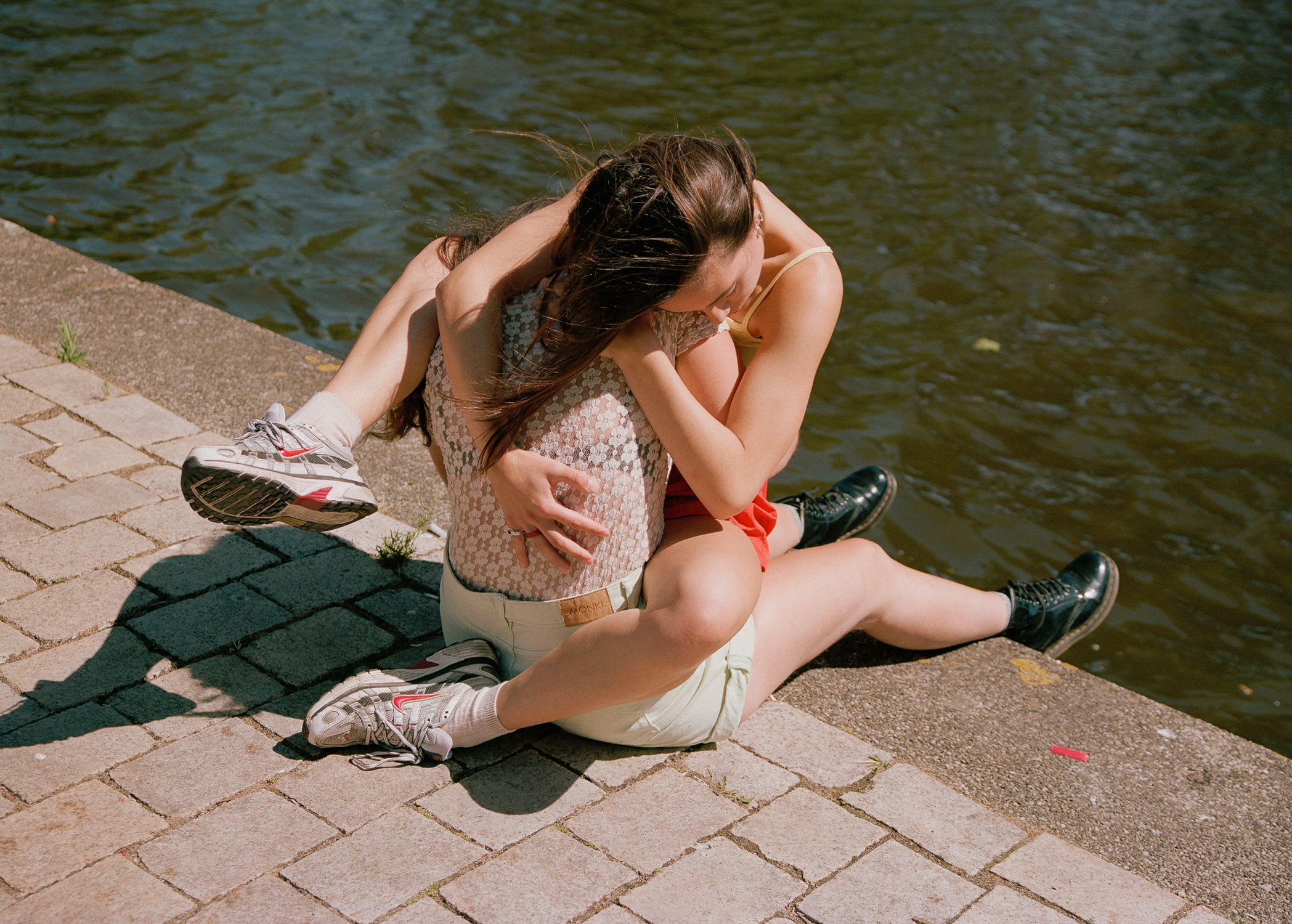 ODE by Melissa Schriek
"My work is an investigation in human connection and the ever-changing way in which our communication takes shape," Schriek explains, reflecting on the pivotal role that her observation of body language – the common thread running across her previous series The City is a Choreography, Self-portraits in Dutch Streets and The Shape of a Group – plays in defining her visual craft. The same is true for ODE, her latest body of work, which offers a dreamlike representation of the unique relationship between female best friends. Developed between 2019 and 2022 and set to release in a monograph of the same title this September, Schriek's new monograph wants to remedy the negatively framed, stereotyped portrayal of the interactions between young women (see Mark Water's 2004 teen drama Mean Girls) by fronting a stirring, positive exploration of female friendship.
Intent on visualising "the dynamics" of sisterhood from her own perspective, she looked for couples of best friends willing to stand before her lens via both Instagram and word of mouth. Portraying them as they posed for her in parks, near rivers and at the beach, or else documenting them as they add another layer to the geometric streets and buildings of her country, Schriek strived to translate what female friendship means and feels like to her in pictures. The collection of shots garnered along the way is imbued with the same unconditional, inexplicable chemistry, support and understanding that, according to the photographer, brings her and her own girlfriends closer together.
As ODE is now available to pre-order, we speak to Schriek about her "playful way" of seizing the world, how fantasy and reality intertwine in her practice, and the importance of letting women control over the narratives that shape their stories.
What aspects of everyday life catch your gaze?
Melissa Schriek: The way people move fascinates me beyond anything else. Whenever I photograph someone, I emphasise their natural body language. It is the tiny details that do the trick: how someone puts their hair behind their ear is very meaningful and personal. I am always on the lookout for those authentic moments, which I then sculpt into images existing at the overlaps of fiction and reality. Part of the end result stems from my interpretation [of those instants] and fantasy, while the rest comes from the authenticity of those standing before my lens. My eye searches for mundane objects like street poles, street cones, newspapers and shoes – I like things that tend to be overlooked. At its core, my work bridges the gap between real life and imagination, offering a glimpse of what could be true, even though it doesn't exist in the conventional sense. I have a very playful way of gazing at the world as I believe that lightness and humour can grant us new ways of touching upon heavier topics. Someone once told me that my photography has a subtle strangeness to it. I like strangeness, uncomfortableness and quirkiness as much as I love aesthetics, beauty and symmetry. I hope my visual practice falls somewhere in between the two because, to me, it is the contradictions captured within it that make it interesting.
Your artistic production straddles photography and performance. Where does your interest in the latter stem from?
Melissa Schriek: When I was younger, I was a dancer and gymnast. Though I never pursued those disciplines professionally, they certainly shaped how I interact with and perceive the world. Thanks to them, I became extremely aware of the sculptural qualities of my body and the human body overall, which I see as a way to tell stories. As I grew older, I found myself torn between my passion for photography and my continued interest in dance and gymnastics. Eventually, I chose to focus on the former, dedicating 10 years to deepening it at two different schools. While studying documentary photography at the Hague's Royal Academy of Art, I began to feel as if my exploration of alternative photographic styles was being limited by traditional teaching methods.
It wasn't until my graduation year that I began working on a project that would later become my first book, The City is a Choreography. It was then that my images took on a more physical and performative nature – this happened by giving myself the freedom to do whatever I wanted. That same year, I decided that I would start creating work that spoke to me personally. If nobody else liked it, at least I would. It is so conflicting to make work that you are not truly happy with. Up until that moment, I had found myself producing photos that conformed to the classic approach I had been taught. While they fit the mould, I felt a disconnection, as if I was not fully present in them. This marked a turning point in my work; from then on, I started to create a world where reality and fantasy intertwine.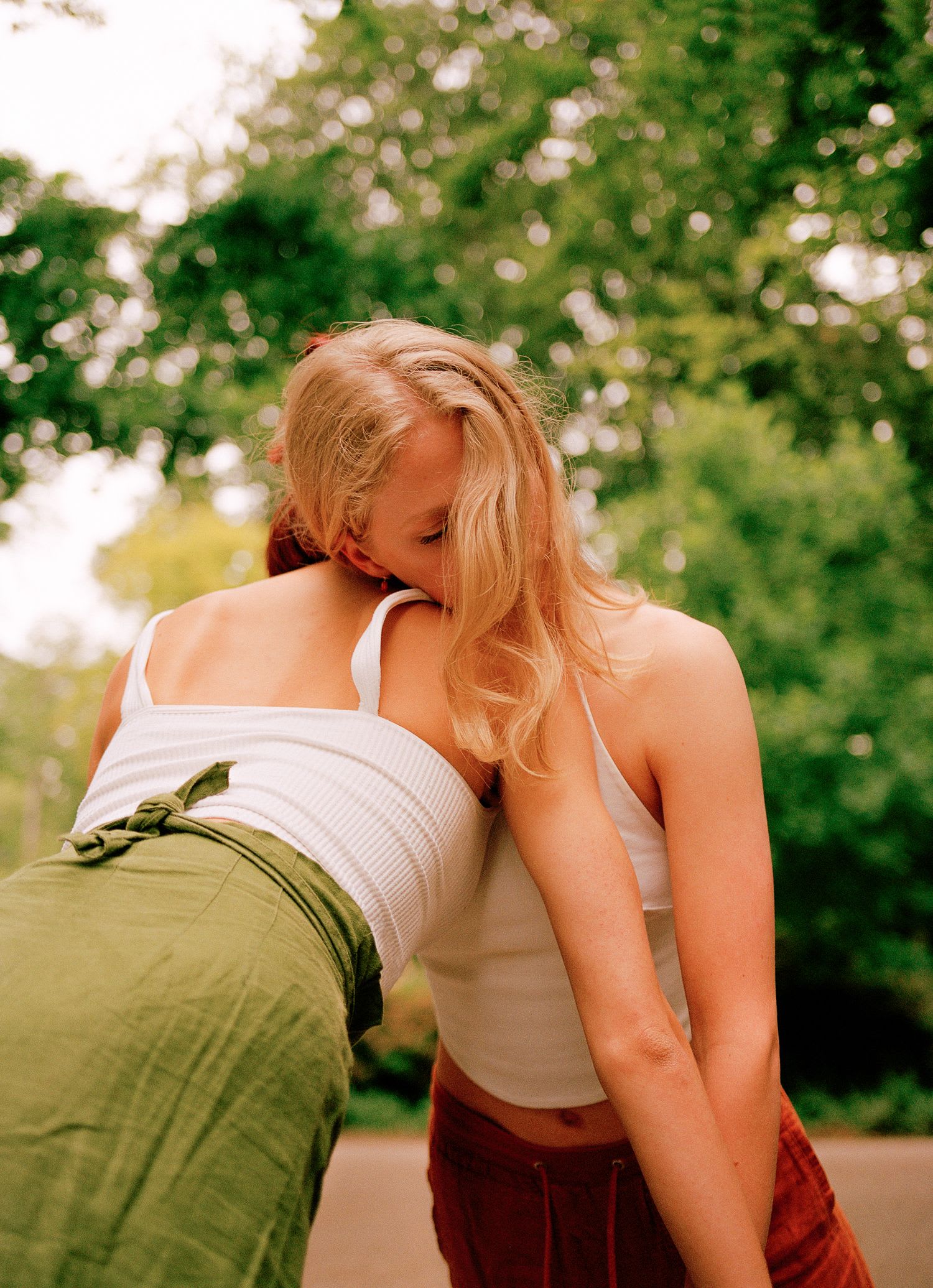 ODE by Melissa Schriek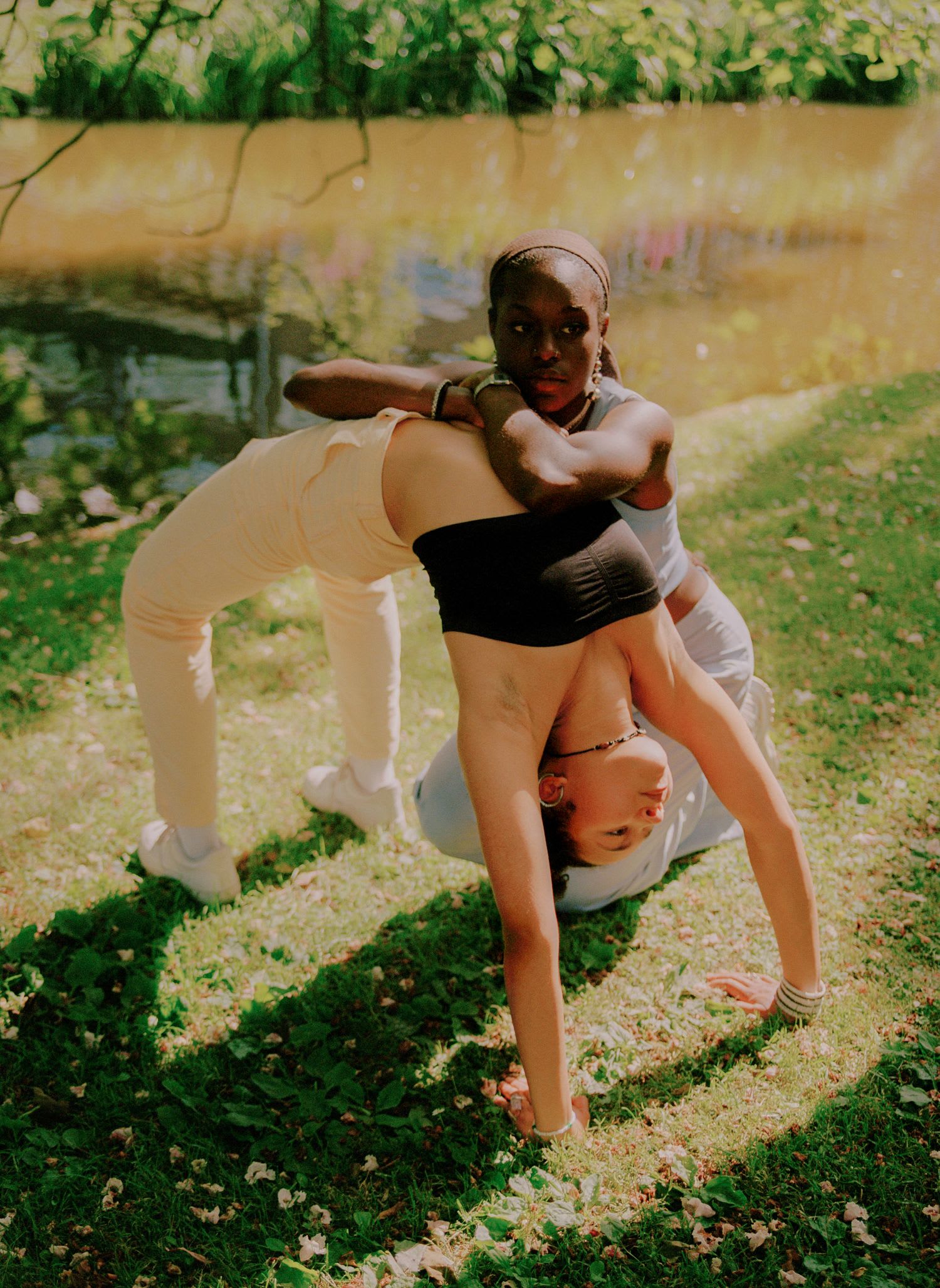 ODE by Melissa Schriek
What is your approach to translating the theatre of life into images? What artistic references – if any – are present in your practice?
Melissa Schriek: For as long as I can remember, I have always created scenes in my mind of whatever interested me. When I look around, I wonder what people are up to, where they are going, what their life is like as if I am watching a film I won't see the end of. Thanks to my eye for body language and choreography, I visualise inner feelings and emotions, translating them into actions and movements. Practically speaking, I tend to photograph in the harshest possible natural lighting as it makes me think of stage light – it turns the whole world into a play, instantly. Because of my educational background, I have examined the style of documentary photographers such as Bruce Gilden, Diane Arbus and Martin Parr extensively. More inspiration comes from other masters of photography like Larry Sultan, Philip-Lorca diCorcia and Jeff Wall: visual pioneers who blended the real with the imaginary. My references are very broad; I just like to look at things that make me stop in my tracks and think, whatever those might be. I get bored very easily, which leads me to always search for novelty. Lately, I have been obsessing over Paul Kooiker's photography. I also draw on paintings, sculptures and performance art.
Your newest photo book, 'ODE', celebrates the nurturing connection bringing female best friends closer together. What prompted this exploration of sisterhood?
Melissa Schriek: I keep lists of potential subjects to spotlight in my projects. One day I found a list from years ago that read, "exploring the dynamics of female friendship". I immediately liked the idea because of its simultaneous simplicity and relevance. The presence of women has been a constant throughout my childhood. Three years ago, [when I began to think of this project], I wondered what would happen if I explored the connection uniting female best friends through movement, portraiture and body language; that is how ODE was born. The series was created between 2019 and 2022. I met most of my sitters through social media or by word of mouth. Seeking an outsider's perspective on female friendship, I chose to focus on strangers. Interestingly, during the process, some of these strangers became good friends of mine.
There is something liberating about photographing people you don't know very well. I enjoy when a relationship is built through photography, establishing a connection as I spend time with my subject. While shooting ODE, I was offered a glimpse into the relationship between two friends – something that is hard to put into words, but worth capturing through images. We relied solely on natural lighting and mostly worked in outdoor public spaces. The end result was greatly influenced by the ever-changing weather conditions. One of the photoshoots took place on an incredibly stormy day. Rather than seeking shelter, we embraced it. In one of the scenes lensed during this session, the two girls lay down on a beach while the wind blew sand into their faces. Somewhere along the way, one of the friends moved on top of the other to shield her as much as possible.
How does 'ODE' compare to traditional portrayals of female friendship? Why was creating this series important to you?
Melissa Schriek: The portrayal that mainstream media give of female friendship and sisterhood often clashes with my own experiences. While to me these bonds are unconditional, honest and real, popular media tend to perpetrate negative stereotypes surrounding the female sphere. Think of the "mean girl" archetype, which depicts us as competitive and catty. With ODE, I wanted to capture female friendship from my personal viewpoint while retaining its authenticity. I did so by centring body language that magnifies the nurturing facets of this bond in my images. Support, likeness, playfulness and togetherness; to me, these are the pillars orchestrating the dynamics of female friendship. Recently, my photography has taken a deliberate focus on women. I find it essential to tell stories about them captured through the lens of a woman. In a world where female representation and perspectives have historically been neglected, I feel a responsibility to contribute to such narratives by bringing women to the fore in my work. The female body and its movement play a central role in my craft. Approaching it from a female perspective doesn't just allow me to celebrate the strength and complexity of womanhood, but it also grants me an opportunity to understand things about myself as a woman navigating contemporary society.
Melissa Schriek's ODE, published by Guest Editions, is available to pre-order here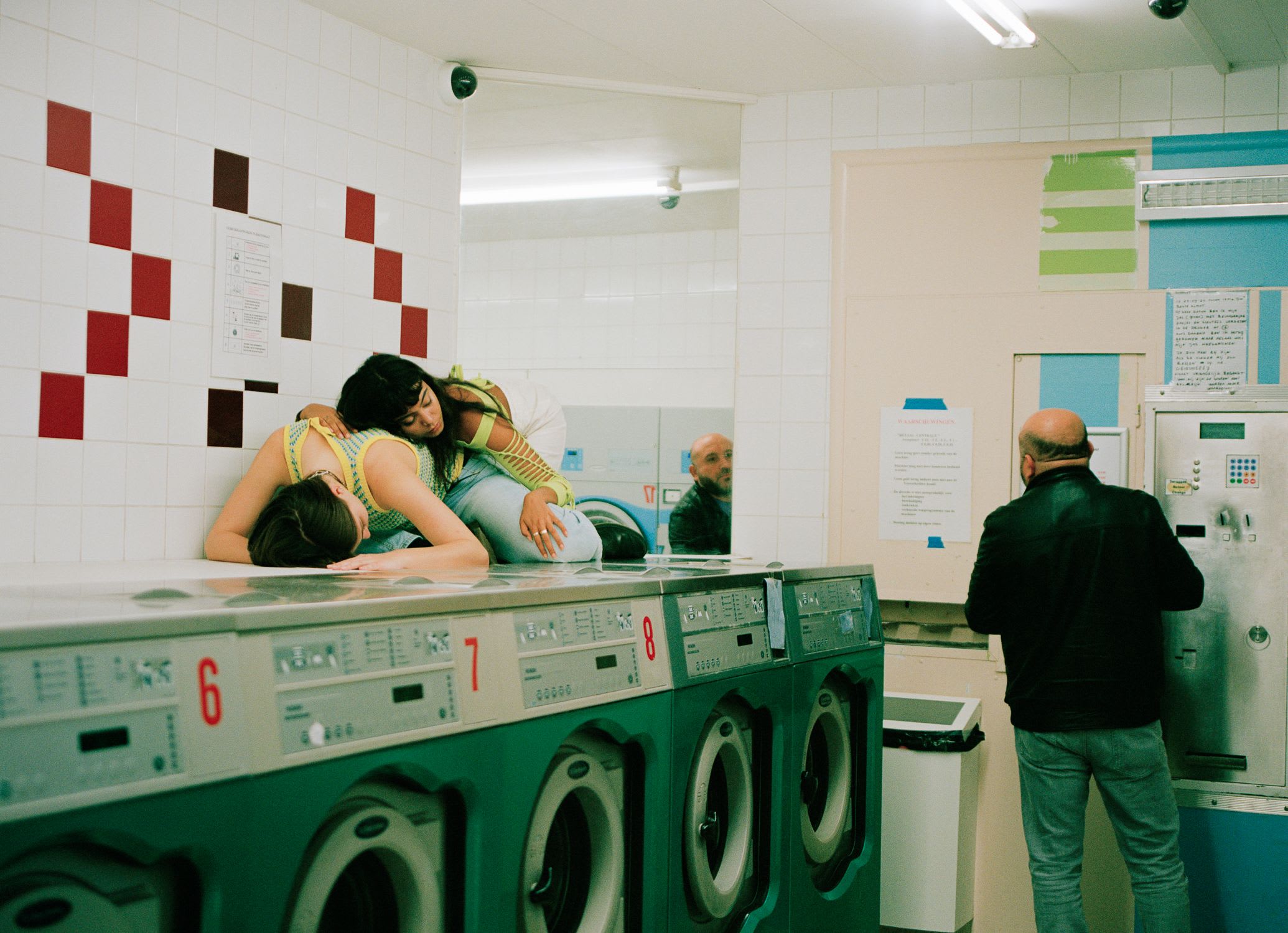 ODE by Melissa Schriek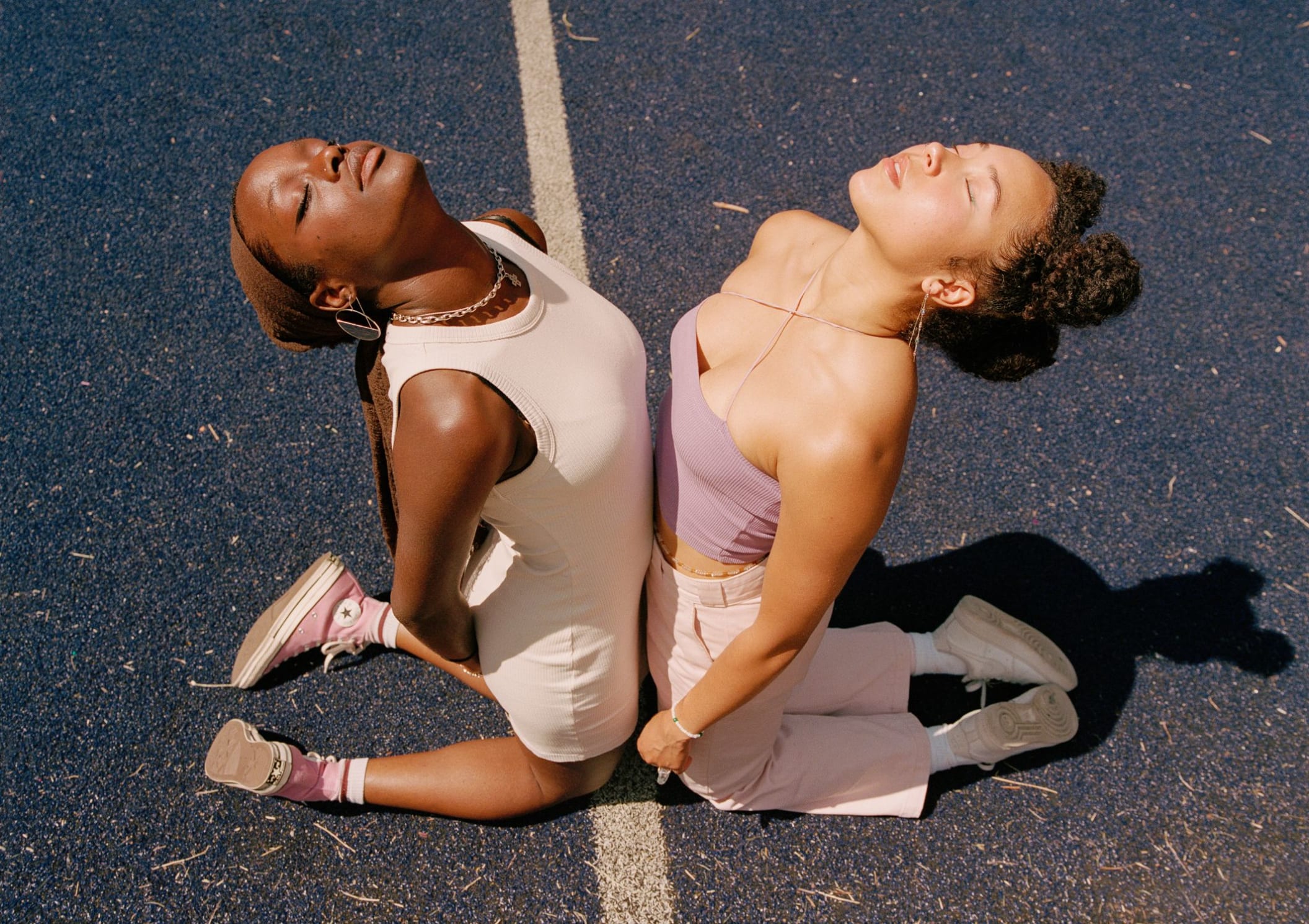 ODE by Melissa Schriek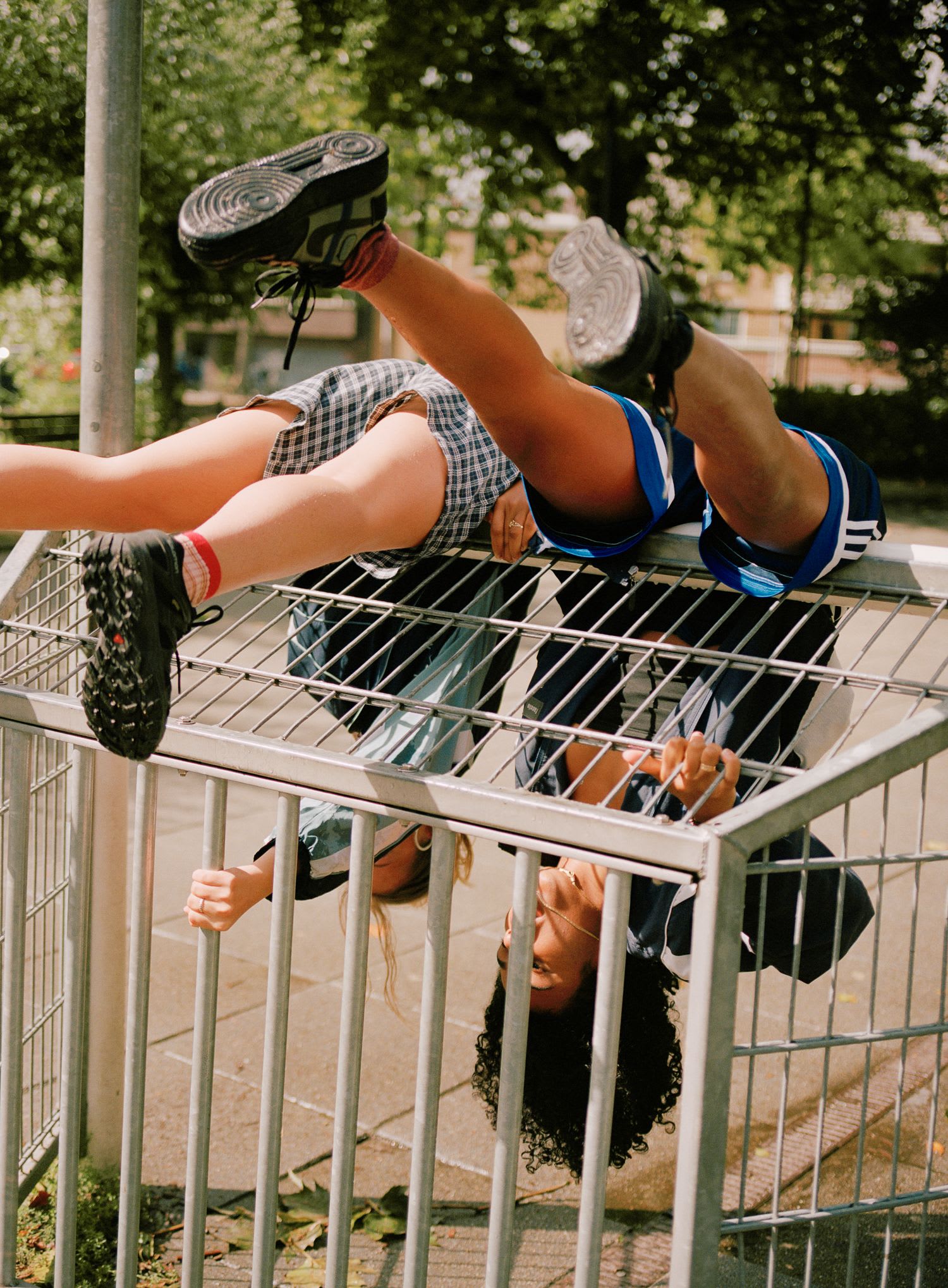 ODE by Melissa Schriek