KhakiKid: the alt-rapper representing Dublin's underground scene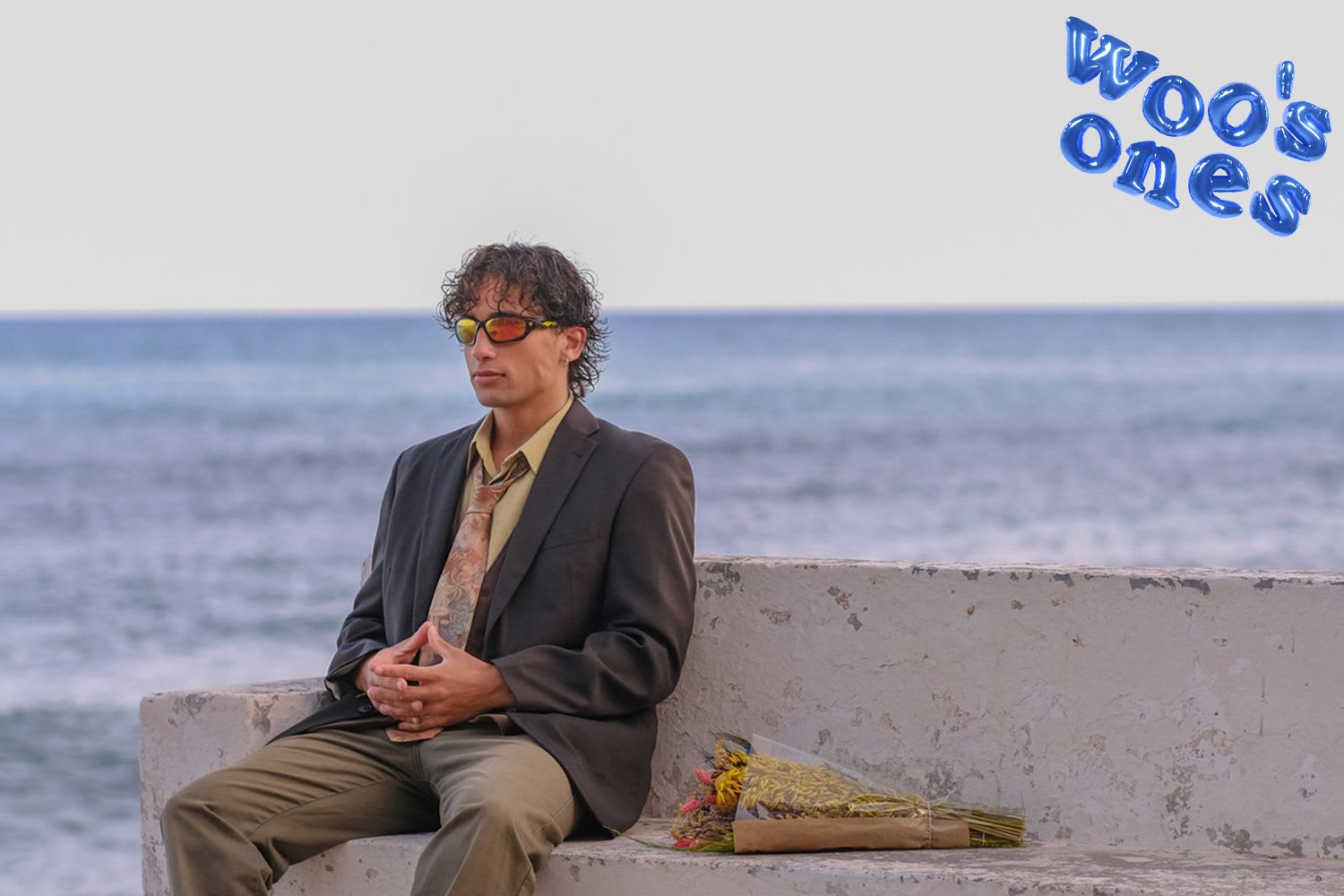 Wry rap artist Abdu Huss is ready to take you through the looking glass with his surreal tunes
To celebrate our first birthday, woo has curated a list of our ones. The people in our wooniverse who are redefining fashion, music, clubs, culture and much more.
For Abdu Huss, the journey to becoming alt-rapper KhakiKid began after he happened upon a 50 Cent CD which belonged to his older brother. While the veteran rapper's bars opened up a new world to Huss's eight-year-old ears, nowadays his music lies closer to the genre-fluid, DIY sound of Gen Z collectives like Nine8 and AG Club.
Much like his sardonic, surreal lyrics, in conversation Huss is keen to keep me on my toes: turning jokes, flipping questions back on me and (rightly) reminding me that Ireland is run by the Taoiseach, not the Prime Minister, when I ask him what he'd do if he was PM for the day. This scrappy energy has served him well as one of the major emerging figures of Dublin's underground, a music scene with creativity in bounds but arguably without the same links to industry which contemporaries in London and the UK might benefit from.
Indeed, the rapper doesn't want to wait around for success: he'd rather go out there and find it himself. At the beginning of his career, he'd even approach festivals pretending to be the manager he hadn't yet secured, convinced that if he acted like someone else was doing the work on his behalf, he'd be more likely to be booked. Nowadays, he can leave the subterfuge behind: thanks to the hype off of last year's eclectic Elevator Music EP, he's selling out headline shows and (watch this space) creating a short film for woo. In the meantime though, he's getting ready for his first UK and Ireland tour and to crank up the velocity on his career.
"I got to bring my mam up on my most recent, sold-out headline show. She got to come on stage and see what it's all about"
Describe what you do in your own words.
I get distracted and bored easily so I make music and I like to do it with my friends.
And how would you describe what you do to a date?
The same thing! Well, my girlfriend knows what I do already so it's pretty easy, I don't have to do much describing. I think I moan to her about it enough that she doesn't want to hear about it at this point.
How did you get into your chosen career?
I didn't like the idea of going to college and since the age of eight or nine I wanted to be a rapper, because I listened to a 50 Cent CD that my older brother had.
Are there any upcoming projects we should look out for?
I've got a new single coming out at the end of the month called "Underbite" and my UK and Ireland The Dirt Bird Tour in May.
What's one thing you'd like to see change in the world? And is there anything you do that you think helps that change along?
I'd like people to stop wearing Nike Domes, that would be great. What would I do to change the world…? Sorry, I wasn't expecting this. Do you have an answer to this?
For me, I would say that I want to improve trans and queer equality, so that's what a lot of my writing focusses on.
Oh, so we're being deadly serious. So my deal is that I represent the minorities in Ireland. There's not much representation at the moment for minorities, especially in Ireland, and I think me pursuing music kind of gives a platform to people who are of the same culture.
What's the one thing in your career you're most proud of?
I got to bring my mam up on my most recent, sold-out headline show. She got to come on stage and see what it's all about and it was the first show she came to, so that was pretty cool. And I'm very proud of that.
"Me pursuing music gives a platform to people who are of the same culture"
And what's one thing you would do if you were Prime Minister for the day?
Well we have the Taoiseach over here and if I was the Taoiseach I would ban evictions for the day.
Is there any one thing you do on the regular to take care of your mental health?
I swim in the cold: in the ocean, in the sea. I do it for three minutes at a time, not for that long, but there's something refreshing about it. Doing things that are hard or things that you kind of don't want to do are good for your mental health. You build some sort of mental endurance and mental fortitude.
What's one lesson that changed your life?
To not rely on other people or institutions for the things you want or need. When I didn't have a manager at the start of my career I'd pretend to be my own manager and book festival slots for myself, which worked because people just think you're more important if you've got someone representing you. I didn't want to wait for a manager to come.
How about one moment in your career that you will cherish forever?
It was the show my mam came to which I mentioned. It was a really special moment.
What's one thing you want to achieve in the next year?
Next year I want to sell out the Olympia Theatre, which is a prestigious venue in Ireland – the likes of David Bowie have played there. I've played a sold-out show there as support but I would like to sell it out on my own.
If you had a number one song, what would it sound like?
It would have confusing and weird lyrics and Biig Piig would probably be on the hook, I can see it working out like that.
Who's your number one fan?
I listen to my own music more than anybody else, so probably me.
And who's number one on your speed dial?
Jeez, this is an old question. Do you have a speed dial?
If you did have a speed dial, who would be at the top of it?
I don't know, probably a takeaway.
Name one person who's killing the game right now.
Lava La Rue, they're pretty sick. I'm a big fan of them.
What's one piece of clothing you can't live without?
Vests, tank tops. There's nothing better than a tank top tucked into a cowboy belt with flared jeans and some cowboy boots.
Get to know all of woo's ones here.