Iranians are fighting back against Iran's harsh regime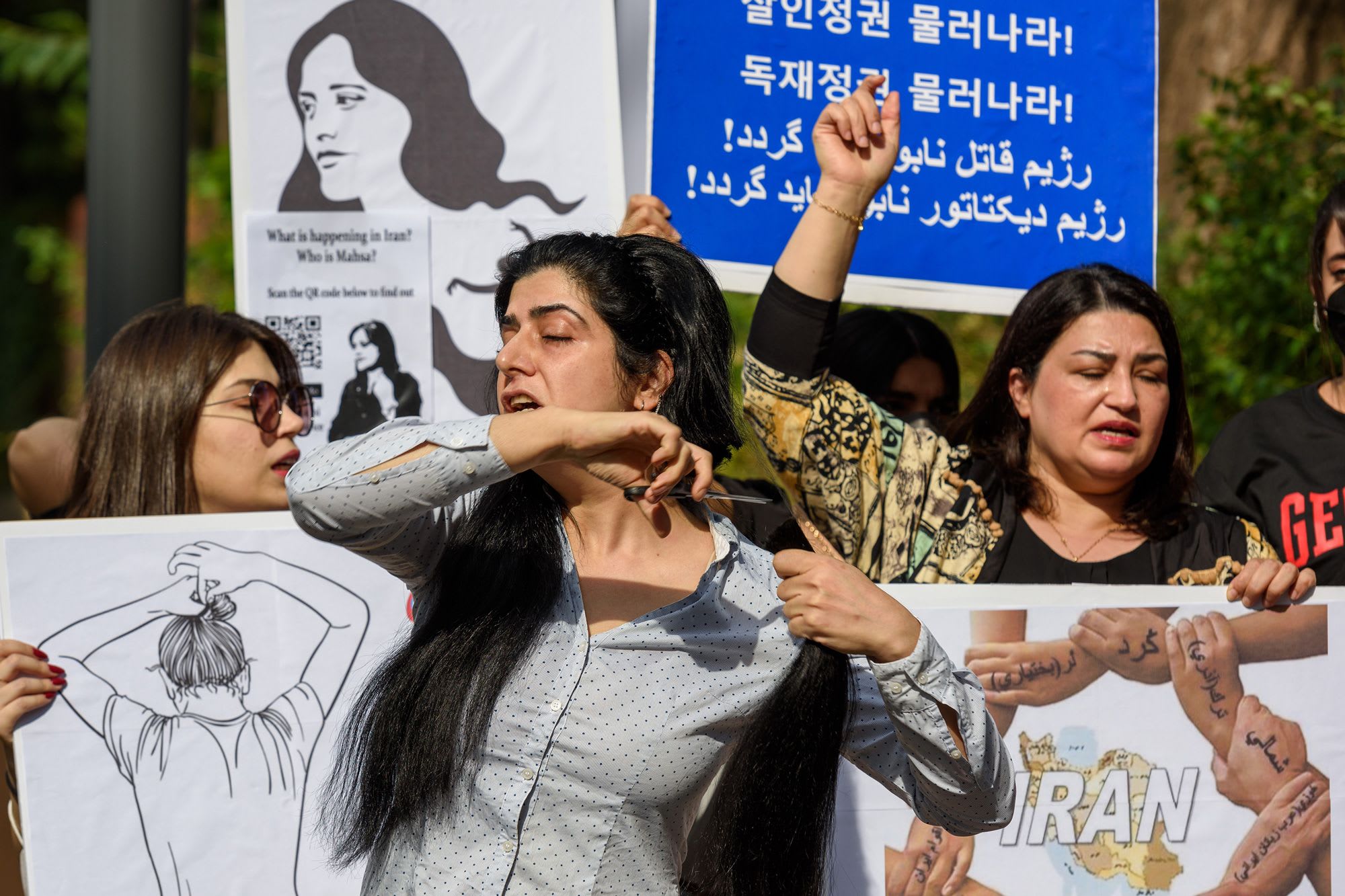 Mass demonstrations and global outrage have broken out following the death of Mahsa Amini
image Getty / NurPhoto
words Megan Wallace
Following the death in police custody of a 22-year-old Kurdish-Iranian woman on 16th September, protests have broken out in Iran against an oppressive regime. This is everything we know about the current state of affairs in Iran, and ways in which you can choose to help. We will be updating this with any new information which comes through.
While the situation has been changing rapidly, the events were sparked by the death of Mahsa (also known as Zhina or Jina) Amini, a 22-year-old Kurdish-Iranian woman who was arrested by the state's morality police on 14 September 2022 for wearing an "improper hijab". She was then taken into custody in a "re-education centre" and later taken to a hospital where she died. Her family and the Iranian government have cited different causes of death: officials have claimed she died of a heart attack, while Amini's relatives insist that she was healthy and had instead been tortured by police, even receiving blows to the head that may have led to her death.
Following her passing, Iranians across the country took to the streets in what became the largest anti-government protests since 2009. Unlike other protests, though, central to these actions are women and girls removing the state-mandated hijab - an offence punishable with a prison sentence since 1979 - and cutting their hair. Men are joining these protests, which are now as much about the Iranian regime as the morality police that, since 2005, have been tasked with inspecting how many strands of hair emerge from women and girls' hijabs.
Demonstrations took place in more than 80 cities and state police have responded with tear gas and opening fire on crowds, as well as arresting an estimated 1200 people. In late September, the death toll from the corresponding police crackdowns was placed at between 41 and 57 by charities and human rights groups, although the Iranian government places the death toll lower.
The response to Amini's death was a flashpoint for resentment that has been building for months and perhaps years in Iran, particularly among the country's youth. Since August 2021 Ebrahim Raisi, has been president and has led a crackdown on women's rights.
Before becoming president, he was known among Iranians and in the international community as one of four judges who oversaw the mass execution of an estimated 5000 political prisoners in 1988.
you are missing out on some content here because you rejected our cookies. want to change that?
While women initially led the protests in Iran, it's not just the lack of women's rights that have surged protestors' discontentment - Iran has a history of voter suppression and alleged government corruption. It's also worth noting the political context in Iran. Following the Iranian Revolution in 1979 which overthrew the country's royal family, the country adopted Islamic law including mandatory hijabs, a ban on female singers performing for male or mixed audiences and a law forbidding "crimes against public morality" which can be used to censor singers, dancers and other performers. Punishment includes imprisonment and flogging. These laws, which are still in place more than four decades later, as well as the strict enforcement of them by street patrols of morality police (set up in 2005) are some of the reasons why Iranians are protesting.
At the start of the protests, social media was flooded with videos from the scenes across Iran. These included women cutting their hair or shaving heads and removing and burning their hijabs. As a symbol of solidarity in the early days of the protests, women in other areas of the world began posting videos of themselves similarly shaving or cutting their hair, and on TikTok the #mahsaamini hashtag now has over 900 million views.
you are missing out on some content here because you rejected our cookies. want to change that?
Quickly, however, the Iranian government issued an internet blackout. This is a common tactic used by the Iranian state, and many Iranians subvert this by using VPNs, encrypted email like Proton and anonymous browsers like Tor to avoid digital surveillance and all-out blocks on the internet. In response to the scale of protests, the government has not just shut down the internet but also blocked access to the App Store and Google Play and removed WhatsApp and Instagram from local app stores.
As a result, it is hard for those inside Iran to communicate with each other too easily but it is harder still for those outside of Iran to gain much insight into the current situation, which is rapidly seeing both positive and negative developments. On 2 October, Iranian authorities surrounded student protestors at Tehran's Sharif University of Technology and unleashed tear gas and steel pellet guns as an attempt to crackdown on the growing student protest movement.
However, there may be some hope on the horizon. Campaigners have suggested that the pressure from these protests may lead to the dissolution of the morality police in Iran, while other reports suggest that the morality police have withdrawn from the streets.
Iranian protestors have made huge sacrifices to make their voices heard, and we hope that the long-term change they wish to see becomes a reality.
How to help
If you feel like you might want to help those in Iran protesting, fortunately there are ways to do so. Donating to human rights organisations who are focussed on helping Iranians is a great example of how to contribute to active change in the country. Places include Justice for Iran, and the NGO, Iran Human Rights (IHRNGO).
Of course, sharing is also caring. A post on socials can raise awareness about these issues, but it's important to make sure you do so with responsible sources such as verified news organisations, credible journalists, and campaigners. Here's a few to learn more about and follow:
1500 Tasvir; Article 19; Center for Human Rights in Iran; Human Rights Activists News Agency (HRANA); Iran Wire and The Abdorrahman Boroumand Center;
Azadeh Pourzand; Gissou Nia; Golnaz Esfandiari; Jasmin Ramsey; Mahsa Alimardani; Masih Alinejad and Roya Boroumand.
Calming essentials for chilling ou
For when you want to shut the world out and relax