'Clean-up raves' are uniting young people in Ukraine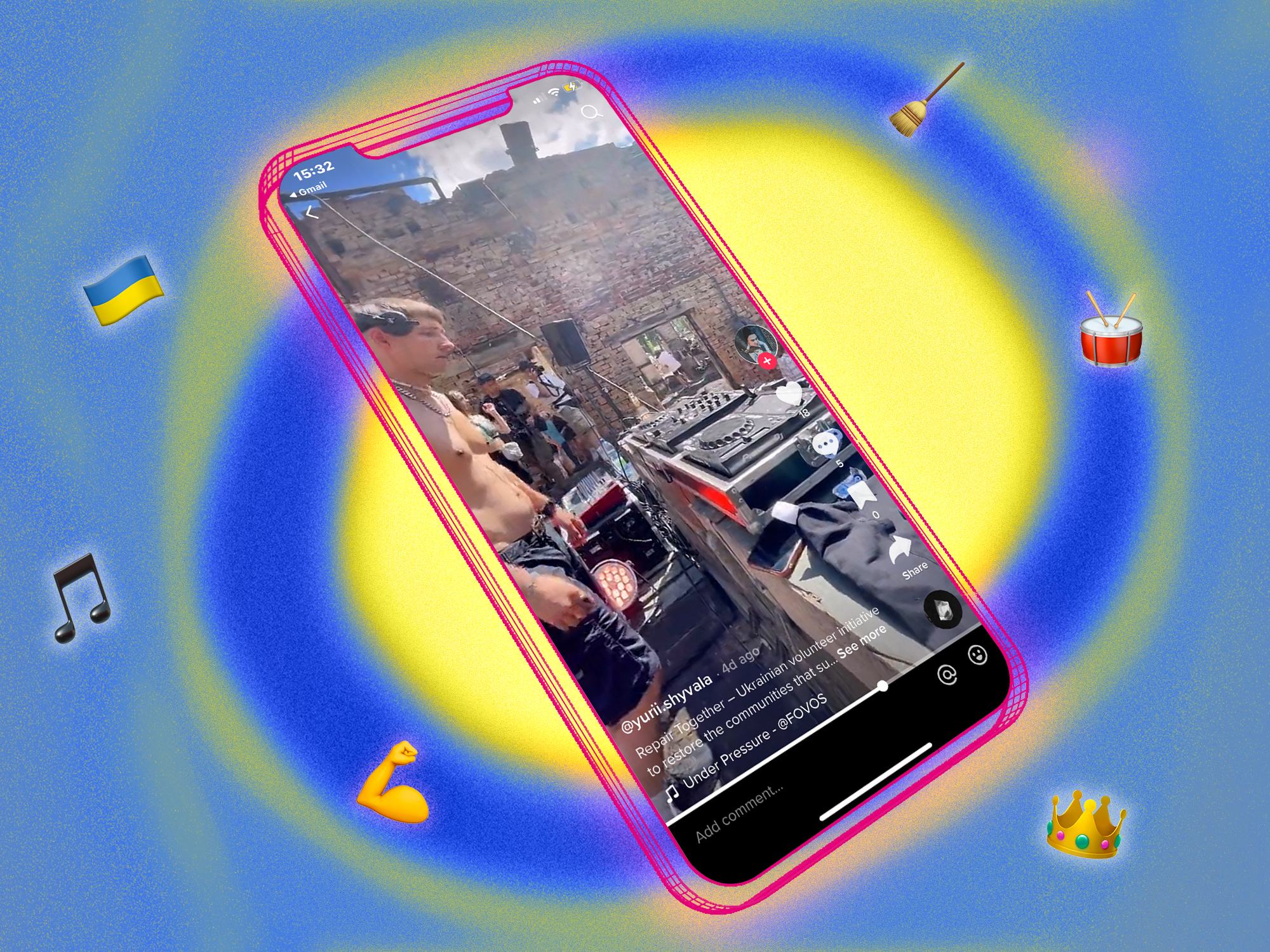 Volunteers from Repair Together are finding new ways to rebuild communities during the Russian occupation
image @yurii.shyvala via TikTok (design by Jonas McIlwain)
words Megan Wallace
After Russia's invasion of Ukraine in February, the country has seen untold destruction, with cities devastated by bombs and families displaced from their homes or torn apart by grief. While nothing can be done to bring back the lives that have sadly been lost, young Ukrainians and activists are banding together to help unite communities and restore homes destroyed by the Russian occupation; paving the way for a brighter future.
One organisation spearheading these efforts is Repair Together, an initiative that brings together young people in Ukraine to help reunite their country by cleaning up debris, rebuilding homes and helping elderly individuals affected by the crisis.
If you follow the organisation on their Instagram you'll see live footage from their tireless efforts to help their country and its people. And even from a quick scroll of their feed, it's easy to see that maintaining morale during their activities is important, with group pictures of smiling volunteers, individuals cosying up to cats and captions (mostly written in Ukrainian) joyfully describing the group's achievements and describing the delicious food prepared for each trip.
Most recently, the collective has made headlines due to its "clean-up raves" which set these efforts to music. Last weekend in Yahidne, a village in the country's Northern Chernihiv region, volunteers celebrated their progress so far with a day party that saw them clear buildings of rubble while enjoying techno sets from DJs and live music in order to keep spirits high.
A video from the rave has been posted by Vice World News on TikTok and has, at the time of writing, been liked over 306,000 times with thousands of positive comments applauding the initiative and its volunteers.
If you're interested in supporting Repair Together you can follow them on Instagram or donate via PayPal. Check out footage from the organisation's clean-up rave via the Instagram video below.
you are missing out on some content here because you rejected our cookies. want to change that?