From Bennifer to Drew Barrymore: welcome to earnest celebrity summer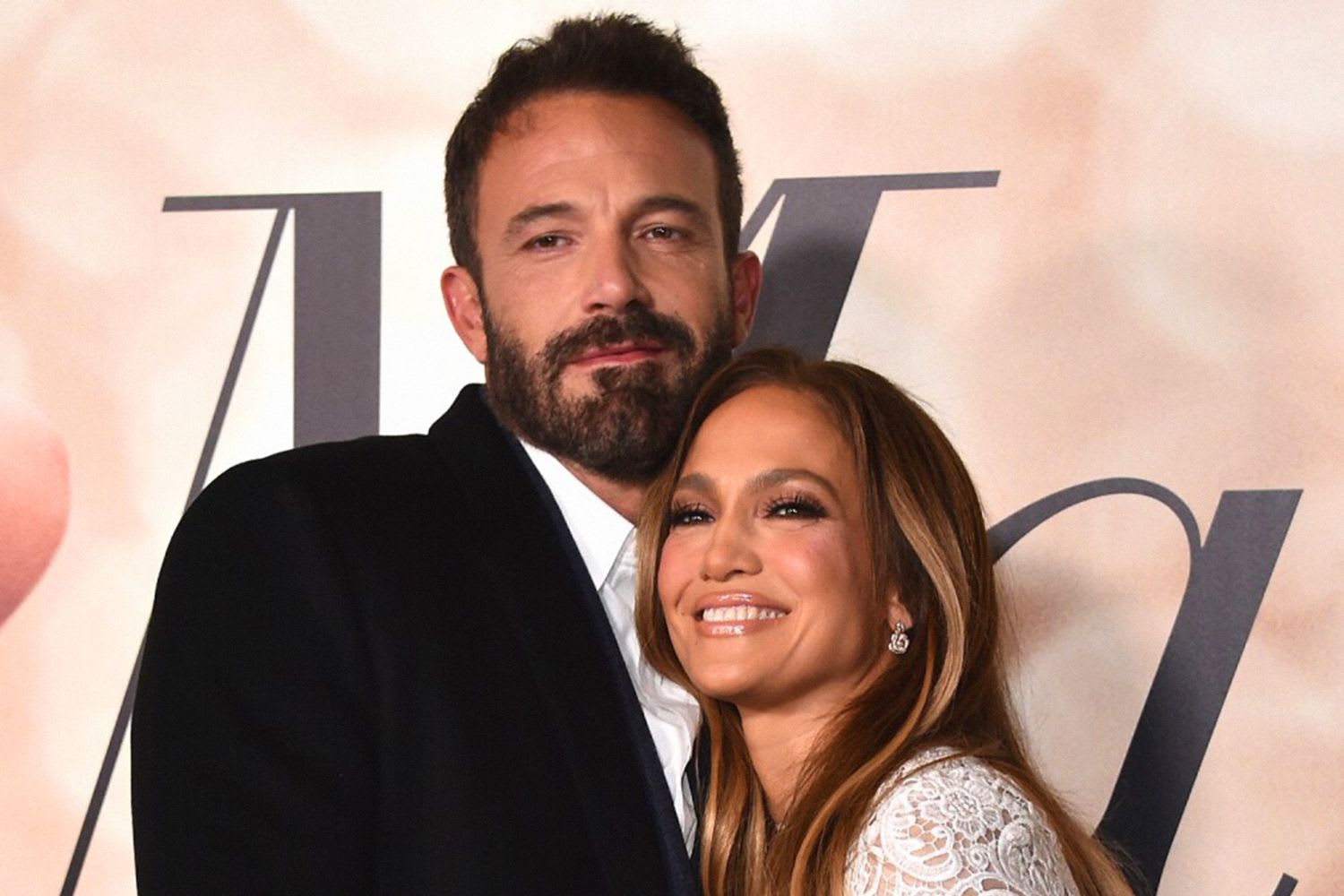 It's all about the BEE (Big Earnest Energy)
Well… it finally happened! Jennifer Lopez and Ben Affleck got married in Las Vegas last night, completing a whirlwind romance story that has been two decades in the making.
"We did it. Love is beautiful. Love is kind. And it turns out love is patient. 20 years patient," Lopez wrote on her website and in a newsletter that went out to fans, 17 years after her first engagement to the actor was called off. Aww.
Last year, news of the couple getting back together sent fans into a frenzy, as "Bennifer" publicly displayed their rekindled love on social media in the horniest, attention-seeking way. We saw ass-grabbing on yachts and lots of public kissing. Their summer of horny PDA was just what everyone needed to see after two years of the pandemic, where touching felt pretty unsexy (and a little bit dangerous). The first pictures of the couple together after so many years was a true pop culture "where were you?" moment, with an impact big enough to finally drag Affleck out of his constant cycle of post-divorce comeback.
you are missing out on some content here because you rejected our cookies. want to change that?
The Clark County Clerk's Office in Nevada shows on its record system that Lopez will change her name to Jennifer Affleck. (So has "Bennifer" become… "Jaffleck"?). Writing on her OntheJLo website, she wrote: "We are so grateful to have that in abundance, a new wonderful family of five amazing children and a life that we have never had more reason to look forward to."
Affleck and Lopez met on the set of the movie Gigli in 2002, and got engaged in 2003, but broke it off in 2004, blaming "excessive media attention".
So 2022 has brought us Bennifer 2.0. Lopez said the ceremony was the "best possible wedding we could have imagined... one we dreamed of long ago and one made real at very, very long last".
Unusually for a time where online fandom and over-excited stans seem to find a way of ruining everything, the online reaction to Lopez and Affleck's soppy wedding announcement seems to be… unanimously celebratory? (Touch wood, let's not jinx it!). After so many years of watching both of them make mistakes and suffer various professional ups and downs too, it feels like a moment where happiness has won the day? Author Jennifer Romolini summed up the mood the most, tweeting: "honestly this seems earnestly nice".
you are missing out on some content here because you rejected our cookies. want to change that?
Looking a little wider, it feels like celebrity earnestness – particularly when they're celebrating something happy – is something we're becoming increasingly comfortable with online. It goes far beyond Bennifer: fans have been sent to a similar place of love while watching Kourtney Kardashian and Travis Barker's PDA-heavy, hyper-romantic relationship unfold on social media and their Hulu docu-series. The same can be said about Kim Kardashian's post-divorce frolics with SNL comedian and BDE-inspo Pete Davidson. (That has evolved from a "DTF" texting situation into a romantic relationship). And nothing has brought more joy than to see a post-conservatorship Britney Spears tie the knot and shout her newfound freedom from the rooftops.
you are missing out on some content here because you rejected our cookies. want to change that?
The earnest celebrity summer isn't just about romance, either. Over the weekend, a video of actor-turned-TV-host Drew Barrymore joyously basking in heavy rain went viral and has so-far been viewed 5 million times. "If you ever get a chance to go out in the rain, do not miss the opportunity!" she says, while laughing and smiling. Given Barrymore's public struggles with addiction and child stardom, fans have loved seeing this unfiltered, happy side of her. "I want to love anything as much as Drew Barrymore loves everything. Perfection," content creator Michael Brown, who posted the clip, wrote on Twitter. As Author Ashley C Ford surmised: "nobody is healing their inner child harder than Drew Barrymore".
you are missing out on some content here because you rejected our cookies. want to change that?
A lot has been written over the last couple of years about the so-called death of celebrity "relatability". The "relatable celebrity" was an archetype spearheaded by famous people like Chrissy Teigen and Jennifer Lawrence, who rose to fame in the 2010s for their supposedly "relatable" moments in interviews and on social media. (And falling up the stairs at the Oscars, in Lawrence's case). Even the Kardashians, whose lives were not relatable at all to most people, rose to fame off the back of a cycle of constant arguing and reconciling. They frequently described themselves as "just like every other family," despite that being clearly untrue.
you are missing out on some content here because you rejected our cookies. want to change that?
In the Covid pandemic, though, any vague idea that the Kardashians were "relatable" was shattered by Kim's badly-timed "humble" 40th birthday trip to a private island. And more widely, celebrities reacted to Covid pretty strangely. Whether they were lecturing people on how to behave from their mansions, or posting toe-curling PSAs and group singalongs to 'Imagine', the pandemic highlighted the huge gulf between famous people and their fans. Writing on the death of celebrity relatability in this period, Vice's Emma Garland lamented that the fun of fame had "lost its currency". Now that the pandemic had made clear they aren't "just like us", she asked: "can we go back to fame being fun again?"
Fast forward to now and it seems like the answer is: yes, fame can be fun again.
The relatable celebrity might not be dead, either: it's just morphed into something slightly different. By living their best lives and sharing their happiest, soppiest, horniest moments with fans in an earnest way, perhaps celebrities have – entirely by accident – become more relatable?
Think about it: after two years of restrictions, where anything fun felt dangerous even allowing ourselves to have hope that things would get better felt emotionally risky too, being unafraid to be earnest and happy is very relatable to people right now. Whether it's emotional posts from the many weddings of summer 2022, or basking in the triumphant return of gigs like Lady Gaga's Chromatica Ball tour, music festivals like Glastonbury, large-scale LGBTQ+ Pride events and travel abroad, this summer is the season soak up the good things in life – without the need for any caveats or stipulations.
As long as celebrities aren't pretending to be exactly like us, with all the same concerns and stresses, it seems that we are still happy to relate to them if they're representing a vibe that feels similar or aspirational to us normies. This summer, celebrities are discovering the importance of being earnest. And even though they're not "just like us", that's still pretty relatable.