bad advice club: i'm falling for my casual hookup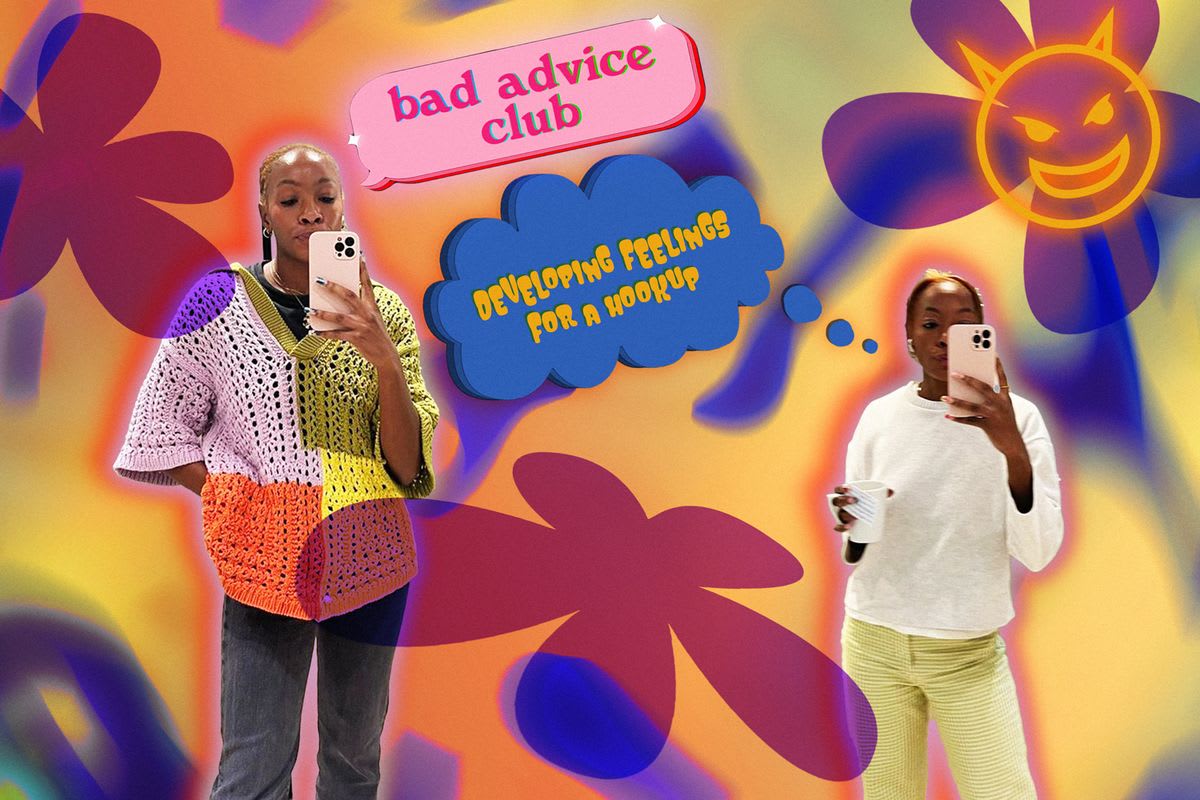 Woo's resident agony aunt Chanté Joseph counsels a reader who wants something more from their convenient friend with benefits
image Team Woo
words Chanté Joseph
I'm Chanté – writer, presenter, internet addict. I write a lot about relationships, internet trends and being the best, most delusional version of yourself. So welcome to the Bad Advice Club: I'm here to give you some loving advice on your life problems. Listen, I am by no means perfect, but I think that makes me ideal to assist you in navigating tricky issues because nine times out of 10, I've been there! Bad advice, bad decisions – these are the twists and turns that make life sweet. So let's ride it out together: I have some gems to drop, so don't be shy and send in your stories, woes, dilemmas.
Help! I'm developing feelings for my casual hookup. Do I tell him? Or do I try and hide how I feel? Or find another regular hookup to help take my mind off it? Any wisdom would be appreciated!
Starting to crush on your casual, no-strings-attached hookup is one of life's most frustrating problems. You want your regular, consistent, reliable fix without the distracting and messy emotions that take away all the fun. However, seeing these brewing feelings is indicative of something deep resurfacing, a desire you have buried that you can't push aside is helpful. Sometimes the emotions we develop in situations where we know we shouldn't aren't really about the other person. They're about our natural desire to be wanted - and not just as a desirable object, but as a whole, multi-faceted human.
But more on that later. So, you've acknowledged your feelings for this person to yourself: what's the next step? No matter how serious or unserious the situation, I do not advocate ghosting. So as painful and awkward as it might be, you must bring up how your feelings to your fling. I don't think it is right to conceal your emotions or disappear on him. After all, you don't know how he feels - give him a say in the matter, too.
Whether it's over text or in person, it's time to open up: but remember to just be honest and have no expectations about his response. Don't just sit on your emotions and please don't read into past interactions and find "evidence" that proves or doesn't prove he also has feelings. If he doesn't reciprocate, try not to waste time making a case to keep on going. Please don't minimise your feelings but, equally, if he doesn't feel the same, then there is your answer; you have to hang up the hookup.
"As painful and awkward as it might be, you must bring this up to your fling"
The worst thing you can do is convince yourself that you can have intense feelings for someone who doesn't share them and remain unphased. Rejection is cruel and cold, and you will experience that every time you engage with him, knowing you are in different spaces. I cringe over all the time I spent pining over someone who didn't want me, who was clear they would not meet my emotional needs. You can't and shouldn't need to convince someone to like you. Lying to yourself that it is possible to hide how you feel in a casual situationship is not helpful to either of you. Feelings cannot truly be hidden; we wear our emotions like badges. What we withhold in words is fully displayed in our faces, body language and implicit expectations.
It is time to be honest with yourself; you are yearning for love, and you want something deeper, more fulfilling than what he offers you. Unfortunately, you're caught in an affection trap:
You want intimacy.
You get the illusion of intimacy from him.
You keep returning, hungry for more, because you're never full after leaving.
"Don't replace one unrequited obsession with another; it will always be a losing game"
Because of this, finding another hookup might cause you new problems instead of solving the old ones. Don't replace one unrequited obsession with another; it will always be a losing game. Instead, interrogate what you want and who you want to experience it with.
There is nothing wrong with desiring meaningful affection; most of us want to know what it feels like to be loved. When we avoid this desire, we tell ourselves lies about what we can handle, accepting less and pretending we are content. In the words of my favourite TikTok, Be F*cking For Real with yourself about your emotions and prioritise what keeps you happy and stable.