These 'Eat The Rich' popsicles look like Elon Musk and Jeff Bezos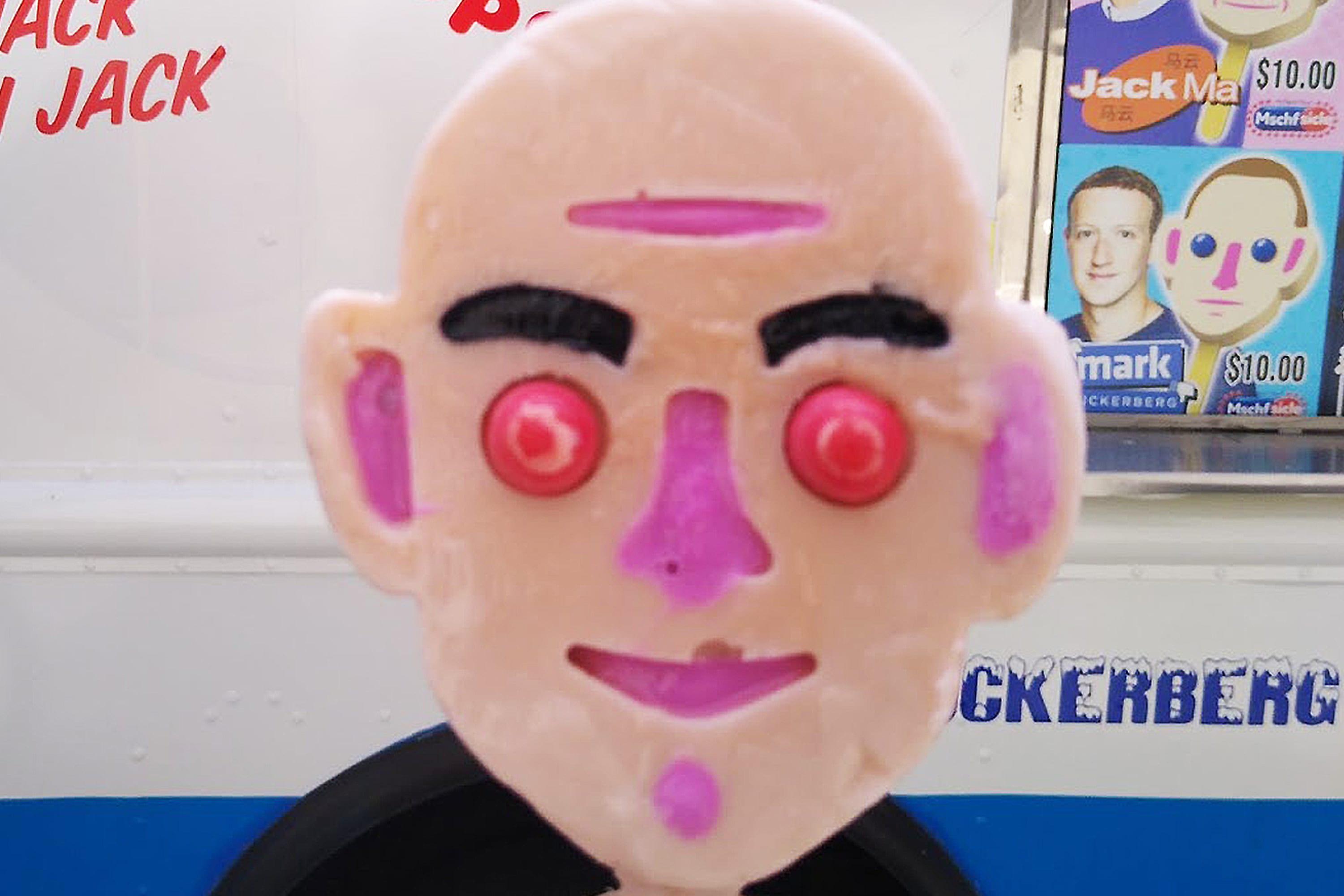 Ever wonder what the 1% tastes like?
Whether it's news of Kylie Jenner's alleged 12 minute private flights or influencers' beige-tastic home tours, learning every little detail about the lives of the rich and famous is getting kind of tiresome, tbh. It actually feels like we see too much of how the other half lives. Tasting how the other half lives, though? Still relatively new territory.
Don't worry, we're not asking you to go full Dawn of the Dead on the Kardashian clan (we're vegans after all). Instead, we're pretty curious about what Brooklyn-based art collective MSCHF has been up to. Recently they've been giving their best impression of AOC at the Met Gala, pulling up to locations in New York City and Los Angeles to serve the public $10 popsicles shaped like some of the most notable faces among the 1%.
With iced treats designed in the image of Elon Musk, Jeff Bezos, Mark Zuckerburg, Jack Ma and Bill Gates, the stunt put a whole new spin on the saying 'eat the rich'. We can't help but imagine this *isn't *what Jean-Jacques Rosseau had in mind when he first coined the phrase back in the 18th Century, but who are we to judge?
you are missing out on some content here because you rejected our cookies. want to change that?
Running last week, between Monday 11 July and Wednesday 13 July, the project has sadly (or gladly, for any aspiring girl bosses out there) come to an end.
Luckily for those who missed out on this unconventional ice cream van IRL, you don't have to wait too long to catch a glimpse: you can still see details of the event via a whole load of videos circulating online. On Tiktok, people who experienced the truck first-hand can be seen filming themselves taking a bite out of lollies with names like "Bezos Bite" and "Musk Munch" and giving their honest opinions. All you have to do to discover how some of the world's biggest CEOs taste as sweet treats is search #MSCHF and #eattherich to find out more...
Petition to bring this back every summer so everyone can get a taste? All in agreement say "tax big business"...
you are missing out on some content here because you rejected our cookies. want to change that?