Dr Martens' creative director Darren McKoy on staying fresh and finding balance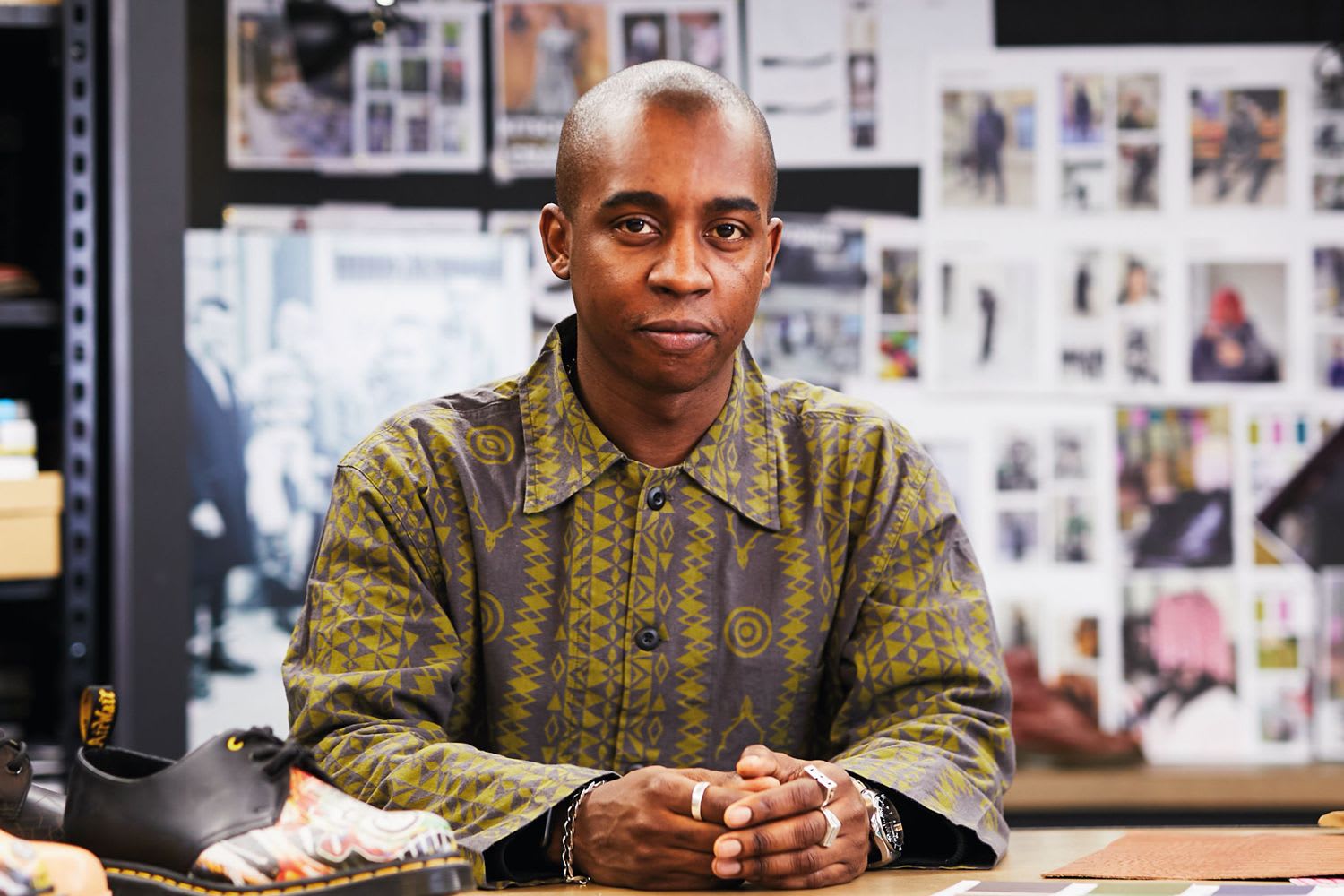 With a career spanning work at adidas originals and North Face, McKoy talks fresh ideas at a legacy brand, the future of footwear, and self-care
"The brand is an unstoppable force, we're in a really great place," says Darren McKoy of the pop culture-defining Dr Martens. Of course, he's right: from the punks of London, The Who, and Sex Pistols, to Bella Hadid and Kendall Jenner, the iconic shaped boot and bright yellow stitching have defined generations after generations of fashion and subculture.
McKoy – affectionately known as DMac – is the newly appointed Global Creative Director of Dr Martens. He took up the role back in March, having previously led the design and product teams for seven years. Woo catches up with him at the launch of the footwear brand's newest collection during Paris Men's Fashion Week, his first major showing as the new creative director.
And from punk to the present day – a feeling of change is in the air at DM. The newest collection reflects how the brand is staying dynamic with the times, while honouring a rich heritage. When Woo visits the Paris exhibition, the old and new guard boots are present in the 'Made in England' offshoot. Dr Martens presents innovative designs that riff on its originals: new colourways, new fabrics, and shapes.
The 1460 boot will for sure always be ubiquitous at DM, but they were first introduced as work boots and worn by postmen and factory workers, finding their way into the punk scene as the must-have footwear in the 70s. After the brand's 60th anniversary, designers from Marc Jacons, A COLD WALL, and Raf Simons were invited to reinvent the boot in their own styles. The collaboration brought about bright floral prints and steely metallic add-ons. But always, the true, DIY punk spirit burns on.
We sat down with DMac to talk all things fashion, maintaining a legacy, as well as his own work-life balance, self-care, and vision.
Hey Darren, let's start off with a general question – what was your earliest fashion memory?
Darren McKoy: Good question – there's a couple. One of the earliest, in terms of footwear memories, was my Uncle who was one of the original skins in Sheffield. It was a working-class community and that was a cool way to be, a cool way to dress – Levis and checked shirts, that kind of stuff. That's where I got the vibe. That was my first real interest in fashion.
So you were raised in Sheffield?
Darren McKoy: Yeah, originally from sunny Sheffield – born and bred. It's a good city, it has good music and good culture.
What was the inspiration behind the new Doc Martens collection?
**Darren McKoy: **The big thing we asked ourselves is how we could inject more colour into the line. A lot of the inspiration always comes from cultural-led narratives and storytelling – that fundamentally is as simple as it is.
How do you want people to feel when they wear the new collection?
**Darren McKoy: **Dr Martens is a working class brand, it's always really been about empowering people. It's a message that remains true today. We need to make sure that our wearers feel they can be who they want to be – it's about self-expression and that's the feeling we want to get across.
How do you see the brand changing in the future?
**Darren McKoy: **Dr Martens is steeped in 60 years of heritage. We want to make sure we pay homage to that but also look at new subcultures and vibes that are coming through from new wearers. We want to continue to push the DNA, the brand ethos, and mentality to the next generation. That's where we want to be.
Some of the new shows in the collection almost give off a gorpcore aesthetic — was that an influence?
**Darren McKoy: **Yeah, those shoes are really about our DNA and durability – bringing in those aspects and looking at how we can bring utility to the future. We've built off the classic boot but it's modernised. That product is really about progressing and committing to the next generation of Dr Martens wearers so it's really exciting for us.
As a new creative director, how important is it to innovate on top of the original design and vision?
**Darren McKoy: **We'll never change away from the design, what we'll always try to do is keep the DNA but keep it fresh. For example, with the yellow stitches on the sole – all of the economic hallmarks of Dr Martens will stay the same but we'll try and modify our product slightly, through different designs. We'll never deviate too far away from the classics because that's what makes Dr Martens, Dr Martens.
How do you establish a good work-life balance?
Darren McKoy: It's about putting yourself at the epicentre. Make sure that you are looking after yourself: you're eating well, you're training, you're looking after your friends and family. For me, that's what helps me refocus and recentre. I try to be present on the things that are happening right now.
Establishing a work-life balance is one of the things I've been working on for many years. In this industry, you're constantly on, constantly connected – digital is taking over the world and you need to disconnect. You can easily overcompensate for constantly working versus looking after yourself. As I've gotten older, I've become more aware of what is important and what the balance is.
What does self-care mean to you?
Darren McKoy: It means a lot of things. It means taking the moment to sit down and decompress – to disconnect from the present. That's one part of it – making sure that you give yourself time to think and refresh yourself. Secondly, I'm really into the gym and training – keeping myself physically fit. Mental health and physical health go hand in hand. I also think it's important to spend time with my family, kids and my mates. For me, that's just as important as grinding and pushing at work. It all has to work in unison – balancing that, for me, is self-care.
What makes you happy?
Darren McKoy: The thing that makes me really happy is making others happy. Seeing someone's first smile when they put their first pair of Dr Martens on — that's one thing from a work perspective.
The thing that makes me even more happy is centred around my community and my family — like seeing my kids buzzing when I walk through the door after a day of work. I'm disconnected and present, which makes me really happy. Same with my wife, my family members — even being at a bar with my mates. Just seeing people enjoy themselves makes me really happy.