The Sunday Riley facial that gave me skin like an Instagram filter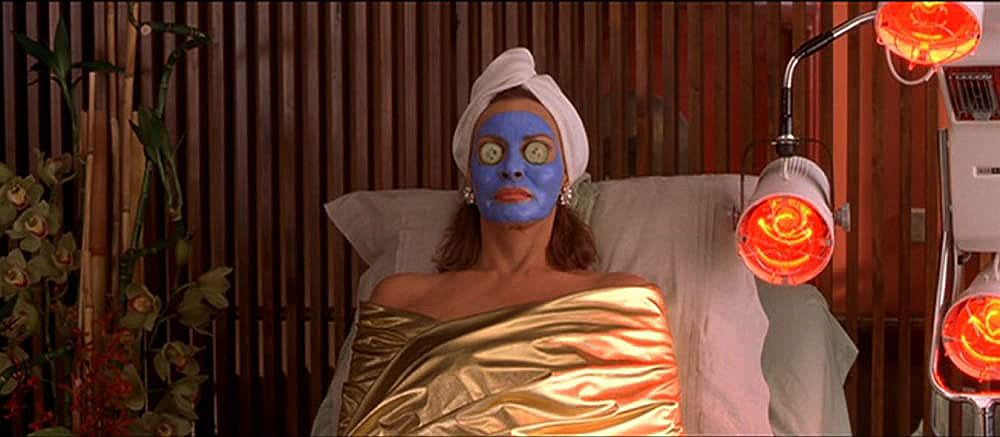 The first beauty residency in British retailer Browns' beauty space was a super speedy treatment for radiant skin by the cult beauty brand, feat LEDs and icy cryotherapy
image Legally Blonde
words Anna Cafolla
If you're a British beauty lover, you've probably felt as bereft as I do seeing pals across the pond perusing the likes of Sephora and Ulta. Fear not though – iconic London boutique Browns recently launched its Beauty Studio at its Shoreditch location, Browns East.
The beauty world ignites tough competition – luxury labels are getting into the game (Off-White just launched its first beauty collection), and celebs from Rihanna with Fenty to Selena Gomez and her Rare Beauty continue to level up their lines. But in this glossy gladiator arena, Browns is rising above. They're going hard on conscious, inclusive brands, with UK exclusives and debuts across makeup, skincare, hair and bodycare. It's all about championing a multilayered expression of beauty that thrives on having fun and pushing boundaries. That's all led by its creative beauty director in residence, Nellie Eden, too.
An element of this is its unique residencies – I adored the first hair residency at Browns' The Parlor last year, with the exciting, forward-thinking hairstylist Issac Poleon. Previous partnerships also included natural skincare and fragrance label Haeckels, creating bespoke facials. Now expanding their name in beauty, the Browns East Beauty Studio has welcomed cult skincare brand Sunday Riley in for its first residency at the East London outpost. Here, the beauty brand is offering customers 30-minute facials with a menu of options to choose from.
Sunday Riley is supercharged skincare, powered by science, with a cohort of cult products – Good Genes is among its most loved offerings, an acid treatment that leaves skin soft, smooth, poreless, and radiant. It's a brand that's committed to sustainability, that's cruelty-free, B Corp and Green Lab Certified – tick, tick, tick! The packaging is very aesthetic too, so line up its pastel-coloured bottles for the ultimate bathroom shelfie.
From Thursday 26 to May 29, you can book in for facials for your skin type – that destress and alleviate tired skin, the 'Ice Lift Express' treatment that incorporates an AHA-infused cleansing mask, red-light LED or cryotherapy treatment, an 'Ice Clear Express' featuring salicylic acid, blue-light LED or cryotherapy, or the 'CEO Glow Express' with a vitamin C and antioxidant-rich mask. Should you spend £75 or more on Sunday Riley products there, you'll also get a free goodie bag worth £38.
you are missing out on some content here because you rejected our cookies. want to change that?
The day before a big work event and navigating four seasons in one day – as every British spring-summer period denotes – I headed down to Browns East's dedicated beauty pod to try out the CEO Glow Express facial. Firstly I was introduced to my lovely facialist, Lauren, and we entered the pod, which is a dreamy, super soothing, Wes Anderson movie shade of blue.
Lauren explained everything clearly and concisely, and listened to my skin woes with care – basically, my skin suffers with the seasonal changes, it looked dull and patchy, and I had felt my skin texture had really taken a hit recently. The CEO Glow Express facial is what I needed, because it's all about recharging your radiance. It includes a collagen boosting and full-face, red-light LED treatment that is meant to accelerate cell renewal. It was a calming experience – so much so that I think I nodded off more than once – and the heady, citrusy smells of the Sunday Riley products used was relaxing and clarifying. I'd never done LED light therapy before, though I've seen all the TikToks, so that was a fun element. Lauren did some lymphatic drainage, working onto my neck, shoulders, and decollage for total relaxation. The best bit was the ice globes: they're super cold glass balls used in the cryotherapy portion of the treatment, which relieves inflammation and encourages blood flow for bouncy, plump skin.
I got a full rundown of the products used in my treatment too: The Blue Moon Cleansing Balm, Ceramic Slip Cleanser, C.E.O Glow Vitamin C + Turmeric Face Oil, Pink Drink Firming and Resurfacing Essence, Good Genes Glycolic Acid Treatment, C.E.O 15% Vitamin C Brightening Serum, C.E.O Vitamin C Rich Hydration Cream, Auto Correct Brightening and Depuffing Eye Contour Cream, and especially for my congested skin's needs, the UFO Ultra Clarifying Face Oil. I had to go home with the CEO Glow and Pink Drink, the latter of which I have to start rationing soon because I've become addicted to spraying it on my face for the smell and silky feel.
After the treatment, I felt like I was floating. My skin immediately looked dewy, glowy, and plump. My eye circles looked brighter, and my jaw looked more sculpted, and my cheekbones were standing out. Like an Instagram filter, but less alien or Kardashian like and sans cowboy hat or dog ears. I had to refrain from touching my face obsessively and feeling how slick and smooth it was. When I put makeup on for an event later that night, it went on like a dream. I've kept up a routine with the Sunday Riley products, and my skin texture has remained supple, despite the capricious elements battering my face on the morning commute.
you are missing out on some content here because you rejected our cookies. want to change that?
Before heading home, I wandered through the beauty space – painted a peppy shade of orange – which showcases some of Browns' most exciting products: the Mount Sapo all-over oil is luciously warming and smells divine, a brand that champions sensuality and getting close to your own body; and seeing the covetable Dr Barbara Sturm collection IRL was a bit of a thrill for a beauty obsessive like me. For anyone curious too and outside of London, you can check the Browns' Beauty Global Community Platform to connect with beauty experts, peers, and the Browns Beauty Community to build up your own beauty knowledge, get some good recommendations, tips and tricks. The recently launched "Big Little Rituals" campaign, celebrating community and turning beauty myths inside out, is super cute too – I'm obsessed with ES Magazine's Hannah Tindle's recommendations, and contribution of old-school glamour with an allegiance to long baths.
If you're in London this weekend, hit up the Sunday Riley residency and book in for a 30-minute express facial until Sunday May 29. Keep an eye out for its forthcoming residencies too, across beauty, hair, and skincare treatments.