Billie Marten: the singer-songwriter in her love and happiness era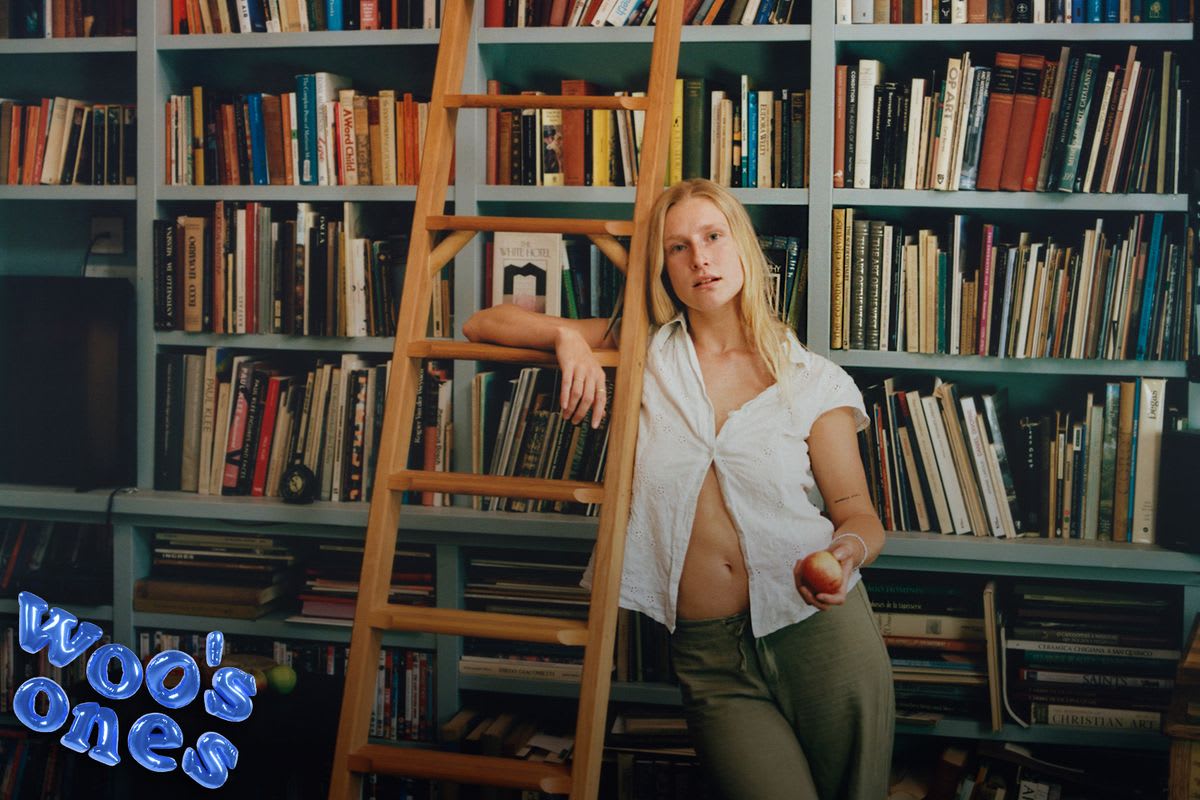 The musician creates beautiful soundscapes, wonderful observational lyrics, and a vibe that warms you
image Katie Silvester
words Rhys Thomas
To celebrate our first birthday, woo has curated a list of our ones. The people in our wooniverse who are redefining fashion, music, clubs, culture and much more.
Billie Marten is very busy at the moment. Her album Drop Cherries recently came out, events and signing records are a constant and a tour is already on the horizon. On a Monday afternoon, Billie has just come back to her London home from Yorkshire, she's washing clothes and packing others before a trip to Italy. Despite worries of wet or crinkled clothing (it won't have time to dry before she has to go) Billie's plenty chill and gracious on the call, we even overrun.
Despite being 23, Marten has all the grace and patience of someone who has been in the spotlight forever, veteran level classiness. And she sort of has been, 10 years ago she was approached by a record label off the back of her self-written songs, which were uploaded to her YouTube account. At 15, she had her first official recording contract. Now, Billie has released four albums. It is already quite the career. An obvious comparison would be Laura Marling, who it just so happens, lives a few streets away from Billie.
The music speaks a lot of these qualities, it's complex but refined, there's always a sense of deeply thought out lyrics and harmonies, verses and melodies. A tender, exciting universe is created which feels uniquely Billie Marten. The world is full of care, compassion, and deep introspection.
"I think the power of education is maybe the only answer or hope we have of becoming a better civilisation"
Describe what you do in your own words.
Oh come on… uh… I write musical thoughts on my own perspectives of the world, and I share them.
And how would you describe what you do to a date?
I usually say: yes I sing and play, yes I write my own songs, yes I'm on Spotify.
How did you get into your chosen career?
By complete accident, and the power of YouTube. A family member used to upload videos for me which then got some internet attention, and eventually led to a record deal when I was in my early teens.
Are there any upcoming projects we should look out for?
Projects mostly include travelling the world this year, on tour. And hopefully writing some sort of instrumental album.
What's one thing you'd like to see change in the world? And is there anything you do that you think helps that change along?
What came to mind immediately was education. I think the power of education is maybe the only answer or hope we have of becoming a better civilisation. I think I maybe vocalise a lot of thoughts that people struggle with internally that then leads to their demise or personal suffering, and every time I do that I feel a little bit more relieved and open. I guess I'm just talking about the things that sometimes people forget to talk about. Educating people on the importance of… talking.
What's the one thing in your career you're most proud of?
Being on Gardener's World?! I was on it a couple years ago, it was the best email I've ever received -sadly no Monty Don- but they came up north and had my mum on the programme. We did some allotment gardening and spoke about how much nature helps me. It was awesome.
"I guess you're not really aware of the lessons you learn, which is the problem with all of us, we just keep moving without taking stock of what we've learned"
And what's one thing you would do if you were Prime Minister for the day?
The state of UK train ticket prices. I would make them normal and good, and one day a ticket won't be £200 and the next it'd be £15. I'd also do the entire dance from Love Actually, Hugh Grant's dance. And obviously pay the NHS way more than politicians, and sack a lot of people. I'd get rid of all the racists and homophobes and xenophobes. Yeah.
Is there any one thing you do on the regular to take care of your mental health?
Yeah, I garden, cook, and clean. Inner housewive vibes.
What's one lesson that changed your life?
I'm struggling with this one. I guess you're not really aware of the lessons you learn, which is the problem with all of us, we just keep moving without taking stock of what we've learned. But I suppose… I have some nice mantras saved in my phone. I'll read them to you.
This is what Stephen Fry said on Desert Island Discs, "You can't be an artist if you care what people think." The other one is from the original Miracle on 34th Street, "Faith is believing in things when common sense tells you not to." There's also an Alan Watts quote which is like, "Faith clings, but belief lets go." In general they're about faith, and the things I like to remember are about trusting the process. I'm learning to actively think in real time because of them, too.
How about one moment in your career that you will cherish forever?
Meeting everyone, and I guess when they give me a great story about how my music has affected their life. There was one at the in-store meetings I did recently. I'd signed his records first six years ago and he said "can you write 'wait for me' on there" so I did, and the other day, he arrived with his wife. She waited. So stuff like that, really important people moments.
What's one thing you want to achieve in the next year?
I want to learn to play the violin.
If you had a number one song, what would it sound like?
It would sound like me. It would probably sound better than all the other songs that I've made which haven't gone to number one. Or… well, it'd probably sound like Ellie Goulding and Calvin Harris because that seems to be what's working right now.
And who's number one on your speed dial?
I don't have a speed dial! It would be my man friend Will. He calls me his lady wife, so!
Name one person who's killing the game right now
Big Thief, they did two nights at the Apollo, they smashed it out of the park. Pretty good going, isn't it.
What's one piece of clothing you can't live without?
My dungarees, I've had the same pair since I was 12. They're… denim, blue. They have little pockets on the chest, one of the straps broke so I tie it with a hair bobble which has been there since 2015. They have white paint on the knees, and I wear them once a week without fail.
Get to know the rest of woo's ones here.