Audio Erotica: Could a Podcast Get You Off?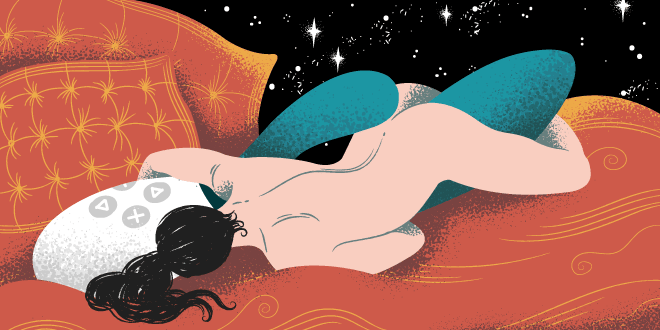 Like Headspace, but for wanking – sex audio platforms are making unique, stimulating, and inclusive experiences
image LELO
words Em Odesser
Through your phone, a smoky voice is talking slowly, deliberately. "Last night really got me thinking… I've been attracted to you for a long time, and I know you've been looking at me too…" He continues, describing how seeing your naked body was 'the most beautiful sight he had ever seen', his breath catching in anticipation as he describes several more things he'd like to do to you that, for the sake of remaining PG-13, we can't get into in this article.
What I'm describing isn't a steamy memory or a ridiculously hot daydream: it's just the first couple minutes of audio erotica app Yuu's 'Back of the Touring Van' story, and one of the many tracks you can now enjoy on your phone. Collectively, audio erotica platforms like Yuu, Dipsea, Quinn, and Emjoy offer thousands of narrated NSFW stories. Though their brand of erotica is technically a subcategory rather than a new genre altogether, their goals differ from mainstream sexual content. Through audio content, they hope to provide a uniquely stimulating, inclusive, and feminist experience.
you are missing out on some content here because you rejected our cookies. want to change that?
Though audio erotica itself is hardly a new concept – as long as technology has existed, it's been used to create or host sexually explicit videos – apps offering this form of media are relatively new. Since they cropped up in the late 2010s, the platforms have enjoyed massive popularity, beloved not only by millions of users but also by highbrow media. Limited data is available on the aural industry as a whole, but the available statistics don't lie.
Dipsea, far and beyond one of the leading apps, racked up an impressive 37.3 million listening minutes in 2020. Upon browsing the apps, it's easy to forget you're searching for something to get off to: their interfaces are smutty but sleek, with minimalist flat character illustrations, bold typefaces, and witty titles. Compared to the gritty and simplistic interfaces of say, Pornhub, your browsing experience on an audio app is more likely to evoke imagery of sensuality, candlelit rooms and velvet, rather than sweat, artificial lighting, and local MILFS in your area. This luxury aspect is heightened through other wellness services, like sleep guides, and celebrity partnerships; Insecure's Sarunas J. Jackson and Chilling Adventures of Sabrina's Luke Cook have both joined forces with Dipsea to bring the appeal of fanfiction to a whole new level. Ultimately though, as fascinating as the aesthetic departure and millennial branding are, these apps' appeal lies in their content – and what it represents.
While videos offers the traditional optical stimulation, audio erotica hinges on sensory deprivation. Without imagery to supplement the moans and sighs, your imagination is left to fill in the blanks. App founders and erotica trailblazers believe this creative freedom is the key to a new type of arousal, one with unique feminist potential. Dipsea's website stresses the OMGYes and Kinsey institute study that "90% of women use their imaginations to get aroused" – they also proudly claim they are "flipping the script, deprogramming harmful ideas, and re-setting the standards for women's lives and relationships."
Quinn founder Caroline Spiegel has similarly noted, "[Our content is] not what people think women want. It's made directly in response." Here lies the centrality of these app's marketing strategy: they each claim imagination is the key to women's sexual empowerment. Though these assertions almost veer into the overly precious assumptions that women aren't able to experience arousal through traditional sexual media, they do target the disillusionment provoked in many by mainstream pornographic material.
"Audio erotica is a way for people to escape the over-saturation of hypersexual images that don't necessarily reflect them"
Ashleigh Nicole Tribble
Much of the free, visual media on the internet today is centred around the male gaze, and this can be discouraging, boring, offensive, and just hard to concentrate on. As I interviewed fans of this new kind of audio, one user in her 20s noted that she "wasn't opposed to standard [videos], but it was hard to find things [she] was comfortable with." With audio erotica, she felt like she had found a way to masturbate to her fantasies while feeling like she was "involved, instead of like a voyeur."
Further, sex educator Tara Michaela attributes part of the appeal to "the effort to make it feel like a form of self care, with a lot of emphasis on breathwork, almost mirroring meditation," as well as the genre's consistent inclusion of "conversations about consent, about each partner's desires, and aftercare." So while I want to be careful and note that the pre-existing standard of inattentiveness is more of a problem of our patriarchal culture than something intrinsic in one specific type of erotica, the sentiment remains: NSFW platforms that promise to centre women's wants, needs, and pleasure in any way at all are incredibly appealing.
So how do they work? Quite simply, audio apps offer a wide range of tracks to satisfy your imagination and yes – get you off. Their content is diverse both in terms of representation (most platforms stress their commitment to including an expansive range of voices) and categories: you can choose to listen to a straightforward audio of an individual or couple enjoying themselves, or ease your way in with erotic stories. Ashleigh Nicole Tribble, a sex-positivity blogger, notes that audio components provide "more of a lower barrier to entry when it comes to sex and sexuality because so much of what we constitute as sex is rooted in visual, and physical marginalisation, and power dynamics. This opens the door to not only providing more sex content for all kinds of different people, but also provides a way for us to experience all different kinds of sex."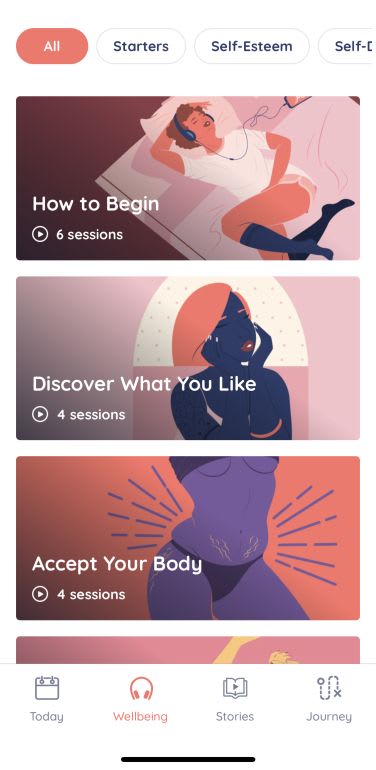 For example, Quinn's preview audio 'You First' gets right into it with breathless dirty talk and a lengthy climax, while Yuu's aforementioned 'Back of the Touring Van' is a 20-minute long story told in the second-person perspective that takes at least a couple minutes to get into the dirty details. No matter what your prefered niche is, it's most likely represented on audio apps: the main difference here lies more in the stylistic presentation than the content itself. Though the somewhat sanitised branding had me sceptical, it's certainly still very sexy – dirty, of course, but also sensual and intimate.
Tribble shouts out categories including "male filthy affirmation, solo male masturbation, and couples sex," noting, "If I'm feeling adventurous, I branch out into BDSM or other kink territory, but usually I'm down to hear someone tell me that they're going to make me wet by the end of the audio and then proceeding to in the sexiest way possible through my headphones!" If you're interested in exploring these for yourself, most of the leading sites require subscriptions, which are relatively cheap, but offer free options and trial phases as well.
All in all, this relatively new attitude towards sexual media can be understood through some sort of Post-Goop, wellness-oriented lens. While most of erotica is still shrouded in stigma, the re-branding we're witnessing on these new platforms provides a convenient detour where masturbation can safely be justified as an empowering mindfulness practice. While this attitude feels slightly gimmicky, it's still filling an important gap: again and again, audio erotica fans stressed feelings of freedom, escapism, and inclusion. In our conversation, Tribble said it best: audio erotica is "a way for people to escape the over-saturation of hypersexual images that don't necessarily reflect them in an intimate situation." Ultimately, I'm not one to complain about any type of feminist erotica, especially one that's helping so many explore their sexuality.