The photography exhibition documenting 50 years of Hackney's unwavering spirit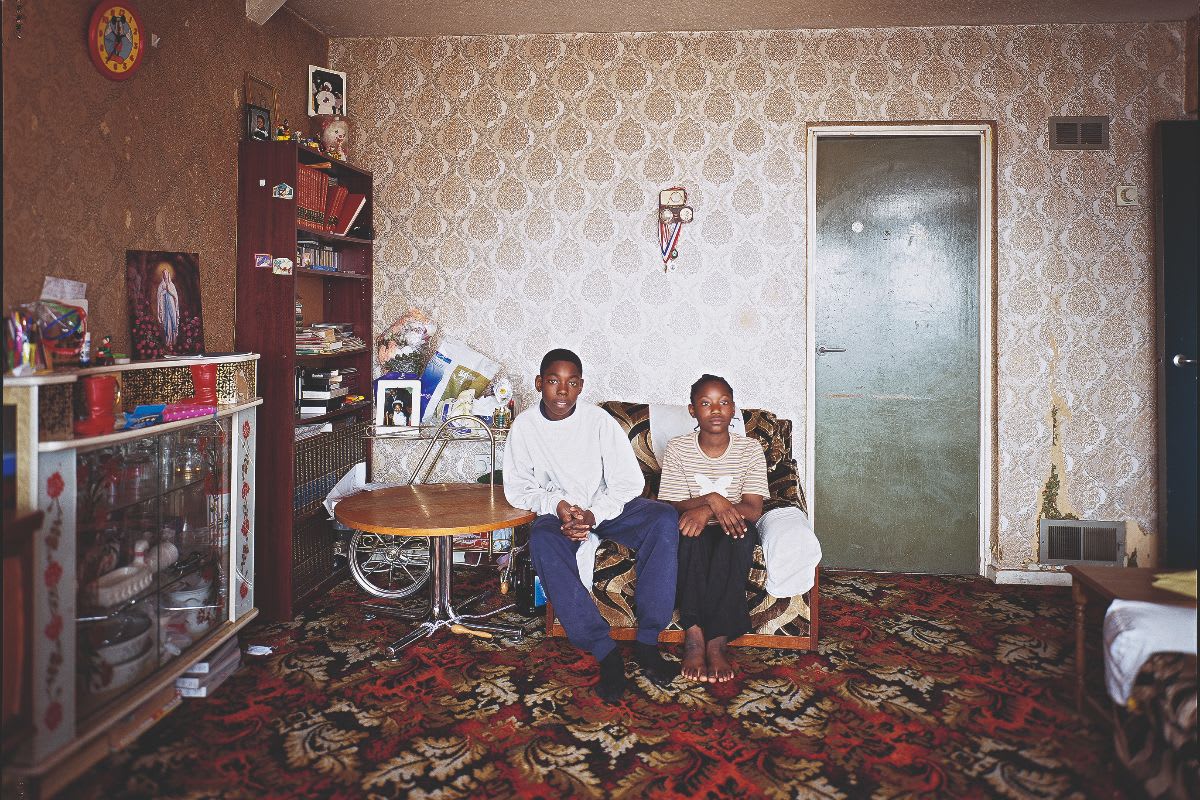 From Shoreditch's culinary diversity to Dalston's hedonistic queer scene, Tom Hunter's exhibition celebrates half a century of community and resilience in the iconic London borough
image Tom Hunter
words Lucy O'Brien
"Diversity, inclusiveness, community, adhesion, and a sense of rebellion" – these are the words photographer and curator Tom Hunter used when I asked him to sum up the defining characteristics of Hackney, one London's largest and now trendiest boroughs. But for him, Hackney's allure is nothing new, but an area of London booming with life and energy since he first moved here from Dorset in the early 1980s. Decades worth of squatting and residing in Hackney later, his love affair with the borough culminates in his latest project, A Home in Hackney: a community photographed 1970 - now. This collaborative archive exhibition brings together local collectives East End Archive, Hackney Museum, and the East London Photographer Collective to produce a tender documentation of Hackney's thriving and ever-evolving community.
From 'The Hackney Flashers', a group of rebellious working class women captured going out to work in the '70's just to prove that they could, right through to today's thriving fashion and youth culture scene; A Home in Hackney documents all walks of life that have settled in Hackney. The archive collection brings together the work of East London's most prolific photographers, who have spent decades capturing Hackney's changing landscapes, and young emerging artists learning to navigate this now booming corner of London with their cameras. . All of them at one point or another lensing the place they called home.
Tom's own work contributes to the exhibition, most notably via a 3D model of one of Hackney's most renowned social housing areas, Holly Street Estate. "The tower blocks were really badly managed. They didn't have concierges on the doors. Central funding from the government simply wasn't going to Hackney Council, so it was all a mess," Tom recalls. Neglected by the state as it was, the blocks were home to thousands of local, working class city-dwellers. Nonetheless, the blocks were tragically demolished by Hackney council in the late 1990's. After living and photographing the residents there, Tom wanted to place the displaced families of Holly Street Estate at the heart for the exhibition, just as they were at the heart of Hackney's thriving multicultural community. "I came to Hackney at a time when the council estates were getting stigmatised as the reasons why areas were so bad," he remembers. "And all these towers, which were essentially built as decent, affordable housing for ordinary people, suddenly became no-go areas. It was so sad."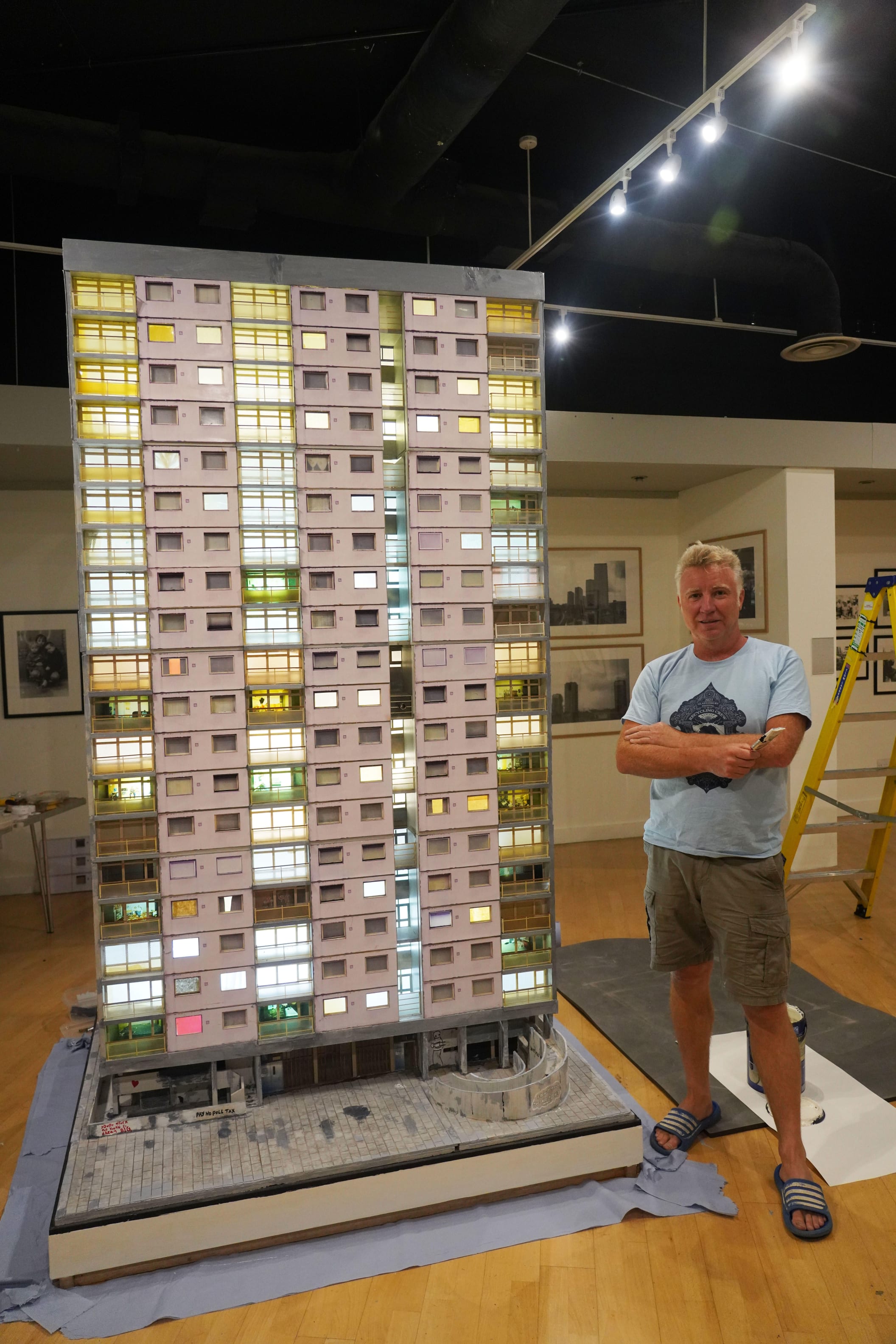 Tom Hunter
The exhibition acknowledges loss, celebrates the legacy of moments and memories felt by the community at large, and contemplates the future of cultural life in this ever-changing London hotspot. woo sat down with Tom Hunter to talk about life in pre-2000s Hackney, the journey the borough has taken since, and the resilience of Hackney's thriving diverse community in the face of the cost of living crisis and the increasing threat of gentrification.
Why did you move to Hackney, and why did you stay?
Tom Hunter: My best friend moved here in 1979. I followed and I fell in love. I came to London from Dorset as a tree surgeon, then I slowly started getting into photography at a community art centre. I've stayed ever since. I squatted in Hackney for 15 years when there were lots of derelict buildings. You'd just walk up the street, find an empty house and move in. So I wanted to document that life before it disappeared.
Why was it important for you to include the work of up and coming, less prolific local photographers in the exhibition?
I think archives can be seen as something passive; old pictures that sit in a museum or cupboard, and that's that. I wanted an archive that is alive, that is growing; changing. Archives do have an amazing resonance when you look back because you get to see how things change but we wanted to make an archive that is not just static. When I was starting out, I'd have love to have had my works next to established artists; we're hoping to spur young artists on and to encourage new audiences for them.
Through curating this archive of Hackney, how have you seen the borough change the most?
I used to go down Broadway Market; half the shops were empty and there would be one vegetable stall. It was very impoverished. Now, you can hardly get through the market on a Saturday it's so busy. People are moving to Hackney and hanging out here in their 20s; they're professional, they're earning money and they're sharing places to live. Sadly, not all of that gentrification has helped everyone: there's still massive amounts of poverty here.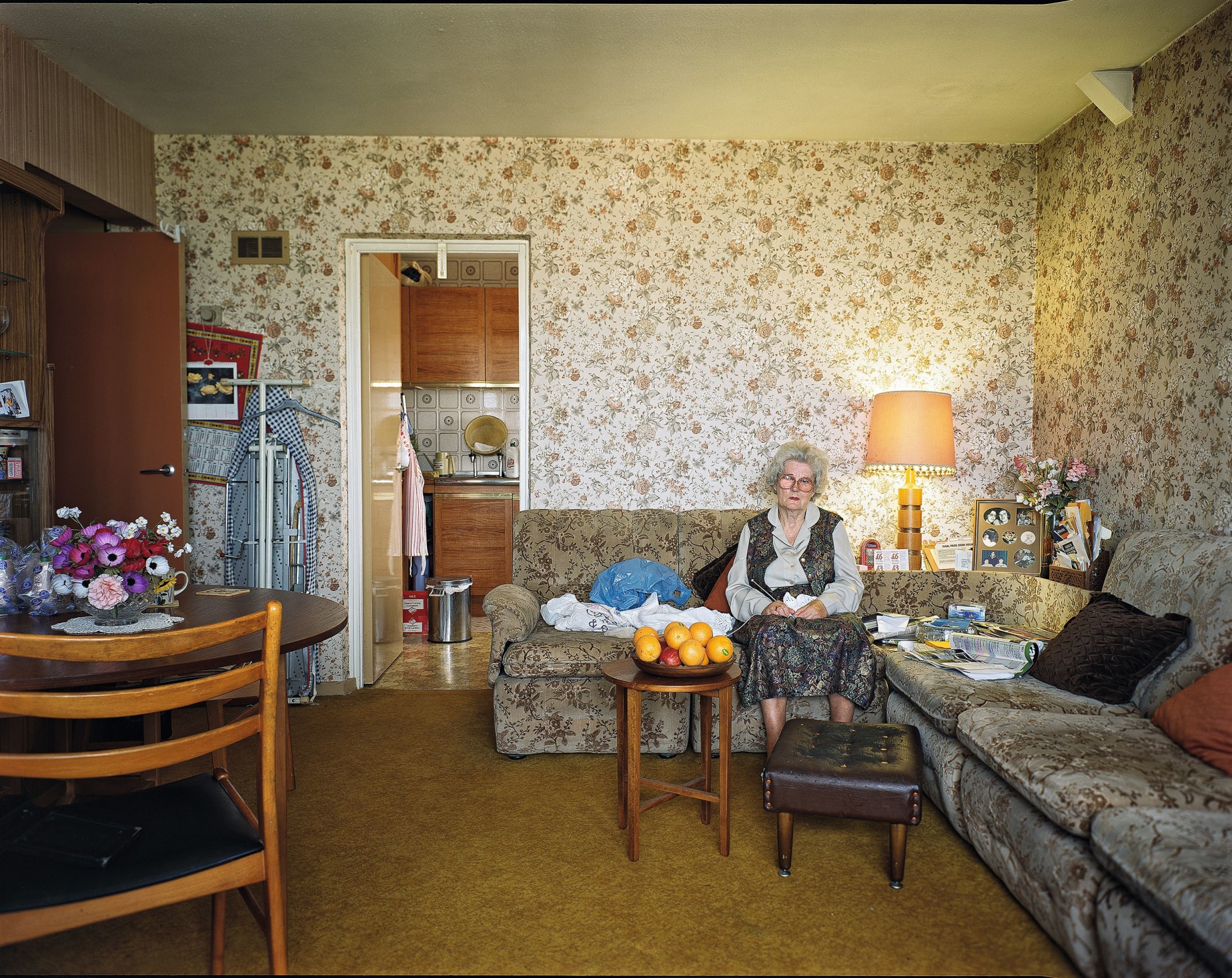 Tom Hunter
Amid this rapid change, what have you found to have endured?
East London has always had this incredible spirit. It's got a quite stable community, but still welcomes new people all the time. Jewish communities; Turkish communities; the Japanese; the West Indian community – they've all brought amazing food, music, fashion, and so much culture. It seems like every few years a new wave of immigrants come, and by this I also mean people like myself (country bumpkins from Dorset). They bring new ideas, new energy. It embraces newness yet doesn't lose what it's already got.
How did the demolition of the Holly Street estate tower blocks affect, and continue to affect, Hackney's communities?
I lived and took pictures in the tower blocks. They were really badly managed. But when you went into people's actual flats, they were beautiful homes. They were very proud of their homes, and they were living normal lives. Some of the people I knew were cleaners or working in schools. So I really wanted to document that before it was all destroyed. I think we've lost a huge amount by destroying those towers because some of them could have lasted a lot longer, they were amazing socialist visions of housing for normal people.
If we're not careful, we'll have a situation like Paris, where all the young people and all the poor people get moved to the suburbs, the city centre becomes like a tourist destination for the rich and the tourists. That's a dead city as far as I'm concerned.
Why was it important to you to show the exhibition locally, at Hackney Museum?
The exhibition is about all the communities coming together, how they lived here, how they developed, how they reflect on themselves, how they see themselves and how they're seen by other people. On opening night, people were coming from the local community centres. We had a really wide range of older people, younger people, different cultures, different classes. I hope they're seeing it and are thinking: where are we going now?
A Home in Hackney: a community photographed 1970-now is showing at Hackney Museum until 24 February. See how to visit here.