a beginner's guide to selling feet pics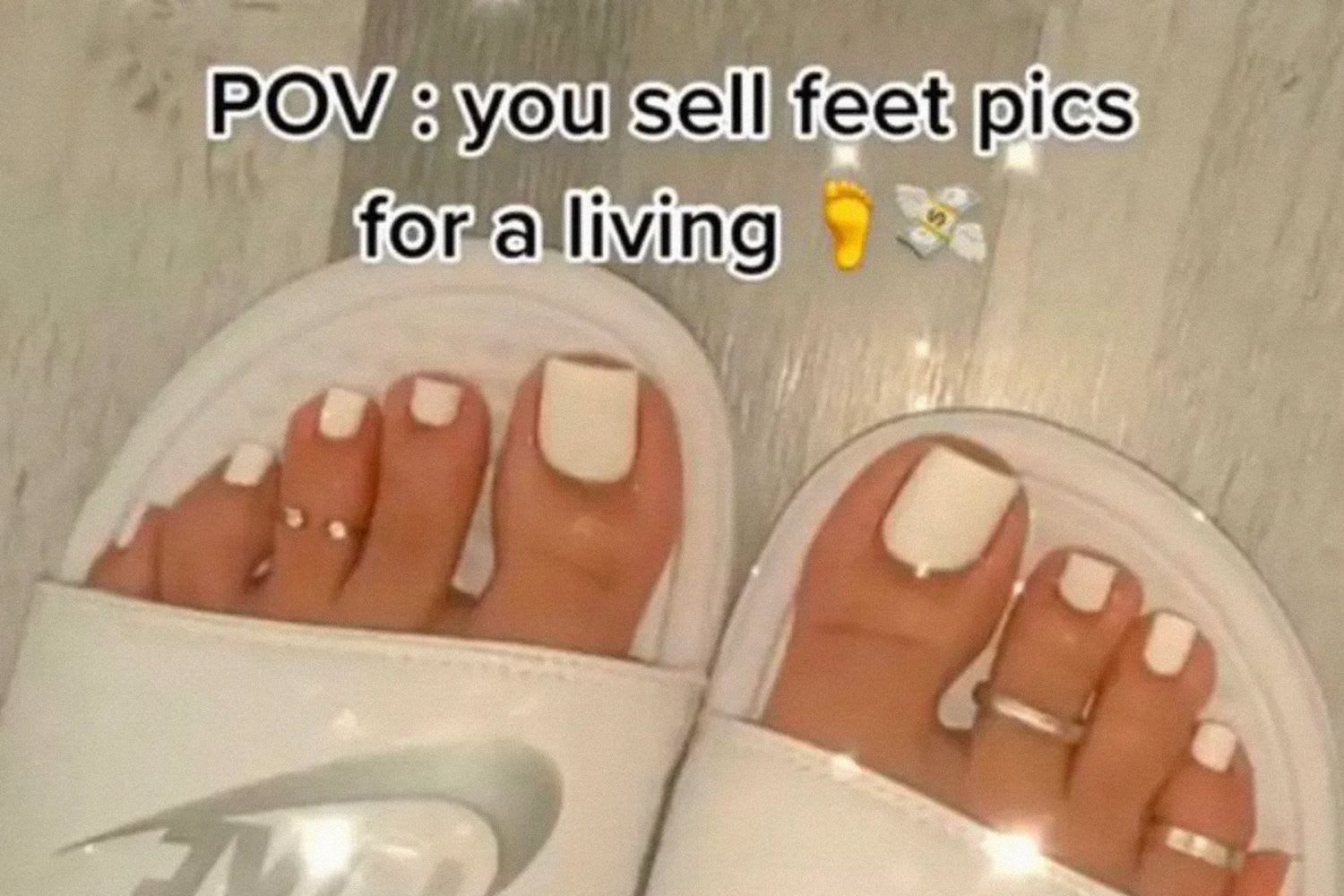 On TikTok, it seems like everyone's cashing in. But is selling feet pics as easy as it seems?
image @catmama on TikTok
words Louis Staples
When something is "big on TikTok", it isn't long before it becomes popular everywhere else too. Just look at Olivia Rodrigo, Lil Nas X and that feta pasta that everyone was briefly obsessed with.
Lately, though, TikTok's algorithm has been pointing me in a slightly different direction: feet pics. As the cost of living continues to rise, the app is feeding me more videos about new ways to make money. (Which is pretty bleak, if you think about it). I've started seeing a strangely high number of TikToks encouraging me to start selling pictures of my feet. In these videos, TikTokers (or FeetTokers?) can be seen bragging about paying their rent and quitting their jobs because they're making so much money selling pics of their feet.
Aside from the fact that this seems a little too good to be true (and that my feet are pretty gross) feet pics becoming a TikTok trend is still significant. It's yet another example of how mainstream this kink has become. It's the foot fetish's world, baby – and we're just living in it.
you are missing out on some content here because you rejected our cookies. want to change that?
Why are some people turned on by feet?
This is impossible to answer definitively, because every person and fetish is different. But both men and women who sell foot pics and videos say that men make up the bulk of their client-base. This is backed up by evidence. A 2018 study of 4000 Americans by social psychologist Dr Justin Lehmiller found 21 percent of gay/bi men had fantasised about feet. For straight men the number was similar (18 percent). The figures for women were lower, at 10 percent for lesbian/bi women and just 5 percent for straight women.
TikTok biologist Forrest Valkai was recently asked by a user to "explain the biological reason" why foot fetishes have become so popular on the platform. He said that foot fetishes are related to a part of the brain called the somatosensory cortex, which is the area that makes you feel things. "Your feet and your toes are right next to your genitals in that part of your brain," he explained. "It's easy for these wires to get crossed, because they're literally bumping up against each other. That's why foot fetishes are the most common fetishes in the world." So basically… the brain might be associating feet with genitalia by accident. (This might be why there's often a preoccupation with feet size...)
Still, the science is split: Lehmiller thinks fetishes or all varieties are more likely to be learned behaviours. This would explain why it seems like foot fetishes are gaining popularity as society seems to be becoming more kink-positive. There does seem to be a sub-dom dynamic at play with feet pictures, where the submissive gets satisfaction from being below "below" the dom – in the most physical sense, beneath their feet. Some people are into pristine, pedicured feet, whereas others prefer them sweaty or dirty. For some people, it's about the shoes and socks too, whereas others prefer naked soles. Basically: if you can imagine it, someone is turned on by it.
you are missing out on some content here because you rejected our cookies. want to change that?
Where is the best place to sell foot pics?
That depends. There's feet-specific platforms like Feet Finder – a site which describes itself as the "safest, easiest and most secure website" for users to view, buy and sell custom feet content. It claims to have over 350,000 daily users. Vanderpump Rules star Raquel Leviss recently raised $30,000 to pay for cosmetic surgery by selling foot pics on the site.
Otherwise, Twitter and OnlyFans seem to be a good bet. Kerry Katona credits OnlyFans with helping her make £1m and escape years living on the edge of bankruptcy, while Real Housewives of Miami's Larsa Pippen claims to make $10,000 a day selling foot pictures on the platform.
Dan* has been selling feet and kink content on Twitter, OnlyFans and other fetish sites for nearly a year. He estimates that foot content is around half of his business. He tells Woo that, if you want to make money, it's best to put out high quality pictures for free first, on a platform like Twitter, so you can build a social media following. Then, once you've got an engaged fanbase, start charging for custom pictures and videos, or exclusive content on OnlyFans. "The quality of the picture is really important. Especially for building a social media following," he says. "You're going to make much more money from custom pictures and videos, calls on Skype and OnlyFans than selling pictures straight out the gate."
Ben says that, if you stick with it, there is definitely money to be made. He now makes fetish content full-time, but he stresses that his income varies and it is not the easy life it's made out to be in most of those TikTok videos. "It's 24/7 work, at all hours of the day," he says. "But I enjoy it and I think that comes across, which helps."
Why does it feel like feet pics are suddenly everywhere?
Because they are! The foot fetish is no longer reserved for its own platforms, like Rate My Foot and WikiFeet. Now it is being discussed on primetime TV shows such as Love Island and platforms like OnlyFans have opened up a world of new possibilities. There has never been a better time to be a foot fetishist, because the current moment of kink positivity has been enhanced by digital tools – ones that make it easier than ever to explore new fetishes safely and responsibly.
Spring beauty
Our spring makeup, grooming, haircare and skincare picks