The existential crisis that led to a Harry Styles uni course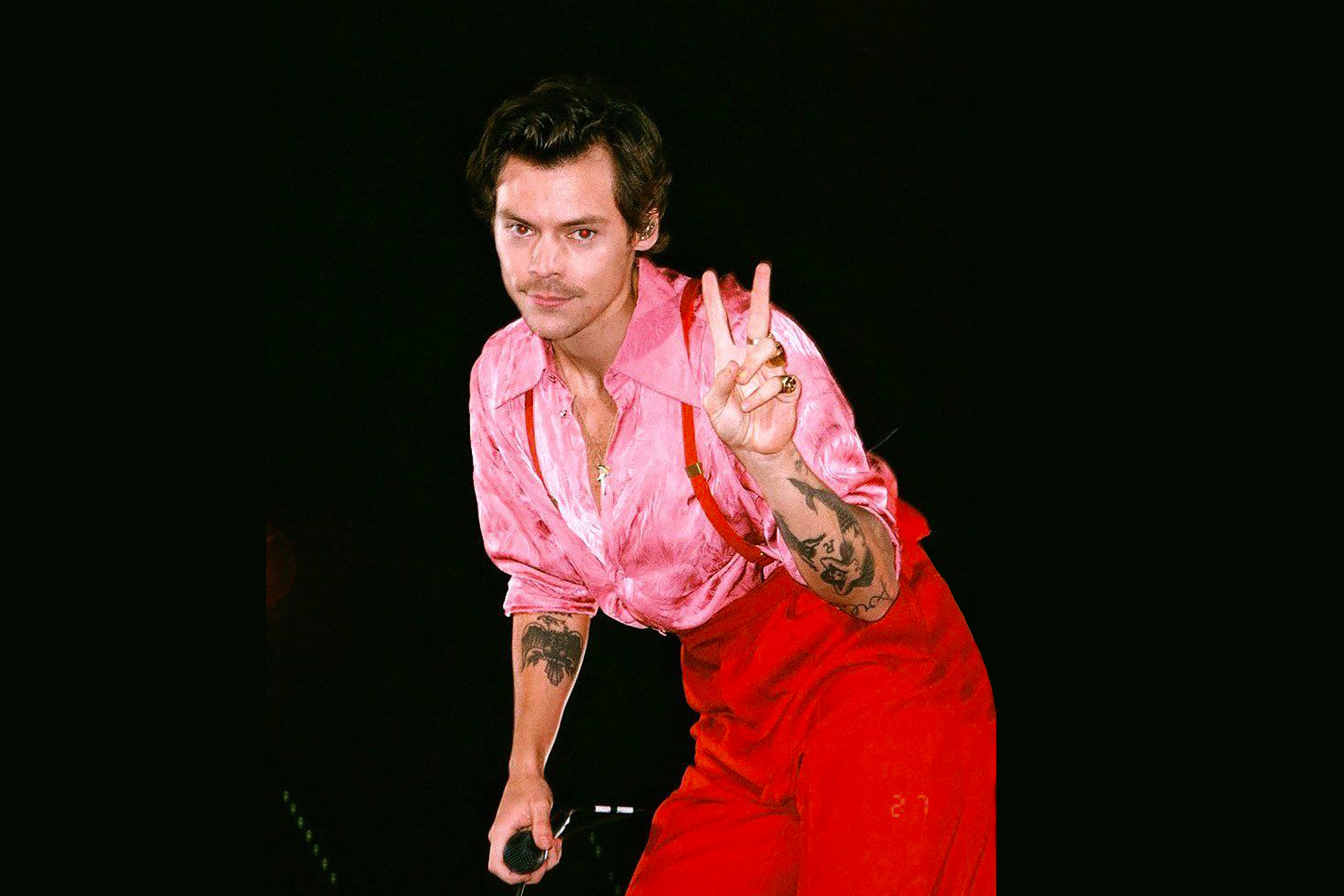 Turns out good can come from even the most miserable of remote-working lockdown lessons
image Twitter via @theharrylibrary
words Eve Walker
In case you can't get enough Harry Styles, Texas State University is running an undergraduate class on the pop icon next spring. Titled "Harry Styles and the Cult of Celebrity: Identity, the Internet, and European Pop Culture", the class will run for 15 weeks and have a focus on Harry and European pop culture in order to "understand the cultural and political development of the modern celebrity as related to questions of gender and sexuality, race, class, nation and globalism, media, fashion, fan culture, internet culture and consumerism". Where oh where can we sign up?
Well, 20 students studying European or world history, international studies, pop culture, diversity or women's gender studies can enrol. They'll practice evaluating sources, developing their visual and auditory analysis as well as learning the technical skills needed for the final project – a podcast.
Associate professor of digital history Louie Dean Valencia announced the Harry Styles course on Twitter, explaining: "It's official, official. I'm the world's first ever university course on the work of #HarryStyles."
While this isn't the first time a contemporary music icons has been elevated to academic fodder - Beyoncé, Kanye West and Lady Gaga have all been treated to such an accolade - we wanted to know way more about this course so had a chat with the professor Louie Dean Valencia himself, who gave us the lowdown on the latest Harry Styles buzz.
WOO: Why is Harry Styles so worthy of academic and cultural study?
Louie Dean Valencia: Anyone can be worthy of academic and cultural study, whether we are talking about an 18th century peasant or a pop icon, like Harry Styles, Taylor Swift, or Beyoncé. Harry has been part of the cultural zeitgeist for the last 12 years and he has produced a lot of art that has impacted millions of people. If you love him or hate what he represents, he evokes reaction, which is what great art does. As a scholar who studies counterculture and youth culture, he's particularly interesting. In particular, his messages of self-love, inclusiveness, and using ones' platform for social good are really important as part of a global trend toward these beliefs. Also, we can't forget that his work is influenced by his fans, and he even says that he couldn't do what he does without them. So, when we talk about Harry Styles, we aren't just talking about him—but the world around him.
WOO: Where did the idea for the course come from?
Louie Dean Valencia: During the endless days of summer 2020, when I couldn't travel to do the research that I typically do, I decided to lean into what I would do if I were a 16-year-old. I bought an electric guitar and started thinking about writing a book about my favourite musician, Harry Styles. Reflecting on the last decade we had just come out of, it was sort of an existential crisis in a way!
Being in the Zoom world, and later masked, talking about music really was a great way to continue to connect with students despite barriers. I found that talking about my love of Harry's music often opened doors to great conversations with students. They also brought their own musical interests to the table. Talking to students, they wanted to talk about issues around climate change, sexism, racism, consumption, gun control, and queerphobia. They also wanted to know how to use one's own platform to make social change—hence the focus on celebrity. Many of us have grown up paying attention to who is following us, who likes our posts, etc. But what do you do with your platform once you have it? That's a bigger question for all of us.
WOO: Do you think pop fandom and pop culture study is treated with the respect it deserves?
Louie Dean Valencia: I think it's getting better. There are a lot of people who think it's frivolous, still. Cultural studies research is academically rigorous and goes through peer-review processes just as all good scholarship should. And the reality is that most people engage in popular culture in some way. Many just think that our passions and our work shouldn't always align… which can limit our ability to self-actualise before we even have the opportunity.
WOO: What have been the most surprising reactions from people about the course?
Louie Dean Valencia: Overall, I'm shocked that a course made for 20 students has garnered so much attention—I hoped for maybe a little news mention on the radio. Friends from all over the world have sent me photos of my class being discussed on their local news and radio programmes. Although, in a way, the global reaction to this small class in the Texas State Honors College justifies the existence of the class—there's just something about Harry… and his art opens doors to these conversations.
WOO: Last but not least - are you a Styler?
Louie Dean Valencia: A lot of news media has been reporting that wrong. We are Harries. "Styler" was used for just a moment in his early career. I'm a Harrie.
Well, that was us told…