Question reality through views of this Andean salt flat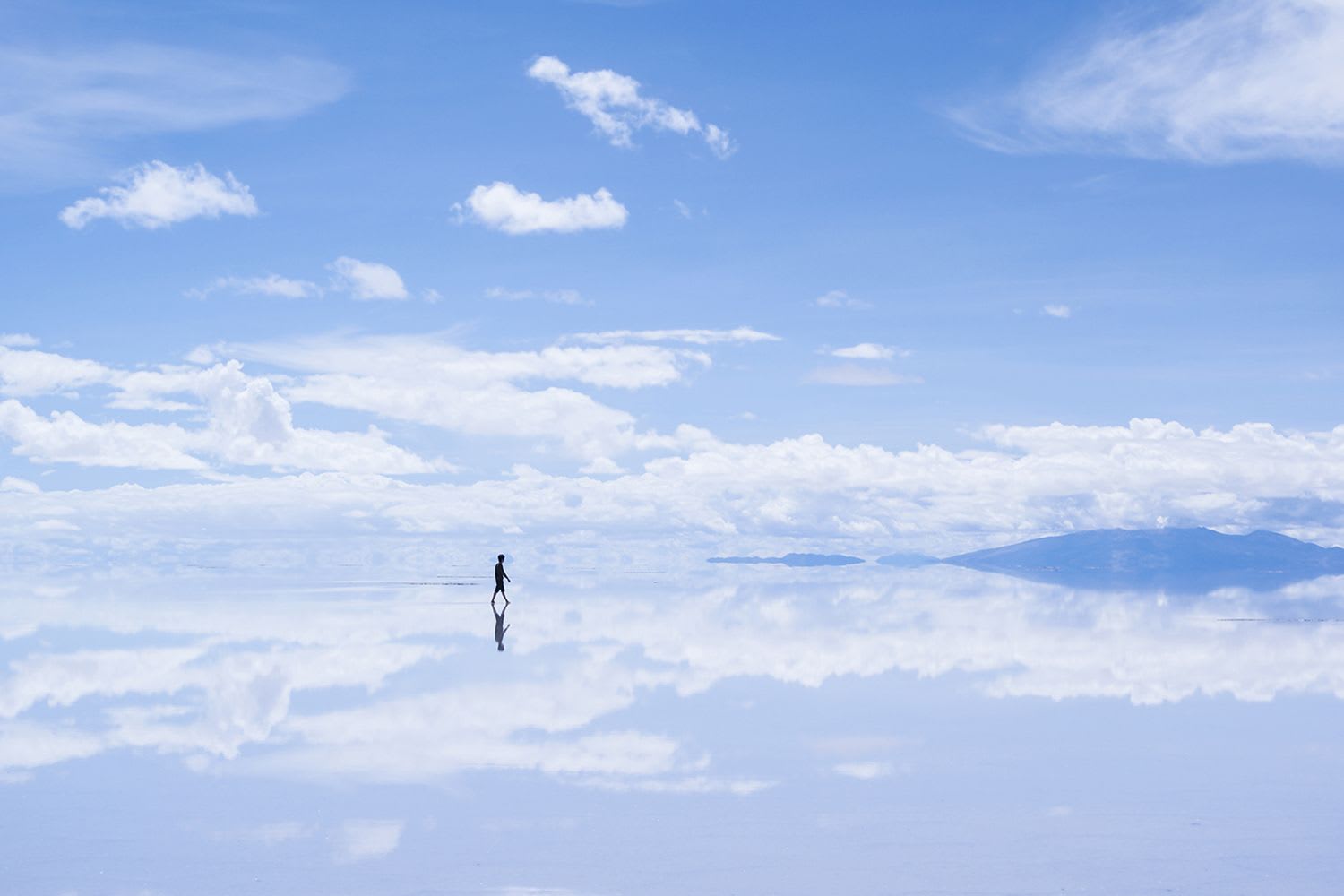 During rainy season, Salar de Uyuni in Bolivia transforms into a giant natural mirror
image shinnji / Getty
words Lucy O'Brien
Welcome to Wanderlust Wonders: each week we'll be cleansing your feed with a feel-good snapshot of somewhere beautiful, both in and out of this world.
Today, we're taking you to Salar de Uyuni, a salt flat in the Andes mountains, Bolivia.
What am I looking at?
Reality, or a reflection? That is the question you'll be asking yourself when you visit Bolivia's world-renowned mirror phenomena that has dazzled tourists through the ages. Because here at the world's largest salt flat – which is a natural landscape that is predominantly composed of salt and other minerals – the landscape is so clear and bright that you can literally walk among the clouds (well, reflections of them, anyway). Characterised by its dazzling bright white colour, these salty terrains are as baffling as they are beautiful, but the real fun begins when rain season kicks in. During the months of November to March, rainfall collects and lies still on the extremely flat landscape – the salt's stark white colour, glazed over with thin layers of rain water, creates a beautiful 80 mile long natural mirror. The result, as you can see above, is a serene and trippy distortion of reality.
Tell me more…
This salt flat is the legacy of what once was a large, prehistoric lake. As the climate has changed and the earth has warmed over centuries, the lake has evaporated and dried up, leaving behind remnants of its rich minerals, especially sulphur. Geologists have long marvelled at the landscape's modern form, which is made up from a few metres of extraordinarily flat salt crust. To make things even more wholesome, the Salar is fertile breeding ground for flamingos, who brighten up the glistening landscape with their iconic pink feathers. The South American tourist hotspot has captured much of our human imaginations, being used as film sets for iconic movies like Star Wars: The Last Jedi.
Is Salar de Uyuni under threat, and how can we help it?
Due to the landscape's remote location deep within the Andes mountains, there is a sufficient lack of rubbish bins and no sufficiently-regulated rubbish disposal system. Littering has become the most pressing ecological issue at this tourist attraction, as visitors have little choice but to turn to landfill or bury their own rubbish. The influx of tourism post-pandemic has had a significant effect on littering levels in and around the local Uyuni community. If you plan on making a visit here, be mindful that travelling across the Andes can often take a few days, so try and bring reusable, sustainable items that you won't need to dispose of immediately after use. You can also support grassroots charities who are working to alleviate these issues on the ground. Projecto YOSI, for example, is a Bolivian organisation dedicated to giving children in the area better education on environmental conservation, while campaigning to have more waste bins and collection services implemented in the Salar.
Best views from the grid
you are missing out on some content here because you rejected our cookies. want to change that?
you are missing out on some content here because you rejected our cookies. want to change that?
you are missing out on some content here because you rejected our cookies. want to change that?
Tune in next week for another dose of visual healing...