Legendary Drake and Kendrick Lamar producer Boi-1da talks SS23 collabs and self-care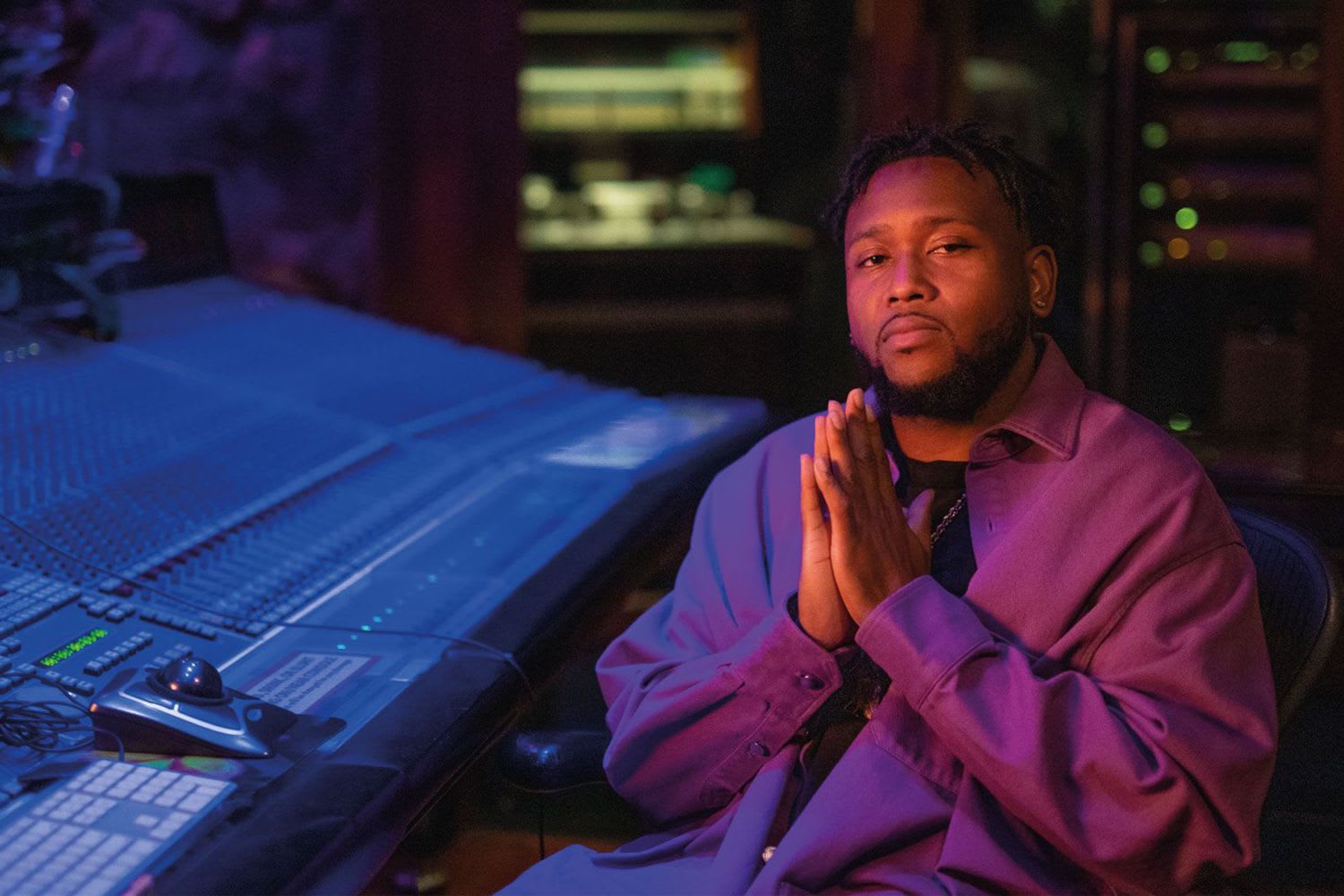 We catch up with Boi-1da at PMFW22 to discuss how to navigate an often toxic and out-of-reach music industry
Boi-1da, the producer behind Drake and Rihanna's Work as well as Kendrick Lamar's The Blacker The Berry hails from Jamaica but moved from the sun-soaked beaches to chilly Toronto when he was just three years old. The influence of his homeland has stuck with him ever since, though. Raised on a recipe of dancehall, reggae, R&B and hip-hop, he's gone on to produce Grammy-winning music.
We caught up with Boi-1da after the debut Paris Men'NAHMIAS SS23 collection show — in collaboration with Bacardi's Music Liberates Music programme — at Paris Men's Fashion Week 2022. He told us how he overcomes challenges in the music industry, how he looks out for his wellbeing, what it's like working with some of the world's best-known, highest-regarded artists and who is the "funniest and coolest" to work with.
What makes you happy and what does self-care mean to you?
I think my family makes me happy. Sports. Having fun. Being around friends. Music. A lot of things make me happy — I'm a pretty happy guy.
Self-care is really important to me. If you have a career or work a lot, I think it's really important to step back sometimes and enjoy yourself. Free your mind. Do nothing. Treat yourself. It's true what they say, "all work and no play makes Jack a dull boy". If you just consume yourself in work or on one thing you could potentially burn yourself out.
Which piece of music is the most important to you?
That's like asking who your favourite child is. I love all my music, I'm very confident in all that I do and I stand by that as well. I'm a musical being — I feel like I was born to make music and that's what I do.
Which artists inspire you?
I'm very inspired by a lot of different genres. Music means so much to me, where would we be without it, right? Sometimes you need a piece of music to change your attitude, even change your day. I feel like music as a whole is important for everyone.
"Just get in there: closed mouths don't get fed. It may seem hard but really it's like jumping into cold water"
Boi-1da
What are the biggest challenges in the industry?
I was introverted as a kid — the biggest challenge was speaking to people and being confident. I was very quiet as a kid and kept to myself. Being part of the music industry, you have to be around people, you have to learn how to speak to people.
I was forced to do that. That was the biggest challenge for me: learning to interact, learning to speak and to be confident within myself.
What advice would you give to anyone starting out?
To anyone starting out and feeling the same way, feeling shy and having not much to say, it's very difficult. Just get in there: closed mouths don't get fed. It may seem hard but really it's like jumping into cold water… you might put your foot in there and think it's too cold, but once you jump in it's not that bad. Speaking and interacting with people isn't really that bad — you've just got to be confident in yourself and what you do.
How has Jamaica influenced your music?
I think Jamaica as a whole has influenced my music. As a kid, I grew up with my dad listening to reggae and dancehall and my sister listening to R&B and hip hop so it's all a part of me and what I do… Reggae music is very rhythmic and I feel like I'm a very rhythmic person when I produce. Reggae music helped me work with hip hop music because the rhythms is so unique — it makes you want to sway and bob.
What was it like working with Drake?
I grew up with Drake, I met him when I was 16 and we worked on his first mixtape together — he's like a brother, one of my best friends. He's the coolest and funniest to work with and it hasn't changed since then, so it's been nothing short of a pleasure to see his journey and our journey as well.
I'm so proud of the guy. You know what he came from nothing and did it in the biggest way. I have so much respect and love for that guy. He's literally one of the greatest human beings I've ever met.
What was it like working with Kendrick Lamar?
Kendrick Lamar is such an honour and pleasure to work with. He's so talented — that man is a very special man when it comes to music. I've known Kendrick for years, and e's the type of guy that just gets right to it, he's one of the greatest rappers I've ever heard in my life. He's also one of the nicest, coolest people in general.
Do you ever feel like you have imposter syndrome?
Yeah, it's crazy, I do… I feel like it every single day. I feel like I shouldn't get the respect I do as a producer. I definitely feel as if I haven't done enough, and I have bigger things to come. So yeah, I'm just continuing to work and to try to innovate and, and push the envelope when it comes to music.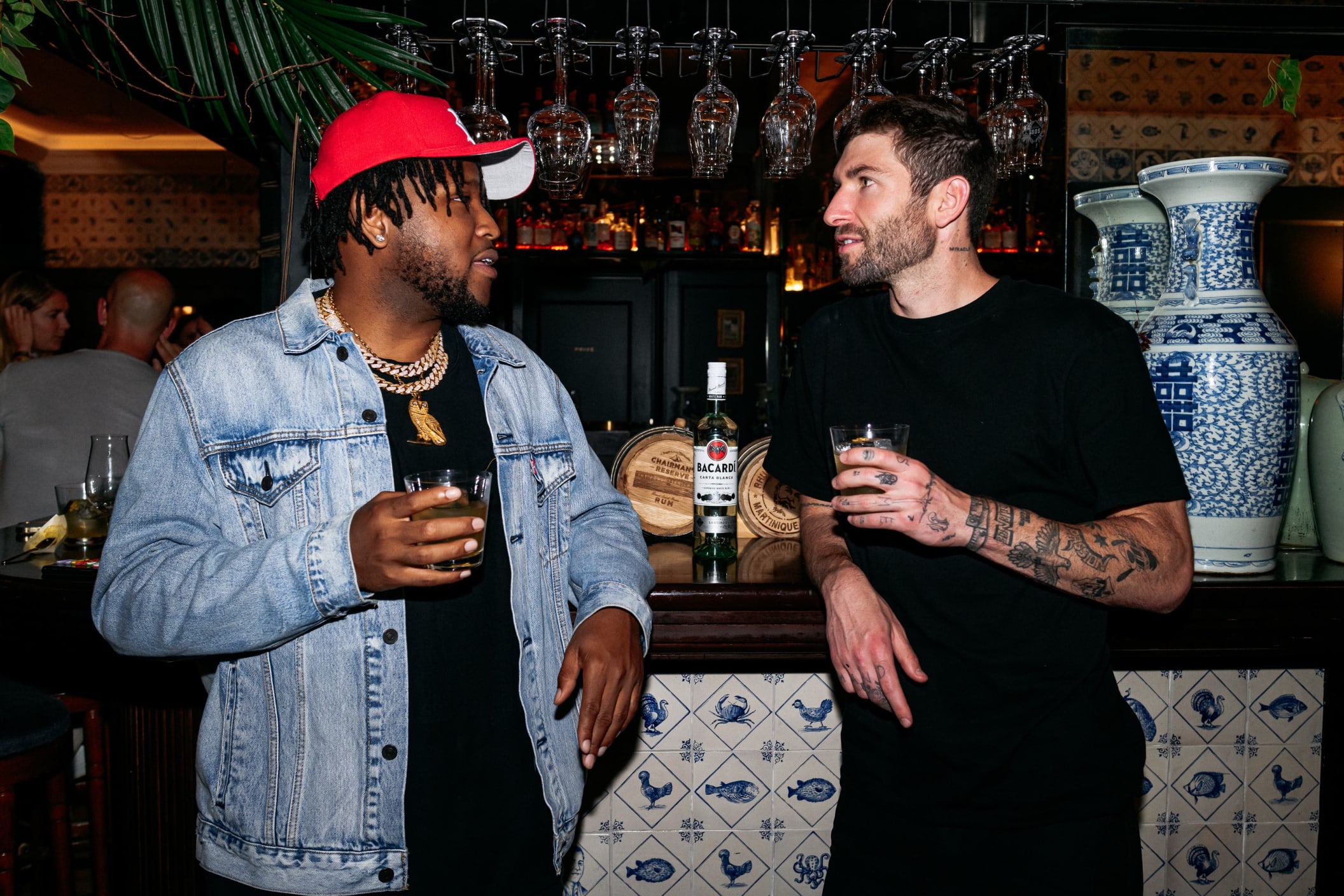 Boi-1day with designer Doni Nahmias
This recent collection with Bacardi X NAHMIAS that you worked on focuses on uplifting underrepresented voices in music. How important is that?
I think it's so important. I come from Toronto, Canada. When I was just starting out there was nobody to look up to, there were no role models — or at least very few up there. There was nobody who "made it", so we had to figure out how to do it on our own. The fact that I am now in a position where I can help and uplift up-and-coming artists — I'll do it as much as I can. I feel like it's my duty to make it easier for them.
How does mentorshipping help with that?
Mentorshipping is so important… I mentor a lot of producers and a lot of artists. It's important to not keep the knowledge to yourself. It's not fun to win alone, you know? I want others to win too. I've always been down with mentoring and giving out information, even as a producer giving out sounds. We need that — we need that type of energy in the industry.
How do you think fashion and music influence each other? And what is your own approach to fashion?
I feel like music dictates fashion a lot of the time — they go hand in hand. There are so many innovative people in the space. Kanye West and Travis Scott, for instance, have changed fashion with their music and unique style.
For me, my approach is simplicity. I like simple fits but at the same time things that stand out. That's why I love the NAHMIAS brand so much because it's not doing a lot but at the same time it stands up.
What do you do to benefit your well-being?
Hanging out with my family. I have a 12-year-old daughter. I love spending time with her and throwing away my phone. She's really my comfort. I'm also very close with my family, I spend a lot of time with them and they keep it real with me. My friends also do that too… You can get caught up with work but sometimes you've just got to live in the present and with what you have — that's really my comfort.
Can you tell us more about Bacardi's Music Liberates Music programme and why it differs from other similar schemes?
It's so dope what we're doing with Bacardi and NAHMIAS because it collides the two brands together — two worlds, fashion and music. The pieces that they made have a QR code on them. When scanned you can check out new music from emerging artists. It goes hand in hand: cool fashion and new music. It's just the lifestyle. It goes together so well and I'm happy to be a part of something so innovative with amazing brands.