Jordan Stephens is a New Kind of Popstar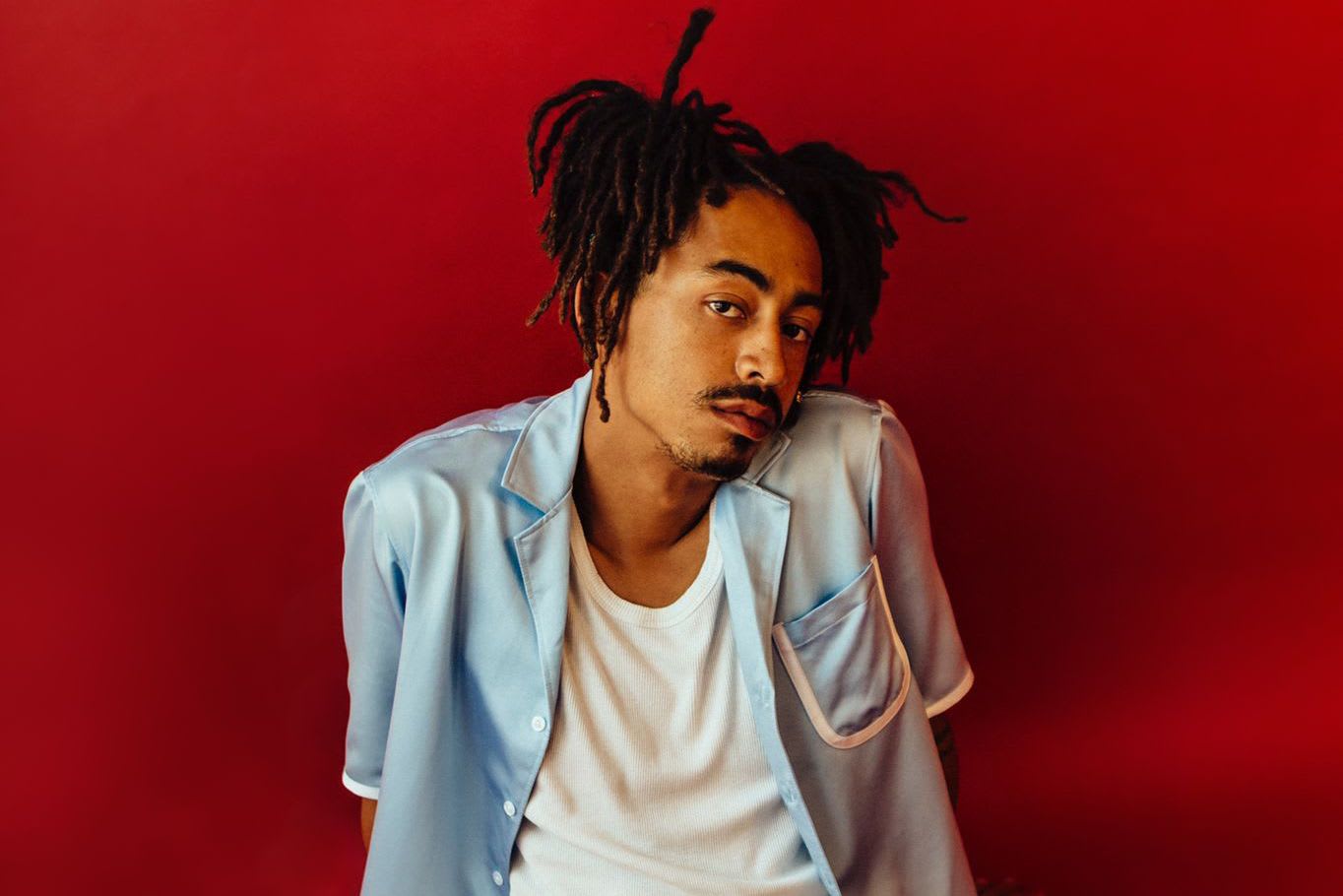 The purveyor of cheeky British rap-pop emerged from the mid-00s burnt out and rootless. Not anymore
image Prexa Shrestha
words Sam Wolfson
I am ever so slightly worried that Jordan Stephens is going to die while on a Zoom call with me. We're talking while he's driving to Bristol to master his new album, a strange and experimental set of spoken-word explorations of his inner psyche, a world away from the friendly pop-flecked rap he made one half of Rizzle Kicks. He has both hands on the wheel, while his girlfriend, Jade [Thirlwall, one third of Little Mix] holds his phone. He seems to be an adept multitasker, but every now and again, I can't help but squeal: "focus on the road!"
Stephens' record encompasses three years in which he has completely transformed his life. Suffering from burnout and a sense of rootlessness, he gave up drinking and other medications and began a series of new creative endeavours including acting, longform writing and a new way of making music for the forthcoming album, Let Me Die Inside You. When the first lockdown began, he found it transformative.
"2020 was a really good year for me, aside from the global pandemic obviously," he says. "It gave me a lot of time to be with my dog, and I was just eating well and cooking. I know it was difficult for a lot of people, but for me, it really strengthened connections I made with other people. I met great people, met my now girlfriend. I started to feel genuinely confident."
"I get spurts of confidence and then I overthink everything. But I've been through a lot in the short time I've been on this planet"
Jordan Stephens
For Stephens, this was no small feat - despite a cheeky chappy persona opposite bandmate and fellow Brightonian Harley Alexander-Sule, he felt like his career had stalled and his confidence had been shot to pieces, and it took time to rebuild. "When I was younger, I had this blind belief. But this was different, I wasn't taking loads of drugs so I [could] feel confident, but soberly, slowly sure of myself. It's a long journey that I feel like I'm at the beginning of. I get spurts of confidence and then I overthink everything. But I've been through a lot in the short time I've been on this planet."
Stephens' career trajectory has certainly been breakneck. When he was still at the Brits School, he formed Rizzle Kicks with Alexander-Sule. They were one of the early YouTube sensations, after the video for their second single Down With The Trumpets went viral they were signed by Island Records. The group straddled a space between rap stars and teen entertainers that only exists in our strange, very-British Saturday morning metaverse - located somewhere between performing to screaming fans T4 on the Beach, scoring a banger on Soccer AM and whipping up a souffle on Sunday Brunch.
The group stopped performing as much after 2014 and acting gigs followed for Stephens, including in Mae Martin's acclaimed sitcom Feel Good and even a tiny cameo in Star Wars Rogue One. At the same time he became a regular on the London party circuit, known as much for his sharp dress sense and famous pals as his music. You could spot him at fashion week shows in his Opening Ceremony letterman jacket, or spilling out Soho's The Box and into the lenses of Mail Online paparazzi. But giving it the big one took its toll - and in the past few years he's swapped drinking with exercise and meditation.
Prexa Shrestha
Stephens also has ADHD, but gave up his medication a few years ago. He says finding focus is still tough, but he remains optimistic: "I'm less productive than I used to be, but I'm also happy to move slowly and happy for nothing to get done. Then every now and again, I get this feeling like, oh yeah, I can do that."
The music he's making now feels deeply personal, and at times quite weird. Little flecks of spoken word over spacey wobbly soundscapes on the 14-track album. On Shake! he works through the discordant feelings of grief, wondering aloud ''Is death that deep?". On Big Bad Mood, a sultry Ibiza-sounding house collaboration with Tottenham singer-songwriter Miraa May, Stephens sings ecstatically that he's "bumping fists with my demons".
He says that releasing music now, on the eve of his 30th birthday, is very different. "I'm releasing music because I love it, constantly trying to break through stuff! That's my motivating factor. But I see newer artists, what they have to do in order to survive in the industry right now, what is expected of them to thrive."
"The older I get, the more elusive I'm becoming, so it's quite difficult to fit into the hyper visible, hyper content farm world"
Jordan Stephens
"The level of integration you have to have in order to survive on social media. I can feel their hunger, I can see it around me and I just can't compete," he says. "I'm going to keep doing things at my own pace. The older I get, the more elusive I'm becoming, so it's quite difficult to fit into the hyper visible, hyper content farm world."
He echoes the thoughts of a number of artists who have come forward in the past few months to say that the constant pressure to make content out of their lives is stifling creativity and affecting their wellbeing. "I get that we have to market ourselves but I can't imagine some of the artists I grew up loving, just constantly promoting and marketing themselves. I always thought it was this kind of torturous process," he says.
He's been finding a rare kind of flow state at the end of the day, writing around 1,000 words a night before bed. "I've connected with a particular style of writing that I didn't know I had within me, but that's also a massive distraction from music, telling stories in a different way. So I have to be realistic about how much I can do."
Stephens has finally pulled over, which relaxes me. Before we wrap up, I ask Thirlwall if she's noticed the changes that he's gone through.
"He's more of a pain in the arse!" she giggles. "No, he seems to be more and more sure of his art which is nice to see."
"Do you think?" asks Jordan, sounding surprised.
"Yeah, you're trusting the process a bit more, being a bit more patient."
"When I first met Jade, I would be freaked out if I went a few months without making something. I'd overthink things, panic. But in the last six months I've banked on myself a bit more towards the second half of this year. I've had more reason to believe in my abilities even though I do doubt myself all the time."
Jade protests: "Nooo!"
"Do you not think I do?"
"Not as much babe, as a pop artist it's very inspiring to see you not follow a certain formula everytime you make music. I've definitely become a better songwriter since being with you"
"For real? Aww that's sweet," Jordan grins, from the A-road layby. "Well, you have nicked a couple of my lines."