"We need more softness to survive": Alfhild Külper's fuzzy sculptures are an oasis of joy
The Swedish textile artist unpacks the meaning behind her impactful solo show 'Call It Angel Earth'
image 'Call It Angel Earth' by Alfhild Külper at Superhouse Vitrine. Photo by Luis Corzo
words Gilda Bruno
Welcome to Stop Scrolling, where each fortnight arts and culture writer Gilda Bruno will be bringing you a roundup of carefully curated exhibitions, art fairs and photo books to check out, as well as exclusive conversations with some of today's most exciting emerging artists.
This week, Bruno speaks with textile artist Alfhild Külper about her ongoing solo show, 'Call It Angel Earth': an immersive, intimate journey through her most joyful memories which stresses the value of resilience, love and spirituality in the midst of the climate emergency.
Ever since she was a child, Amsterdam-based artist and designer Alfhild Külper has lived in a fantastical universe of her own. A descendant of Germans who fled the country to escape Nazism, she grew up in the verdant countryside of Sweden as if in unison with its gleaming bodies of water and unspoiled greenery. Having been raised to believe in here ability to connect with the spiritual realm, the artist has dedicated herself to incorporating a whimsical vision of the world and deep love of nature into textile creations that feel representative of our innermost memories.
After graduating from Central Saint Martins, Külper worked as the head of design at Viktor & Rolf for ten years. Since the pandemic, her urge for "a softer, more empathetic environment" prompted her to experiment with large-scale, comforting furnishings carved out of leftover fabric. Grounded in intuition and trial-and-error learning, she explains that her approach nowadays "fuses traditional rug-making techniques and 3D embroidery with self-developed additions to give life to textured landscapes and figures."
Crafting her pieces with a pneumatic tufting gun, using compressed air to shoot threads through a stretched cloth, as well as scissors and shears, the interdisciplinary creative looks at the development of her multilayer "fuzzy" sculptures as a means of reacquainting herself with the tactile in an increasingly virtual age. "It felt like slowly growing a garden," she says of the making of the topographical wool landscapes on show in Call It Angel Earth, Külper's first international solo show, which continues at Superhouse Vitrine, New York, through April 30.
Here, flora and fauna are rendered in pastel-shaded tapestries, woven stools, totems and rugs, some of which encrusted with hand-blown glass elements realised by Anna-Linda Gabriel. From mossy rocks and iridescent lakes to silky jellyfishes, "the exhibition is like a memory of the future," the artist explains, pointing towards how the show gestures towards a new, digital view of nature and the fluidity of our time.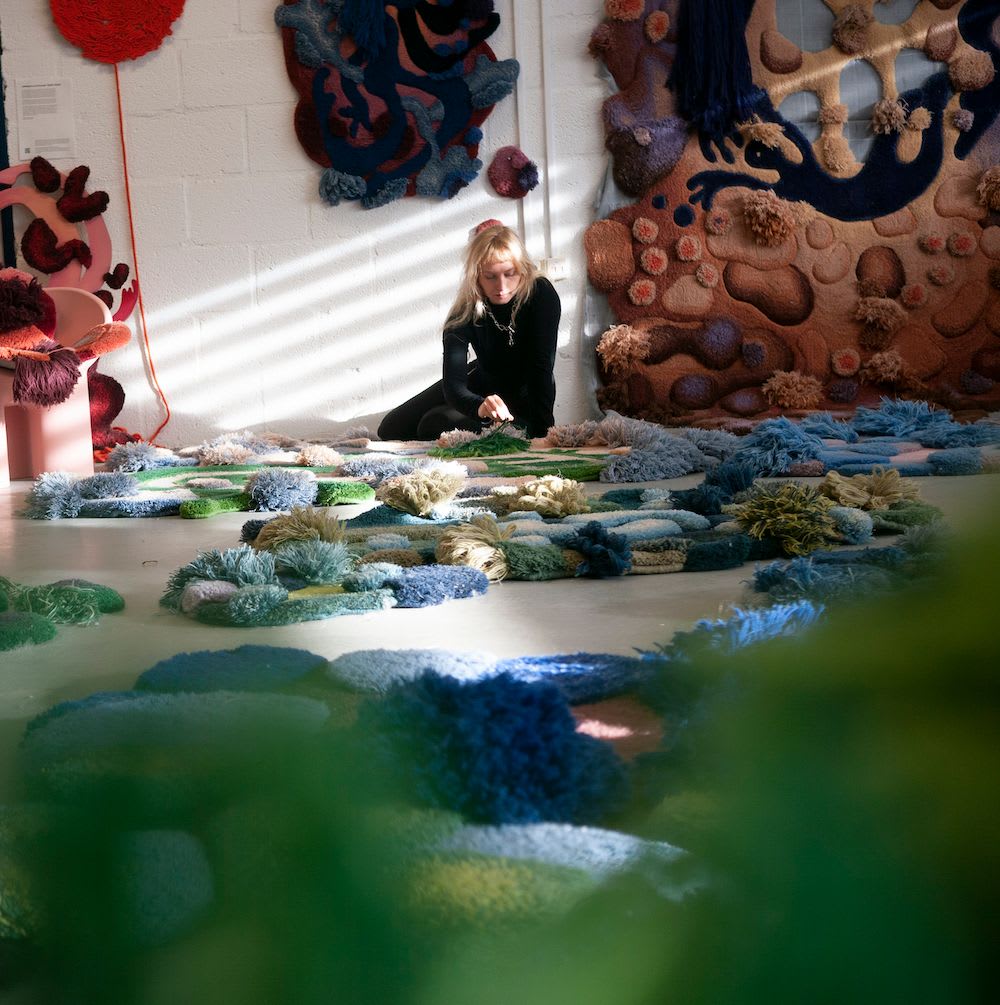 'Call It Angel Earth' by Alfhild Külper at Superhouse Vitrine. Photo by Luis Corzo
Key to Call It Angel Earth are "Dance Around the Pool of Life" and "Creation of the Magic Light", the two installations taking over Superhouse's front and back gallery. "Both pieces contribute to delineating the narrative behind the exhibition," the artist says. "One of them revives a story dating back to before I was born; the other, one that took place recently." In "Dance Around the Pool of Life", Külper draws on the departure of her aunt Eva – who passed away this spring – and how that coincided with the birth of Eva's grandchild, Felicia, to spark reflection on the cyclicality of human existence.
Set in a moss-covered forest in the golden hour of a summer night, the artwork depicts the two figures as "they swirl around the pool of life" in a mesmerising game of mirrors. The second tufted landscape revisits "the glowing objects" created by Külper's grandfather Klaus, an engineer, inventor and scientist, in the basement of his self-constructed house. "We didn't know what those inventions did, but we knew they would protect us," she says. Conceived as an oasis of innocent playfulness, "Creation of the Magic Light" captures the peacefulness of her grandfather's home whilst showing him dancing with his lights in the sky.
For Külper, Call It Angel Earth – "a showcase built off of a medium capable of turning 'mistakes' into unexpected embroidered details" – stresses how, in a life full of accidents and traumas, what is most visible is our resilience. As the exhibition comes to a close, we speak to her about the importance of going back to our happiest memories, embracing our own scars, and what it takes to turn an at-risk planet into our "Angel Earth".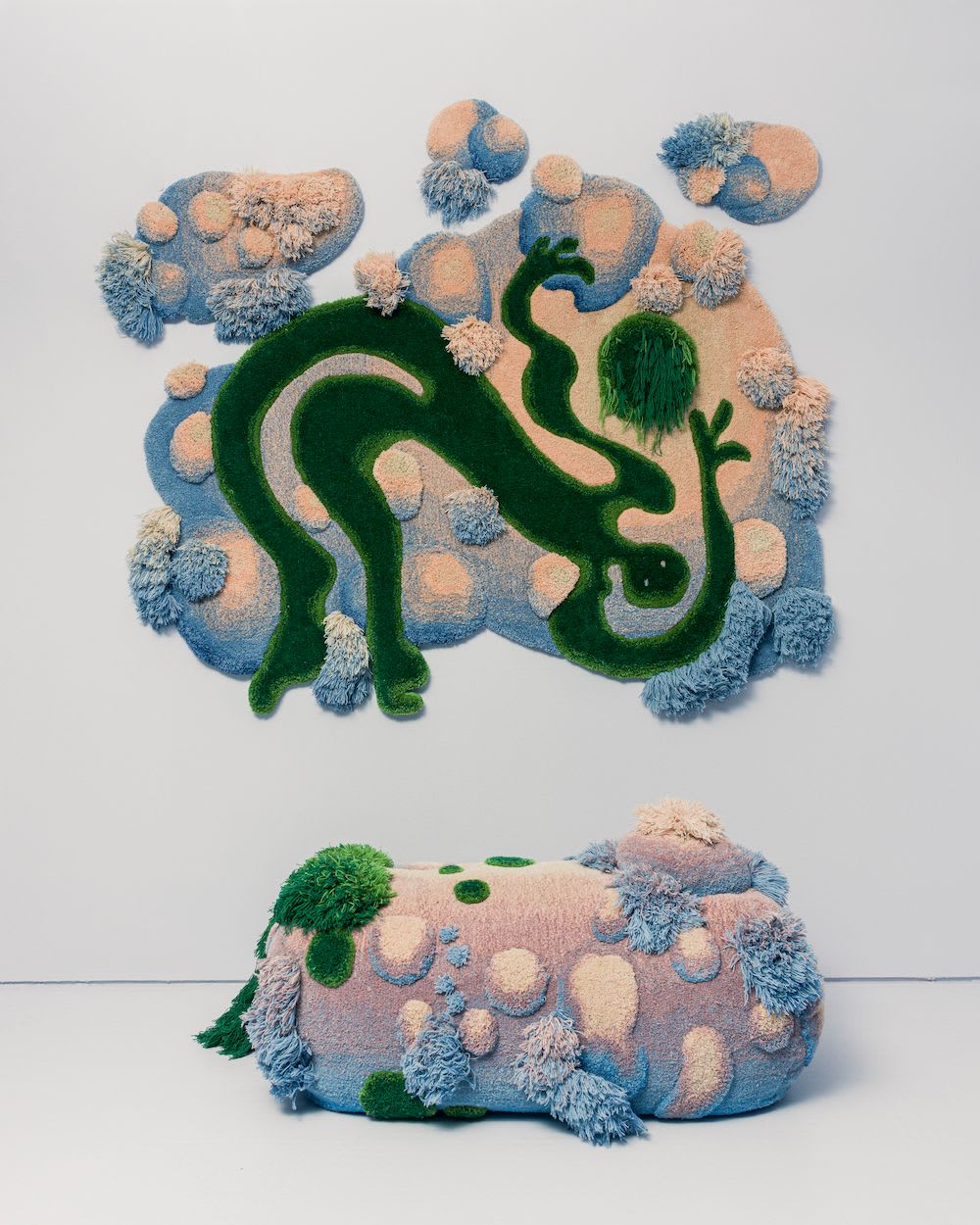 'Call It Angel Earth' by Alfhild Külper at Superhouse Vitrine. Photo by Luis Corzo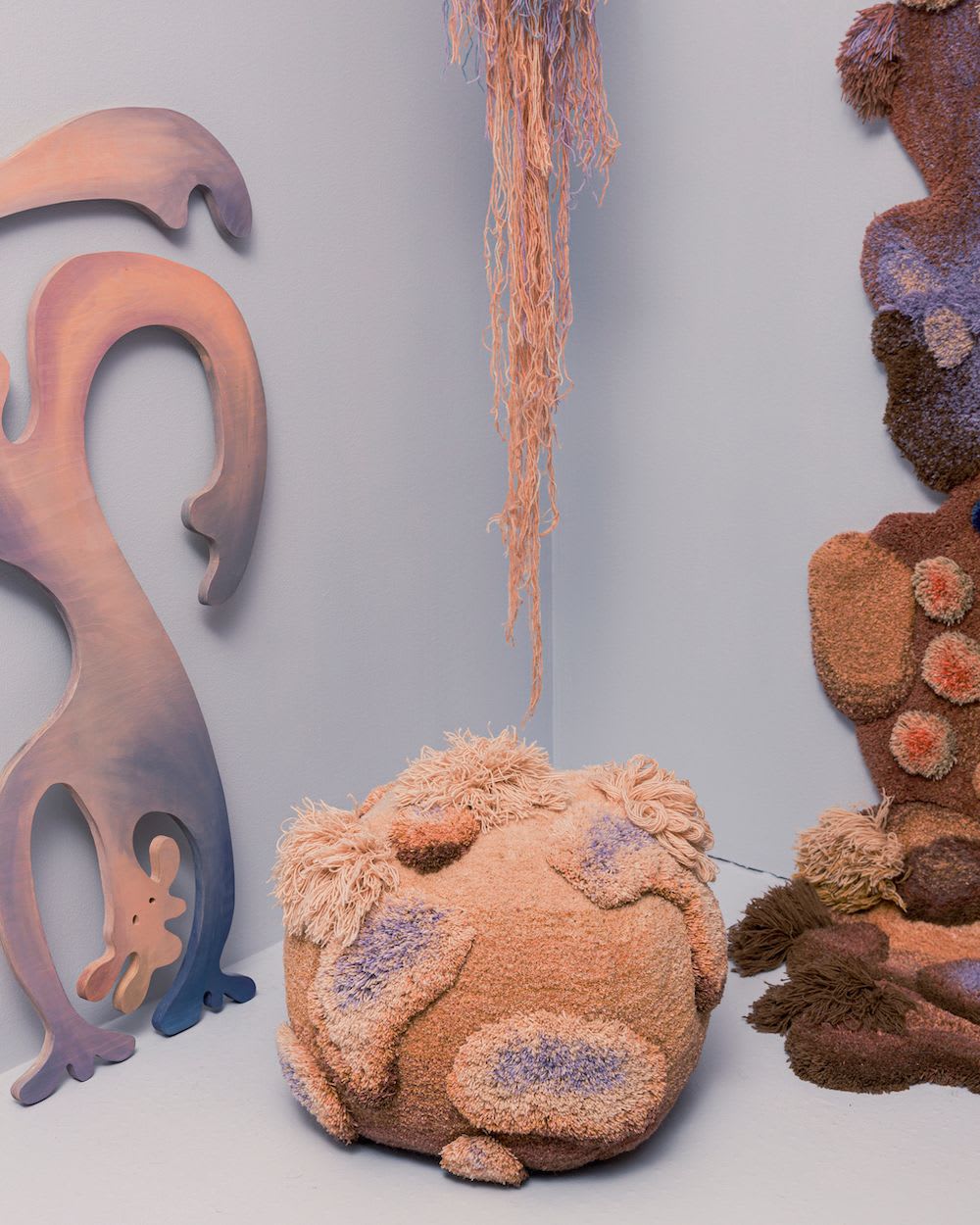 What are your most vivid memories of your childhood in Sweden?
Alfhild Külper: When my grandparents arrived in Sweden from Nazi Germany, they started life from a blank slate. My family and I stayed more sensitive because we had less cultural conditioning; our lack of ties to Swedish history and traditions allowed us to create our own world. Growing up with my mother, her sisters and my cousins in the lush forests felt like exploring uncharted territory: with their moss-covered grounds, glittering dark lakes and rounded rock formations, Sweden's landscapes encouraged animism. Because of the horrors my grandparents had left behind, the universe that they "painted" for us had more room for dreams. With its dark, creaky floors, nights in our wooden house could get scary. We were taught there were magical spirits coming alive to protect humans while they were fast asleep. We learned to not fear the unknown and rejoice at what could not be seen.
In my family, we have always believed that there are specific stages when we are more connected to the mystical. This normally happens when we are really young or nearing the end of our life. The piece "Dance Around the Pool of Life" stems from this idea. The last year before my grandmother passed away, she requested her hospital bed be placed by the big windows in her house so she could look out over the garden and the water. She started seeing these little beings that lived in the trees, describing very vividly to us how they built homes and made aeroplanes out of leaves. She told us to open the windows so that the "tree people" could come in with their doctors to look after her. Ever since I was little, I have always tried to visualise this "hidden" layer in our world.
In a society that fails to see spirituality as functional to people's mental and physical well-being, putting the spiritual at the centre of your work feels like an act of rebellion. How has your connection with nature and the mystical influenced you as both a person and an artist?
Alfhild Külper: My work is first and foremost a reaction to overconsumption culture. I was always told that, within my lifetime, there would be a big shift defined by the scraping of money and borders. That we would find a way to function as one, with rewards coming if we helped others rather than ourselves, and that humans would be free to do what makes them happy. Tired of waiting for this change, I started to live in this future in every possible way. Relying on my craft as a means of creating everyday objects felt like a sustainable alternative to the trap of continuous growth; my work cannot be overproduced, as hands can only make so many. It also removes elements of competition, as no one can recreate it in its finest details. My use of leftover wool from India and Nepal rebels against the wasteful practices of fast fashion.
Mine is an emotional rebellion rooted in the need for a more physically and mentally "soft" world. I opt for materials that are more forgiving to work with, prioritising comfort, warmth and organic, imperfect shapes. My perception of the reality around me has been influenced by the years I spent at an anthroposophical [Rudolph Steiner] school between seven and 19. It is a beautiful way of learning that fosters curiosity and creativity rather than celebrating perfection and competition. It is all about learning through creating, always questioning the knowledge handed down to you. Along with my unconventional upbringing at home, that was probably the experience that shaped me most in both my personal and artistic life. Coming out of the "bubble" I was raised in, it was a surprise to realise that most people had different priorities.
'Call It Angel Earth' transforms negative emotions into a celebration of your brightest memories. How does the show encourage an understanding of life that is comforting, lighthearted and joyful?
Alfhild Külper: I feel like today we are at a tipping point of humanity where we are either bound to create our paradise or perish. Crafting the artworks at the heart of this show after positive memories from the past made me feel happier, calmer and more grounded. I hope Call It Angel Earth will evoke the same feeling of unconditional joy in every visitor. Personally, I think that the best way forward is starting to live life as if we had just made it through a difficult situation; visualising a planet where we can be magical beings floating in a weightless dance, immersed in sparkling nature, is my driving force. If only we used AI and gene technology for the common good, then we could give shape to our own "Angel Earth".
To me, the solution lies in love and its boundless expansion. Traditionally, evolutionary love was only ever felt between a mother and their child. Yet, now that society has become so widely globalised, we need to catch up on our emotions and spirituality, learning how to extend our love to the whole of humanity. We need more softness to survive.
Call It Angel Earth runs until 30 April at Superhouse Vitrine.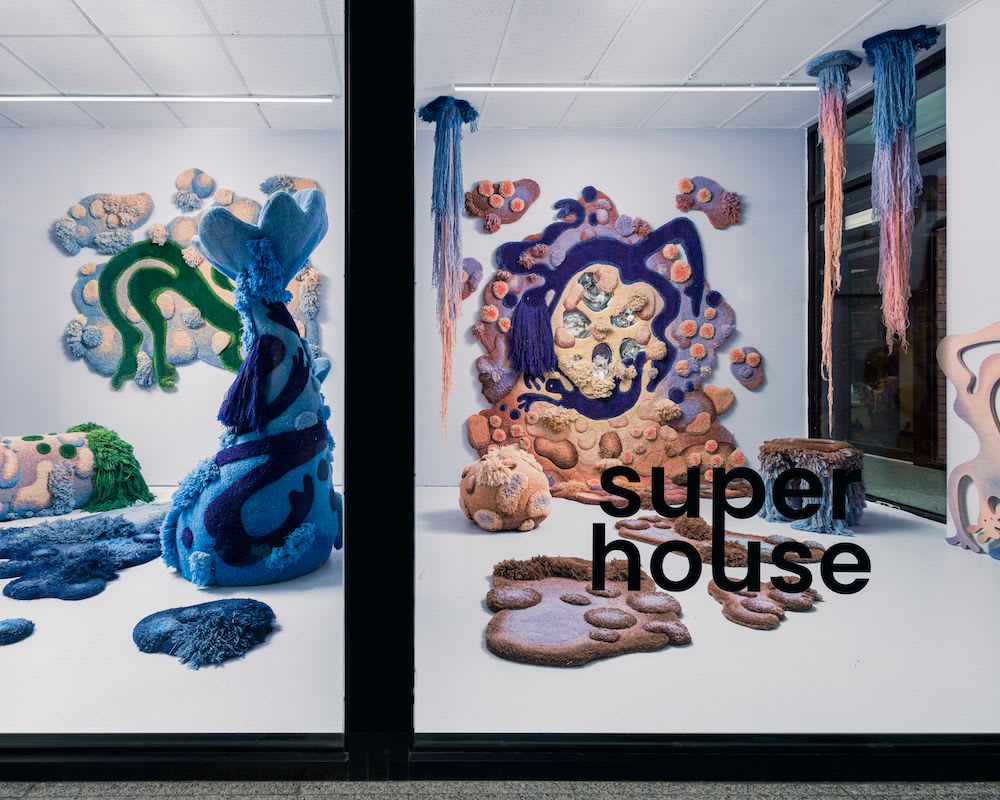 'Call It Angel Earth' by Alfhild Külper at Superhouse Vitrine. Photo by Luis Corzo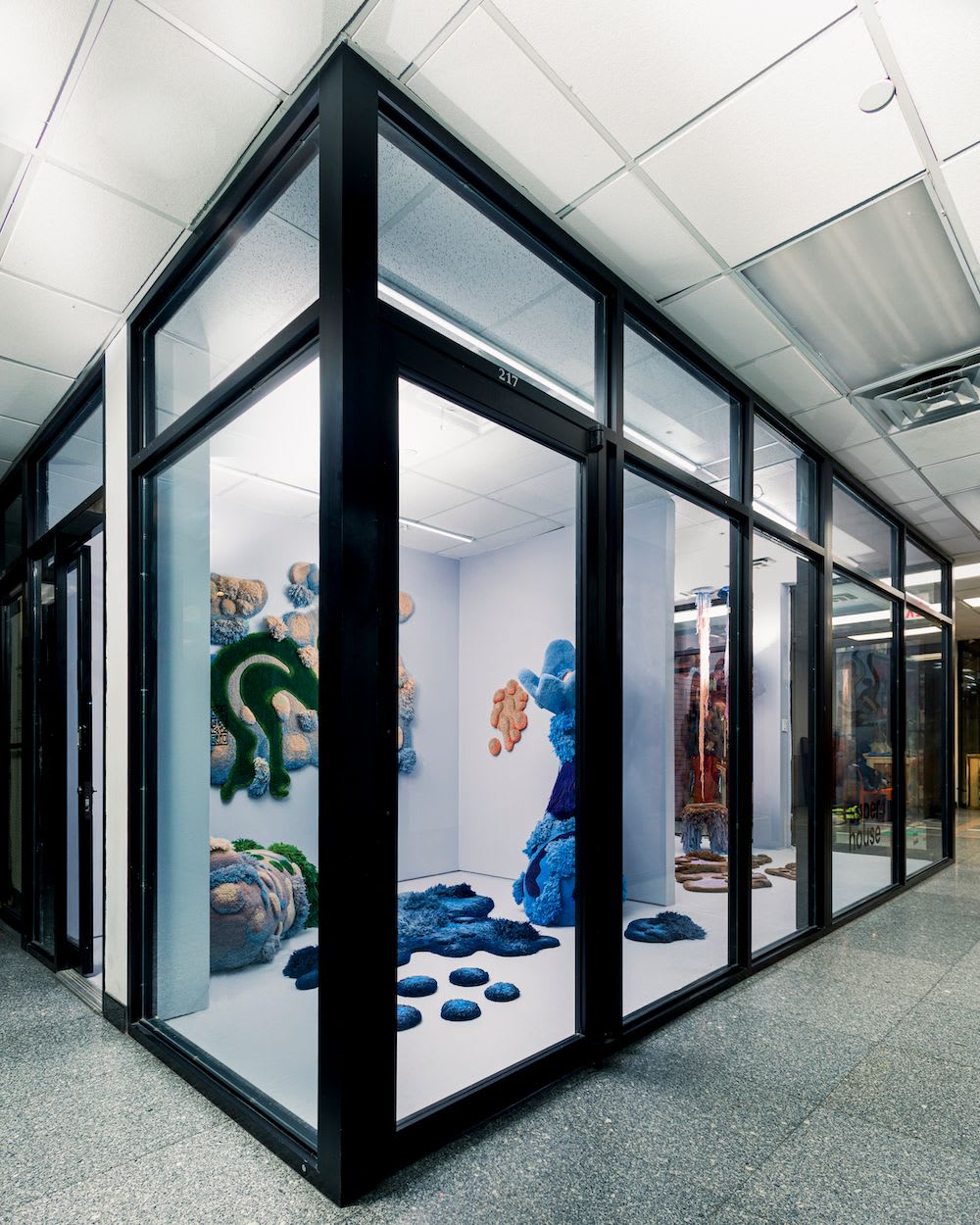 'Call It Angel Earth' by Alfhild Külper at Superhouse Vitrine. Photo by Luis Corzo
Scroll for an extra dose of art and culture news, curated for you by woo
When there's so much to see and experience, it can be hard to choose where to spend your valuable time. Below, Bruno picks a selection of standout shows and culture events to explore in the coming weeks.
Isaac Julien, What Freedom Is To Me, solo show, Tate Britain, London, UK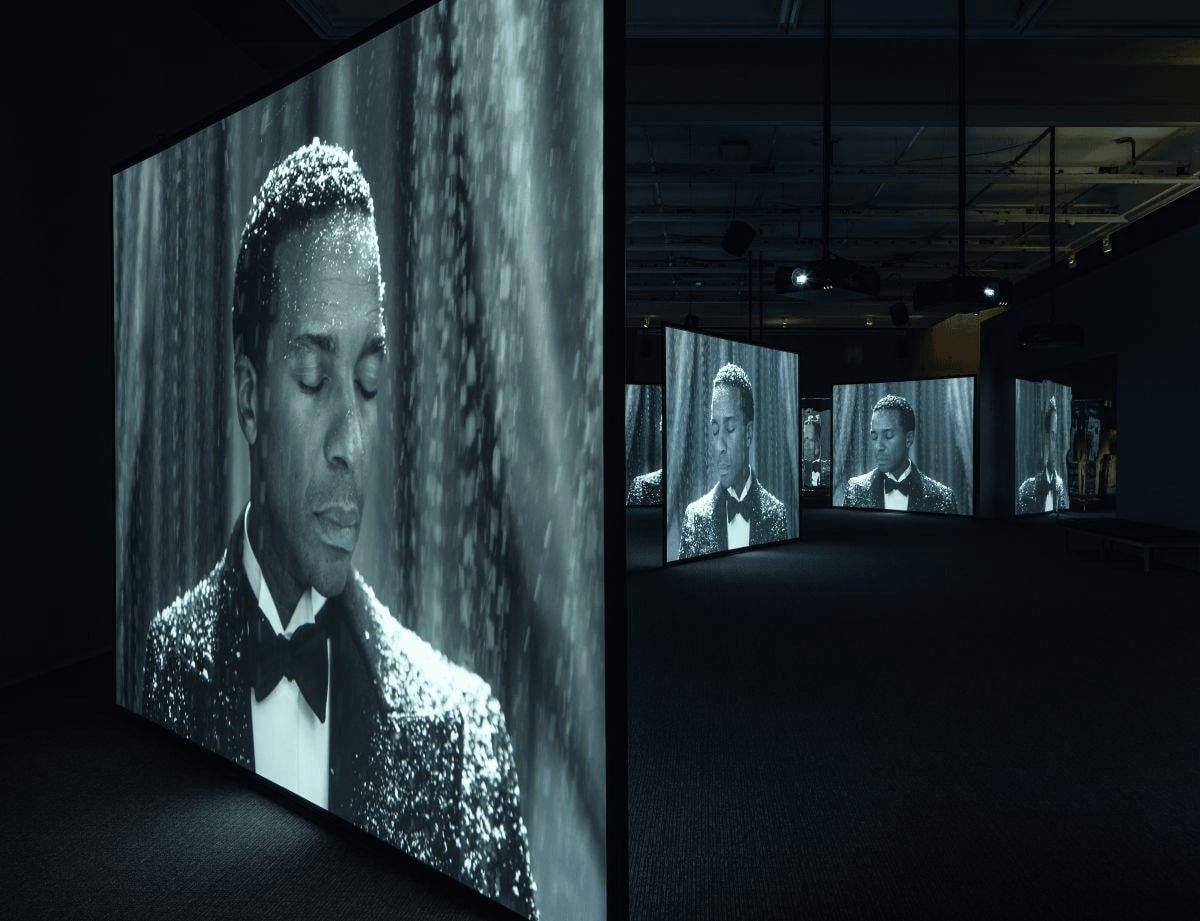 Installation view, Isaac Julien, Once Again…(Statues Never Die), Tate Britain, 2023 (Image credit: Photo: Jack Hems © Isaac Julien Courtesy the artist and Victoria Miro)
Active at the intersection of film and installation, since the late 1980s, Isaac Julien has carved out a reputation for himself as one of the most influential video artists of our time. Born in London's East End in 1960, from the beginning of his creative career, the British talent has dedicated himself to paving the way for fellow Black filmmakers through the launch of the Sanfoka Film and Video Collective: a platform he co-founded with other creatives as a means of fostering the birth of an independent Black film culture across production, exhibition and audience.
Now on show at Tate Britain, this new solo show cements Julien's extraordinary contribution to the fields of film and installation in a celebration of his 40-year-long artistic experimentation. Centring around desire, history and culture, Isaac Julien highlights the artist's ability to fuse film, dance, photography, music, theatre, painting, and sculpture in pieces that speak of the complexity of the human experience. Presented in dialogue between them for the first time in the UK, the artworks on display, including early films and large-scale, multi-screen installations, will turn Tate Britain into a mirror room examining "the movement of peoples across different continents, times and spaces."
'What Freedom Is To Me' is on display at Tate Britain until 20 August
Felipe Romero Beltrán, Dialect, photo book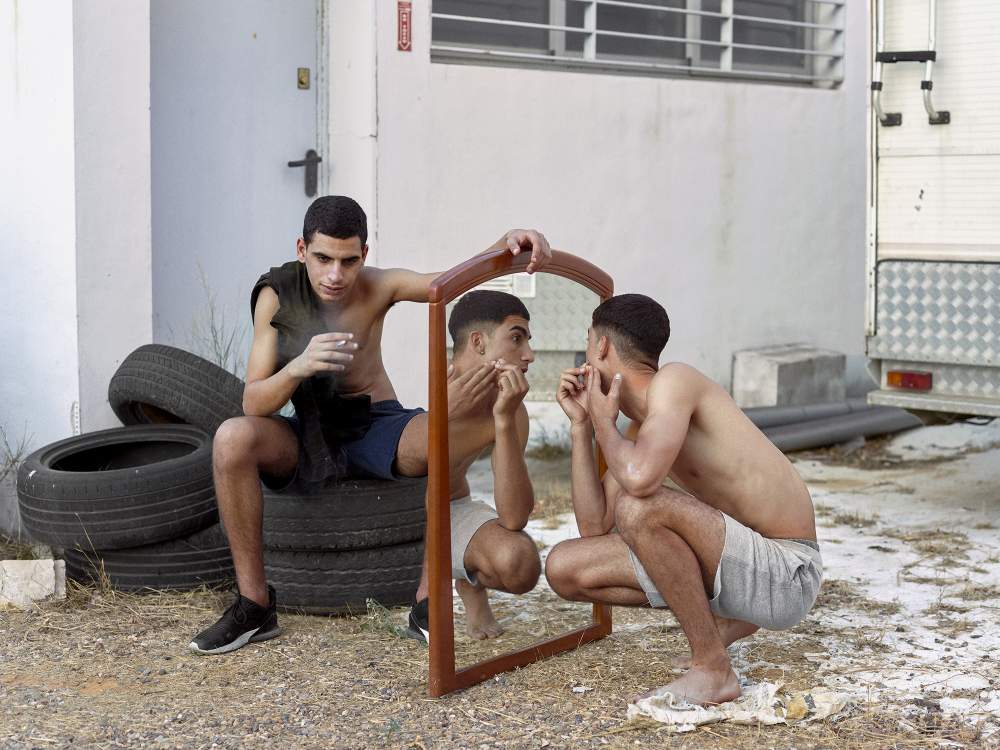 'Dialect' (2020 - 2023). © Felipe Romero Beltrán 2023, courtesy of Loose Joints
In his newly released book, Dialect, Colombian-born, Madrid-based photographer Felipe Romero Beltrán reinterprets the bureaucratic limbo experienced by a group of young refugees as they wait to legalise their residence status in Spain. Drawing on his love of theatre, choreography and performance art as well as his own past as a migrant, the Foam Paul Huf Award 2023 winner translates the uncertainty filling the days of his sitters in a metaphorical documentation of their temporarily interrupted lives.
Through a multimedia compendium of photographs, written testimonials, official documents, and more, viewers are invited to engage with the individual story of each immigrant and what awaits them next. The result is a powerful collection of images that visualises the physical, juridical and psychological boundaries constraining the experience of those who flee their country in search of a better future.
'Dialect' by Felipe Romero Beltrán is published by Loose Joints and is out now.
Tim Walker, Wonderful Things, solo show, Getty Museum, Los Angeles, US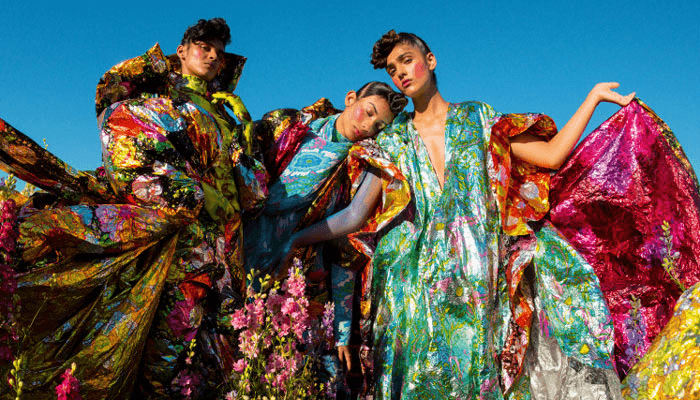 Cloud 9 (detail), 2018. Tim Walker (British, born 1970). Models: Radhika Nair, Chawntell Kulkarni, Kiran Kandola; Fashion: Richard Quinn. Pershore, Worcestershire. Chromogenic print. © Tim Walker Studio
An otherworldly exhibition by British photography icon Tim Walker is coming to Los Angeles' Getty Museum next month. Opening on 2 May, Wonderful Things takes us on a journey through the colourful, dreamlike worlds envisioned by the pioneering fashion photographer in an eye-catching exploration of some of his most iconic shots to date.
With a focus on the laborious, interdisciplinary effort at the heart of Walker's fantastical production – which involves the creative genius of set designers, stylists, makeup artists, models, and muses – the solo showcase will present a new series of images directly inspired by the collections of the Getty Museum and London's Victoria & Albert Museum. Continuing through August 20, Wonderful Things, a V&A exhibition touring the world, is a new exciting collaboration between the two renowned institutions.
Tim Walker: Wonderful Things runs from 2 May to 20 August at the Getty Museum
Mike Nelson, Extinction Beckons, solo show, Hayward Gallery, London, UK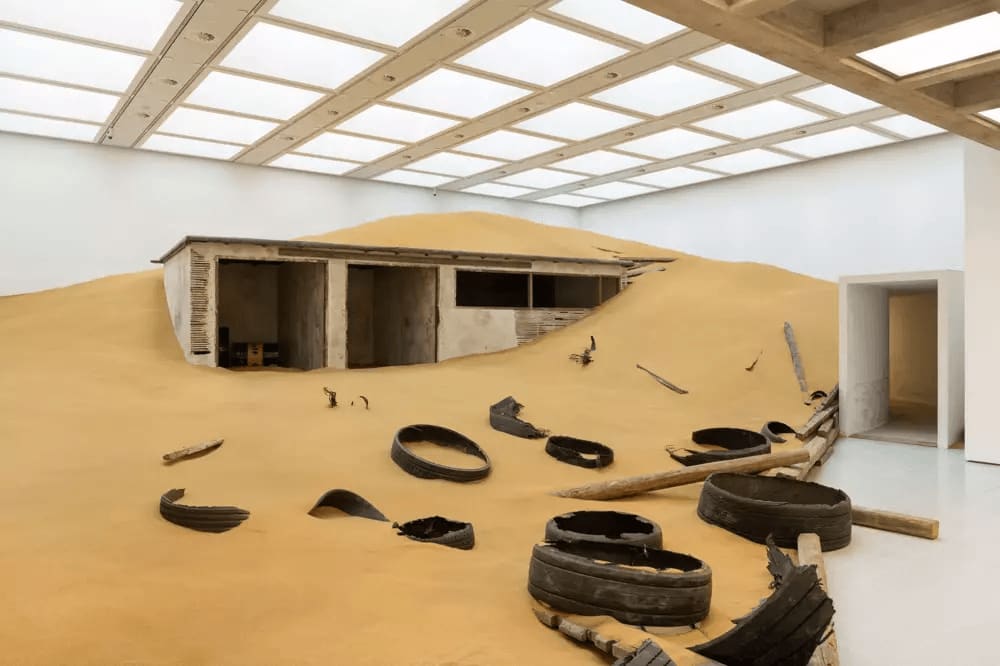 Installation view of Mike Nelson, Triple Bluff Canyon (the woodshed), 2004. Various materials. M25, 2023. Found tyres. Photo: Matt Greenwood. Courtesy the artist and the Hayward Gallery
With his immersive, emotionally charged installations, British artist Mike Nelson engages the audience in imaginary universes which hold up a mirror to the complex challenges of the contemporary. Extinction Beckons – Nelson's first major survey – draws on the dense, utopian imaginary at the heart of science fiction, failed political movements, dark histories, and countercultures to redirect attention onto alternative ways of living and interacting with the reality around us. Powered by the urge to raise awareness of "the lost belief systems, interrupted histories and cultures that resist inclusion in an increasingly homogenised and globalised world", the showcase prompts us to rethink our understanding of belonging, environment and consumption through sculptural pieces and large-scale installations modelled off discarded objects and repurposed materials.
Extinction Beckons is open until 7 May at the Hayward Gallery