Loewe links up with Studio Ghibli, a Jack Grealish avatar and more good news from this week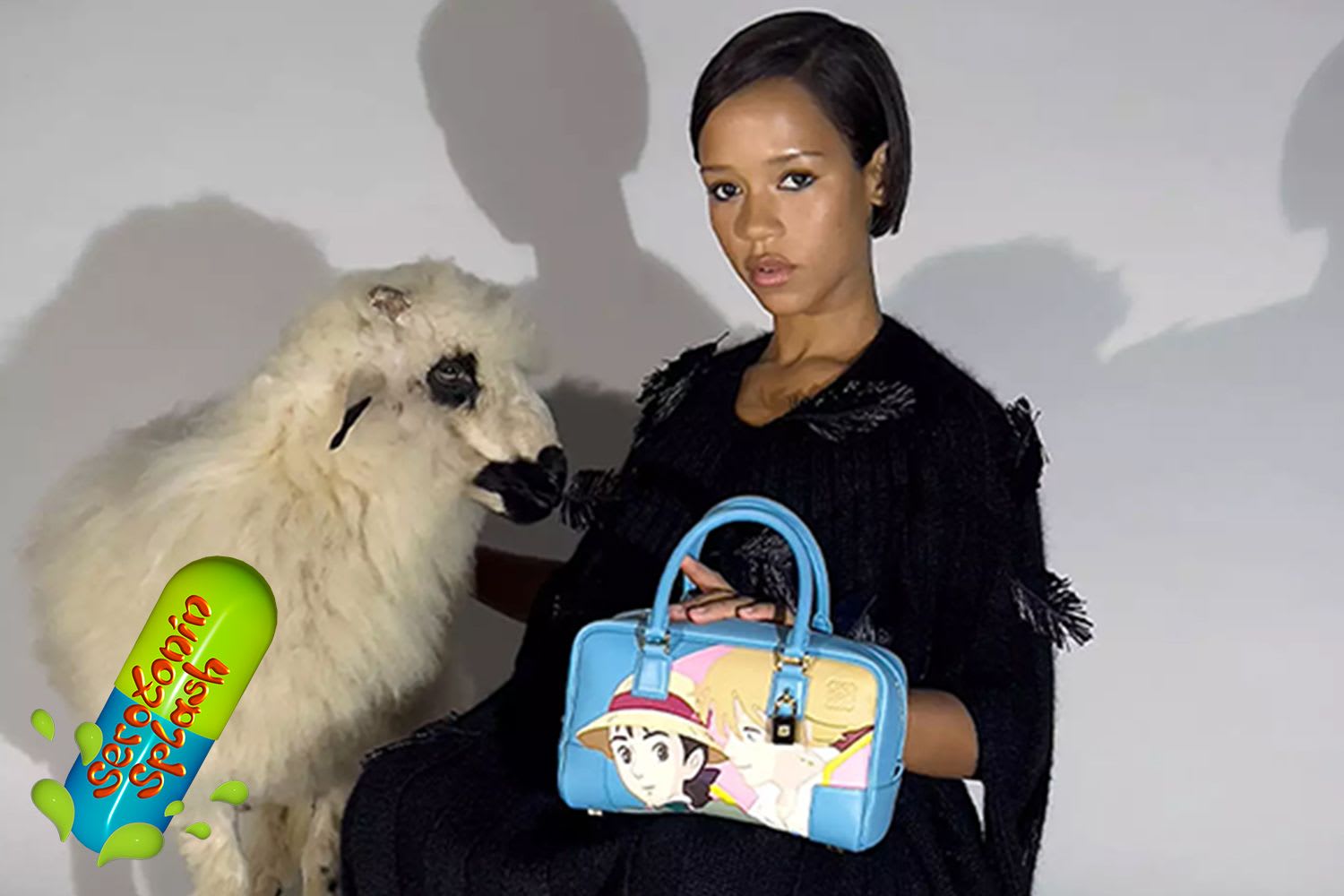 Just a bunch of great news to end your week on…
image Loewe / Juergen Teller
words Rhys Thomas and Lucy O'Brien
Culture News
you are missing out on some content here because you rejected our cookies. want to change that?
Loewe and Studio Ghibli are about to release a collaboration for the final time. This collection is based around Howl's Moving Castle (reportedly Hayao Miyazaki's favourite Studio Ghibli film) and the ad campaign features Taylor Russell (definitely our favourite actress rn). Spanning bags, jackets and accessories, the collection features key characters and landscapes from the film. We love the Calcifer clutch bag (he's a fire demon, btw). The collection drops at Selfridge's Corner Shop on February 1 and there'll also be a multi-dimensional LOEWE x Howl's Moving Castle experience, including a cafe, cinema screenings and more. Well worth a visit if you're in central London! You collab drops elsewhere from February 2.
Unesco, the United Nations' cultural agency, has added the Ukrainian city of Odessa to their prestigious list of World Heritage sites. The move comes as a response to Russia's continued invasion of Ukraine, and is designed to help protect the city's cultural heritage from further destruction. Approving the status in a conference in Paris on Wednesday 25 January, Unesco said that it was "the duty of all humanity" to aid in the city's preservation.
Health and Wellness News
It turns out that oyster mushrooms are carnivorous and they catch prey. Their weapon of choice? Toxic vibes. No we're serious, they release toxins to paralyse their food of choice before going "gobble, gobble, see you later." Beyond being a fun funghi fact, this discovery might allow scientists to find new ways of developing fungicides, which are used in agriculture to kill organisms that chow down on the crops people are trying to grow.
Yale is going to start allowing students suffering from mental health problems to take time off from studying without losing health insurance, or having to reapply to the university. Previously they had to withdraw from university in such circumstances. The new policy will hope to reduce mental health discrimination at the institution.
A social organisation in the Republic of Ireland has been able to offer free hot water to social housing that is classified as 'fuel-poor' in the country, and it's all because they produced so much renewable energy that they have a supply of it just kinda sitting there doing nothing. It should affect 10,000 homes.
Science and nature news
you are missing out on some content here because you rejected our cookies. want to change that?
On planet Mars, NASA astronomers have discovered a rock formation which looks a lot like a bear. The University of Arizona, which runs a camera on NASA's Mars Reconnaissance Orbiter, says you can see two craters which look like eyes and a collapsed hill between them that looks like a 'lil bear snout.
UCLA has realised it could speed up space travel by… shooting pellets at spacecrafts! Yup, sounds strange, but the idea is that it will essentially propel the spaceships further and faster. A bit like if you bounce a tennis ball on top of a basket ball (if you haven't tried it, the tennis ball shoots up really high) but in reverse and thanks to a lot of very clever science.
The Earth's core just said: reverseeeee. Seriously, the planet's core has started spinning in a different direction to the rest of the planet. Or at least this is what seismic waves in the Earth's inner core seem to indicate. What does this mean? Not too much, it happens more or less every 70 years. But it does alter the length of a day and the magnetic field.
Scientists digitally unwrapped a mummy of a boy and a second heart buried with him. X-rays from Cairo University have managed to unveil that the boy, who was buried around 300 BC, was buried with fifty amulets. One of which was a golden heart.
Carbon offsetting has been under scrutiny recently, as its efficacy has been questioned. As a result, in Australia councils are telling people to cut emissions instead of carbon offsetting, including in busy urban areas such as central Sydney, Melbourne, Brisbane and Adelaide.
Animal news
The sounds of birds singing makes us happier. Yep, ever wondered why the charming sound of chirping birds often conjures up warm and fuzzy feelings? As it turns out, a new YouGov poll commissioned by the Royal Society for the Protection of Birds (RSPB) found that 90% of Brits felt that their mental health and wellbeing benefited from seeing and hearing birds. The data comes ahead of the RSBP's Big Garden Birdwatch project, which is encouraging people to boost their mental health and help accumulate research data by spending an hour outside bird spotting this weekend.
Dogs just keep on getting smarter. A new study has revealed that dogs have the capacity to recognise human intentions. The experiment was conducted by scientists at The University of Vienna, who observed the dogs' reactions when a human would tease the animals with a treat or accidentally drop the treat.
Humans and apes share a common sign language, a new study has found. Human volunteers were asked to interpret and translate gestures made by apes, and researchers concluded we have a sufficient enough understanding of them to suggest that humans have retained a comprehension of ape communication from their ancestors. The study also found a large similarity between the gestures of apes and the body language used by 1-2-year-old human infants.
Fashion News
you are missing out on some content here because you rejected our cookies. want to change that?
Images of an unreleased Louis Vuitton x Nike Air Force 1 sneaker, designed by none other than the late Virgil Abloh, have been doing the rounds on social media. While the release date of the shoe cannot be confirmed, the captivating, eccentric and child-like design of this furry footwear is sparking joy across the internet, and rightly so. If nothing else, the designs give us all another insight into the creative genius of the beloved late designer.
A highlight of this week's Fall/Winter fashion week offerings is the teaming up of Kim Jones and Dior, who debuted their first fully 3D-printed sneaker, the derby boot. The state of the art shoe is the first of its kind for the iconic French fashion house. The innovation seems to symbolise a growing access to 3D manufacturing, and looks like we're taking a step in the right direction towards a more technologically advanced future of footwear.
Uniqlo is teaming up with PlayStation – now this is a collab we can get behind. The crossover between gaming and fashion is setting to take over 2023, and the new Uniqlo x PlayStation capsule collection is bringing back the childhood nostalgia of the much-loved gaming franchise. Throwing it back to 1994, the apparel will feature graphics from the company's original branding, alongside a depiction of the iconic gaming console's evolution.
To put it simply, Kiko Kostadinov's SW23 offering at fashion week did not disappoint. The bold, eclectic brought fun colours, experimental designs and a breath of fresh air to traditional tailoring. Could this be the future of work wear? We sure hope so.
So, it seems we aren't the only ones obsessed with the hit HBO series, The White Lotus; Kim K has just tapped breakout stars of the show, Simona Tabasco and Beatrice Grannò, for her latest Valentine's Day campaign. The collab sees the duo don the brand's limited edition, love-inspired, pink collection.
People news
you are missing out on some content here because you rejected our cookies. want to change that?
Julia Fox, aka, the gift that keeps on giving, recently blessed us all with an insight into her whimsical, chaotic life with a TikTok apartment tour (above). A small, messy and surprisingly normal-looking space, Julia Fox proved once again she is an icon for the people.
It's no secret now that our fave heart throb Timothée Chalamet and legendary designer Haider Ackermann have crossed paths before. But after seeing the Bones and All star sit in the front row of the Ackermann-designed Jean Paul Gaultier's couture week show (which, if you didn't know, is a pretty huge deal), it can safely be said that the two are officially besties. When a menswear look came down the runway, Chalamet was spotted grinning and giggling, and people are making the not-so unreasonable assumption that this was the very moment the actor picked out his next red carpet look. We look forward to it.
Fashion, gaming and Jack Grealish? This is the crossover we didn't know we needed. You heard us, the England squad fan favourite is the latest person to be adopted into the virtual Gucci Town, a digital destination for the brand on gaming platform Roblox. Grealish, already an ambassador for the luxury brand, is now the face of the campaign – well, his digital avatar is.
Our girl Nella Rose, YouTube sensation and soon to be Catfish presenter, got personal in a recent interview. She revealed her desire to live in the moment, choosing to stay off her phone as much as possible outside of her job and instead focus on capturing life moments. When asked what the most rewarding part of her job is, she replied simply; "Being able to look after my family, especially after we struggled for so long." The influencer detailed the pride she feels in providing for her loved ones, particularly after the passing of her parents.
Lydia Tischler, a 93-year-old Holocaust survivor who teaches child psychotherapy, has won this year's Sternberg Active Life award. Now a teacher at UCL, pioneering developments in child psychotherapy on their doctorate programme, Tischler was only 10 when she was placed in Auschwitz concentration camp in 1939. Having survived, she migrated to the UK in 1945, where Emma Freud accepted her application to a childhood and adolescent psychotherapy training programme in the 1950s. The award honours incredible people over the age of 70 for their outstanding achievements.
The late journalist and activist Claudia Jones, also considered instrumental to the creation of Notting Hill Carnival, is one of five women to be honoured by English Heritage with a blue plaque. Jones, who founded the first Black British newspaper after emigrating to the UK in 1955 from the US, spent her life advocating and fighting for greater equality for Black people before her death in 1964. The awardance of a blue plaque will commemorate her London home in Vauxhall as a site of English heritage.
We already know that acts of kindness can help with our own mental health, but it can also change the lives of others for the better. This is exactly the case for 17-year-old Sergio Peralta, whose life has been changed by the kindness of his classmates after they worked together on a project to build him a prosthetic arm. Peralta's right arm and hand never fully developed, and spent much of his time in high school trying to hide his disability. In a heartwarming act of friendship, his engineering class took on the task of designing and manufacturing a functional robotic hand for him.