The best new films and tv coming to your screens this January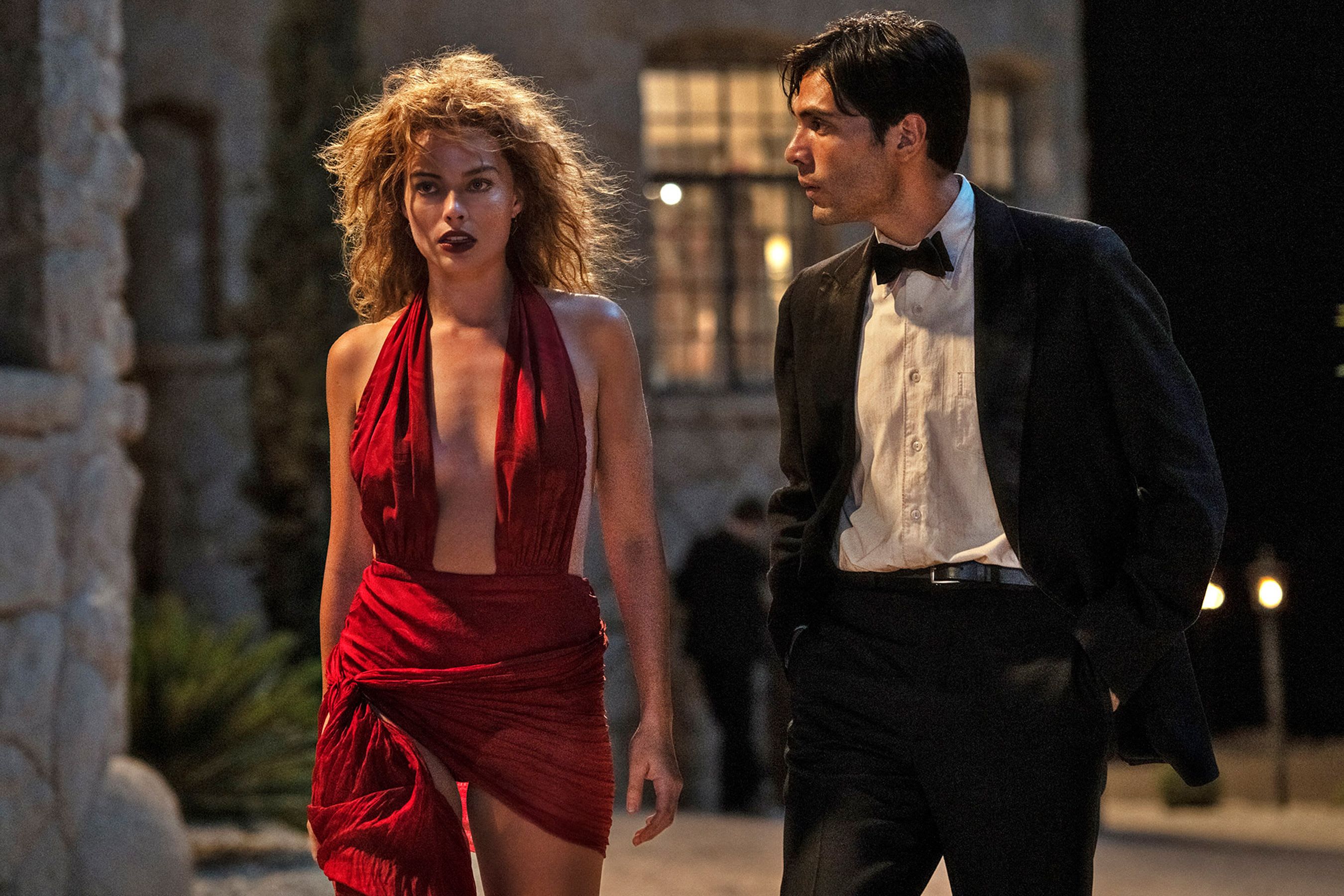 We sorted your January watchlist so you don't have to
image Babylon / Paramount Pictures
words Lucy O'Brien
Ah, January, that rare time to feel both elated and full of dread for the unknown opportunities and changes that lie ahead. Of course, it's time to seek comfort – it's (very) cold outside and ultimately, when those January blues come a-knocking, we must be equipped with our ultimate feel-good fixes to fight them away. The solution? Well, if you're anything like me, a damn good series to obsess over. Sunday scaries, begone!
Luckily for you, January 2023 is looking pretty promising in terms of the big screen. Be you a film-buff, Netflix neek or simply a sucker for reality TV, we've got you covered. Here's all the best of TV and film coming to your screens this month, and where to catch them…
New on Netflix January 2023
Ginny & Georgia Season 2: This Netflix fan-fave is returning for another binge-worthy series and all we have to say is, finally. Funny, witty, dark and intimate all at once, this show welcomes us back to navigate a tumultuous mother-daughter relationship as the two attempt to face the reality of Georgia's traumatic past and Ginny's uncertain future. (Out now)
Kaleidoscope: This limited series seems to be an amalgamation of what Netflix does best: addictive dramas with innovative storytelling. If you were a Money Heist fan or into the choose-your-own-adventure chaos of Black Mirror's Bandersnatch this will be one for you, as it similarly follows the blueprints of a career-defining heist operation. The best part is, you can watch the episodes in any order you like and the plot will still unfold in the same way – just make sure you keep the final episode 'til last! (Out now)
The Pale Blue Eye: Starring Gillian Anderson and Christian Bale (yes and yes) this is the story of detective Augustus Landor who is brought on to help solve a string of mysterious murders. He is later accompanied by a keen and curious young cadet, who will grow up to become the world-famous Gothic author, Edgar Allen Poe. Literature nerds, unite! (6 January)
Pamela, a love story: Told in her own worlds, this biographical documentary sees Pamela Anderson open up like never before, exploring her rise to fame, career, relationships including with Mötley Crue drummer Tommy Lee, and the aftermath of the infamous leak of their private honeymoon sex tape. (31 January)
The Lying Life of Adults: Based on the novel by well-loved Italian author Elena Farrante, this coming-of-age series set in Naples in the 1990s follows Giovanna, a restless and lost teen whose parents are affluent academics, as she battles with her identity. When she finally meets her estranged aunt Vittoria, her sheltered life gets turned upside down. (Out now)
MADOFF: The Monster of Wall Street: An investigative crime docuseries? Say no more. This documentary takes a deep dive into the story of American financier Bernie Madoff, better known as the mastermind behind one of the most infamous Wall Street fraud schemes in history and the subject of the 2013 Leonardo DiCaprio film (Out now)
you are missing out on some content here because you rejected our cookies. want to change that?
New in cinema January 2023
Babylon: Margot Robbie, Brad Pitt, Tobey Maguire, Phoebe Tonkin – we already know this is going to be the epic drama we didn't know we needed. Set in the decadent Roaring Twenties, Babylon follows the rise and fall of ambitious Hollywood hopefuls who helped to transform the American film industry. Its director, Damien Chazelle, is the brain behind critically acclaimed faves like La la Land and Whiplash – is that a slew of Oscar nominations we hear? (Out now)
Till: Set in the 1950s, this biographical drama follows events based on the life of Mamie Till-Bradley, who fought for justice after her 14-year-old son, Emmett, was brutally murdered by a group of white supremacists after being accused of flirting with a white woman. The powerful storytelling is delivered entirely from Mamie's perspective, as we are invited to intimately follow her grief, activism and pursuit of justice. (Out now)
M3GAN: The current boom in AI technology is fictionalised in this dark dystopic and satirical tale – and we're here for it. M3GAN, an AI doll intended to be a child's best friend and every parent's dream, suddenly begins to become sentient, but, in the process, more violent and manipulative than anyone could have foreseen. Creepy, right? (Out now)
What's love got to do with it?: Ah, finally, a rom-com to get us through the dreaded January blues. Filmmaker Zoe (Lily James) decides to follow and film her childhood friend Kaz (played by Shazad Latif) in his pursuit of an arranged marriage. Along the way, the pair must confront their different understandings of love, friendship, commitment and, of course, what it takes to find a happy partnership. (27 January)
The Fabelmans: "Movies are dreams that you never forget." Retweet. Directed by the GOAT Steven Spielberg, the film is a semi-autobiographical, coming-of-age narrative that recounts Speilberg's early years and first experiences with filmmaking. Battling the wishes of his parents with his passion for filmmaking, the lead character is just a boy with a camera who grew up to become one of the most influential directors of our time. (Out now)
When You Finish Saving the World: An activist mother (Julianne Moore) dedicated to improving the lives of others struggles to connect with her teen son (Finn Wolfhard), who seems to care only about securing online fame. But as the two begin to navigate difficult situations in their separate social lives, they discover they may be more alike than they care to admit. Pass the popcorn. (20 January)
you are missing out on some content here because you rejected our cookies. want to change that?
New on TV in January 2023
Love Island Season 9: That's right, the bitch is back. Love or hate the concept of Love Island, it would be hard to convince me that binge watching reality tv isn't a form of essential self-care. The drama of the summer 2022 season still lives in our heads rent free (Andrew, we're looking at you), so let's hope this rare winter series will live up to our expectations. (16 January, ITV)
Bad Education: In celebration of its 10 year anniversary, the school sitcom will return for a fourth series of teen mishaps, adolescent rebellion and all-round relatable comedy. While Jack Whitehall recently reprised his role as teacher Alfie Wickers in a one-off Christmas special, he will not appear in the latest season, passing the gauntlet to a new generation of teachers and students causing chaos. (15 January, BBC 3 / iPlayer)
The Sex Lives of College Girls, Season 2: It's giving Friends, The Bold Type and Gossip Girl – what more could you want? This American teen drama follows the lives of four 18-year-old girls as they navigate their first year of college (uni, they mean) and the sex, friendships, drama and introduction to adulthood that comes with it. (19 January, ITVX)
The Apprentice: Your fave meme-making toxic boss is back, this time with another round of entrepreneurial recruits hoping to impress the big man and make their business ideas come to life. Cringe-worthy content? Yes. Our guilty pleasure anyway? Also yes. (5 January, BBC 1 / iPlayer)
you are missing out on some content here because you rejected our cookies. want to change that?
New on streaming in January 2023
The Rig: If you're into sci-fi dramas, say no more. Set on a remote Scottish oil rig with little access in or out, this series follows a team of workers as they find themselves haunted by supernatural forces when a mysterious, unwavering fog engulfs the rig and threatens their survival. (6 January, Prime video)
If these walls could sing: This documentary centres around Abbey Road Studios, the oldest and most successful music studio in the business. Interviews with some of the world's leading artists (I'm talking Paul Mccartney, Elton John, etc) reveal how this little London studio came to be known as an iconic birthplace of up-and-coming musical stars. (6 January, Disney+)
Truth Be Told, Season 3: Did somebody say fictional crime series? I'm down. True crime podcaster and self-proclaimed investigator Poppy returns for a third season, tackling yet another ongoing criminal investigation and fighting to bring about justice. This season, Gabrielle Union will join the cast with a new mystery to untangle. (20 January, Apple TV)
Extraordinary: Let's set the scene. 10 years ago, everyone over the age of 18 was gifted a superpower. That is, of course, everyone except 25-year-old Jen, who is anxiously pining after one of her own. Fed up of waiting for something that feels like it'll never come, Jen sets out to discover her maybe-superpower. Oh, and the cast is made up of young British rising talent, so this is definitely one to keep your eye out for. (25 January, Disney+)
Shrinking: In this lighthearted exploration of therapy and healing, Harrison Ford stars as a therapist on the verge of his own breakdown. Deciding to forgo his ethical training and instead tell his patients whatever he thinks, he ends up changing the course of their lives, as well as his own. (25 Jan, Apple TV)
you are missing out on some content here because you rejected our cookies. want to change that?
Things you might have missed in December 2022
Harry & Meghan: The long-awaited Prince Harry and Meghan Markle documentary had everybody talking about the couple's controversial departure from the UK. The series provides an unprecedented glimpse into the couple's struggles with the UK press and Royal Family.
Emily in Paris Season 3: Bonjour! Emily is back with a bang and yep, she's still in Paris. Everyone's fave American abroad and PR girly has returned for another dose of improbable outfits, cultural miscommunications and misjudged romantic endeavours.
Avatar: The Way of Water: The follow-up to the behemoth Avatar movie, this mega sequel explores the lives of the Na'vi people ten years on. With a budget of between $350 - 400 million, it's one of the most expensive films of all time and a real feast for the eyes.
White Noise: This Noah Baumbach adaptation of the cult Don DeLillo novel of the same name is an absurdist, star-studded exploration of a small town at the end of times after a train crash leads to a major chemical waste spillage.
you are missing out on some content here because you rejected our cookies. want to change that?