Academy Awards gives much overdue apology to Sacheen Littlefeather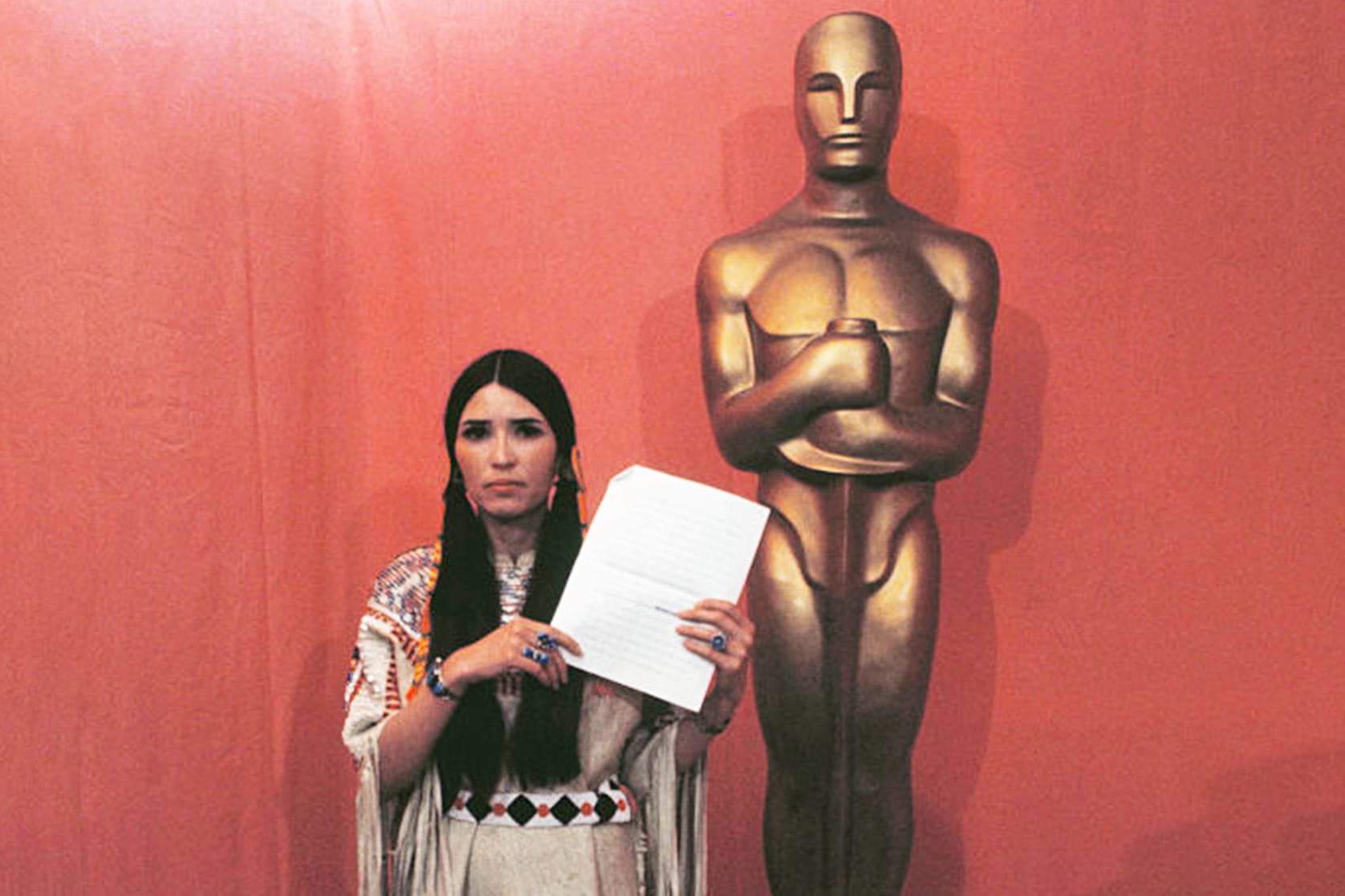 Better late than never, we guess...
image Bettmann / Getty
words Megan Wallace
The Academy of Motion Picture Arts and Sciences (Ampas), the organisation which runs the annual Academy Awards, has offered an apology to actor and indigenous rights campaigner Sacheen Littlefeather.
Published to Academy website on 15 August, former Ampas president David Rubin signed a letter addressing Sacheen Littlefeather in response to abuse she suffered in 1973, when giving a speech on behalf of Marlon Brando at the Academy Awards ceremony that year. Littlefeather, who was 26 at the time, was invited by Brando to decline his Best Actor award for his role as Vito Corleone in The Godfather. Despite this courageous stand, her words were met from booing from the audience.
The letter from Rubin was dated the 18 June and made reference to the "abuse" Littlefeather "endured because of this statement." He also referred to the blacklisting that she experienced thereafter in the industry, calling Hollywood's treatment of her "unwarranted and unjustified".
The letter continued, saying; "The emotional burden you have lived through and the cost to your own career in our industry are irreparable. For too long the courage you showed has been unacknowledged."
In response to the statement, Littlefeather said that it was "profoundly heartening to see how much has changed since I did not accept the Academy Award 50 years ago."
During the 1973 Academy Awards, the actress and activist – who had appeared in the Western films Winterhawk and Shoot the Sun Down – took to the stage in traditional Apache dress. Speaking for around a minute, she addressed the crowd to raise awareness of the Wounded Knee Occupation, an activist-led siege of a South Dakota town.
"I'm representing Marlon Brando this evening, and he has asked me to tell you in a very long speech which I cannot share with you presently, because of time, but I will be glad to share with the press afterwards, that he very regretfully cannot accept this very generous award," she said.
"The reasons for this are the treatment of American Indians today by the film industry [...] and on television in movie reruns, and also with recent happenings at Wounded Knee. I beg at this time that I have not intruded upon this evening, and that we will in the future, our hearts and our understandings will meet with love and generosity. Thank you on behalf of Marlon Brando."
You can watch the full speech in the video below
you are missing out on some content here because you rejected our cookies. want to change that?